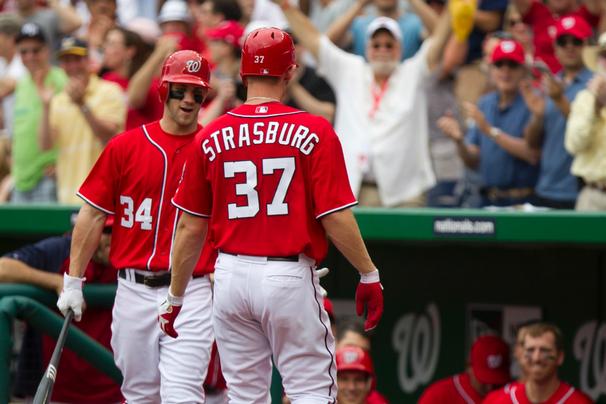 Off The Bench's season previews this year are being run a bit differently. We'll  runa divisional preview for each of baseball's 6 divisions, and a spotlight on the most interesting team in each division. The spotlight does not necessarily have to be the "most interesting team," so perhaps a more accurate description is that it is the team that we feel like writing about whenever we sit down to write. It's our blog, thank you very much.
With that, I will be previewing the Washington Nationals' 2017 season, not because they are the most interesting team in the NL East (for my money, that's the Phillies), nor because they're the easiest for me to write about (this Braves fan could write 4,000 words on Bartolo Colon and the new stadium that could get us ready for 2018). No, I'm writing about the Nationals because they might just be the best team that we never talk about. Sure, Max covered their Presidential tryouts, but the last piece dedicated to the Nats was when we wrote about Trea Turner in November. It just feels like they're due for a Sean Morash analysis.
So where do the Nats stand? They're the odds-on favorite to win the NL East, just as they have in 3 of the last 5 years. Unfortunately, they've lost in the Division Series each of the three times they've made the playoffs since moving to DC. They feel like the Atlanta Braves in the early 2000's: clearly very good, but definitely not the best team in baseball.
Why though? Well, their superstars Stephen Strasburg and Bryce Harper haven't simultaneously carried their halves of the roster. That may sound like tall order, but let's not forget that these are two of the very most talented players that baseball has seen in the last 20 years. First, let's look at Harper's Position Player group.
Projected Lineup:
Adam Eaton (CF)
Trea Turner (SS)
Daniel Murphy (2B)
Bryce Harper (RF)
Anthony Rendon (3B)
Jayson Werth (LF)
Ryan Zimmerman (1B)
Matt Wieters / Derek Norris (C)
This is a very excellent lineup. It's fun, flexible and dynamic. The Nats went out and got Adam Eaton so they could slide the next superstar in baseball to his natural home at shortstop. They've got the reigning MVP runner-up at second base, and then they have solid veterans filling in the other spots.
The biggest problem with this lineup is that they have too many top-of-the-order type hitters. The first 5 in their lineup could be the best position player on 10 of the other teams in baseball. But the success of this squad feels delicate. Is Trea Turner anything close to as good as he looked in his call-up last season? Is Adam Eaton going to stay healthy, or as effective with a move back to center field? Is Ryan Zimmerman going to have some good luck?
But really, this lineup is predicated on Bryce Harper. Is he the 2015 monster that he was always destined to be (.330 average while leading baseball in both OBP at .460 and slugging at .649) or is he going back to the player that we saw in the second half (.226 /.336/.373)? The answer is likely somewhere in between, but if he's closer to that 2015 version, the Nats should be really good.
There are enough question marks in the lineup that Bryce Harper could be excellent, but other things could go wrong and the Nats offense sputters. Harper could be below average, but the very capable ancillary players could carry his squad to the playoffs. I think this squad is going into the playoffs with or without MonsterHarper™, but it's a lot easier to envision the World Series that owner Ted Lerner is dreaming on with him.
(Quick aside for those of you who have seen Split: Is it too far to think of the multiple possibilities of 2017 Bryce Harper as the multiple personalities of James McAvoy's character? MonsterHarper™ would clearly be The Beast and July 2016 Harper would clearly be Hedwig. Do we have a Barry, Dennis, or Patricia?)
Rotation:
Stephen Strasburg
That's an excellent rotation. Scherzer is a perennial Cy Young candidate at this point in his career. Tanner Roark and Joe Ross just get people out, and Gio Gonzalez as a Number 5 represents an embarrassment of riches. Ross, Roark and Gio aren't the best backend of a rotation in baseball, but they're certainly capable Major League pitchers.
The rotation seems to hinge on Stephen Strasburg's ability to dominate, which is obviously linked to his overall health. He pitches great for the first half of last year before arm troubles robbed him of his effectiveness. His season splits show it most clearly:
1st half: 16 starts, 2.62 ERA, 106 innings, 132 strikeouts
2nd half: 8 starts, 6.15 ERA, 41 innings, 51 strikeouts
This has been the story of Strasburg's last two years. In 2015, he put up those absolutely dominant numbers in the season's second half. The truth is that a healthy Strasburg fundamentally changes the Nationals playoff chances. He's such a dominant force, when right, that he can go all Bumgarner on the National League and bring the Nationals to the World Series. Without him? Well, Scherzer can only win two of the teams' Division Series games.
A quick note on the bullpen: They don't have a proven closer, but they have a number of really good pieces. Shawn Kelley, Blake Treinen, and newcomers Enny Romero and Joe Blanton will make a very formidable bridge to whomever the Nationals acquire at the trade deadline to close out games.
This is a playoff team, but it just doesn't feel like a World Series team, until we are reminded of the generational talent of Harper and Strasburg.
-Sean Morash