Archives
2017 National League East Preview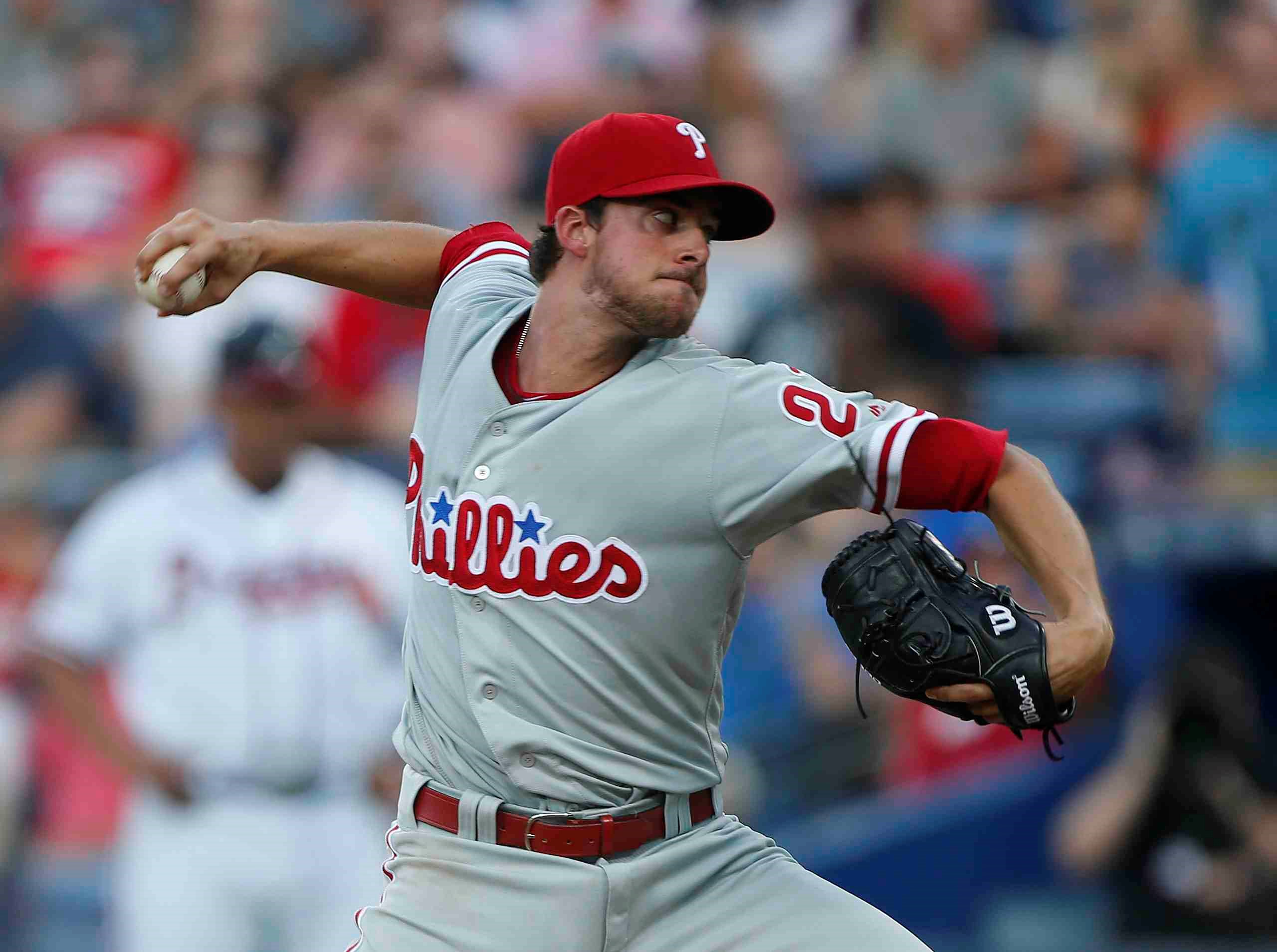 The National League East is a mix of the haves and the have-nots, though not to the extreme that was 2016, when 3 of the teams were in the depths of their rebuilds, while two appeared to be blossoming into title contenders. 2017 figures to be a repeat for many of the teams as the biggest offseason deal inched one title contenders closer to the World Series (on paper).
It's a division that is hallmarked by excellent pitching, though Jose Fernandez' flamboyance will be sorely missed. The Mets and Nationals each have a stable of Aces at the major league level, while the Phillies and Marlins have young guys that show serious promise, and the Braves have the most impressive group of pitching prospects that anyone in the game appears to have ever seen. It's an interesting division that constitutes a cross-section of all that baseball has to offer right now.
The Prediction: 
Washington Nationals
New York Mets
Atlanta Braves
Miami Marlins
Philadelphia Phillies
It's the Nationals' division to lose, really. The Mets are the only real competition for the East crown and they have the same serious flaws with their lineup that led to an 87 win team last year. Maybe you can project better health with their young Aces, but I'm leery of the offense so leveraged on Yoenis Cespedes. After that, it's really a toss up. I think the Braves and Marlins are likely a step above the Phillies right now, but I'm not sure I felt that way all offseason.
Let's get a little more detail on each of the teams.
Washington Nationals, First Place, 97-65
I covered the Nats' season outlook in depth here, but the biggest take away is that they are a solid all-around team competing with the top class of baseball. Even if things completely fall apart and injuries unfairly take their toll, this team is talented enough throughout their roster to fight for a Division crown.
I've got Trea Turner as the Majors' next superstar, and they already have Bryce Harper, Stephen Strasburg, and Max Scherzer and reigned MVP runner-up Daniel Murphy. It's a solid squad, who we will be writing about in October.
New York Mets, Second Place, 87-75
Look, I feel like this projection is fair, but Mets fans aren't going to like it. Maybe they're OK with the reality, but the general consensus is that the Mets are really good. I just don't see it. Yoenis Cespedes, who is still miscast as a center fielder, is their only lineup regular who looks like he'll be above average.
Seriously, take a look at the infield: Lucas Duda at first, Neil Walker at second, and 33 year old Jose Reyes with David Wright at third, and Asdrubal Cabrera at short? The Mets are significantly worse than the Nats at each of those spots. They're worse than most infields in the majors. This group is what is holding the Mets back from the playoffs, because the rotation is strong.
Happy thoughts….The rotation is good and it should be better than it was a year ago. Zack Wheeler might come back around the All-Star break to fortify a gotta-be-healthier-than-2016 rotation. Steven Matz and Matt Harvey can both be dominant Big Leaguers, and Noah Syndergaard has solidified his place as MLB's social media vixen thanks to his performance and flow. The Mets had the best rotation in baseball last year and Jacob deGrom (24), Matt Harvey (17), and Steven Matz (22) each made fewer than 25 starts. Figure 30 starts from each of them, and that's like adding another All-Star Starter.
Would another All-Star starter take the Mets from 87 wins to the playoffs? I don't think so.
Atlanta Braves, Third Place, 77-85
I'm projecting a serious improvement for this club after they went out and acquired three veteran pitchers, in the form of Jaime Garcia, Bartolo Colon, and R.A. Dickey. The threesome might be more famous (and old) than good, but the Braves were clearly looking for one-year stopgaps while their young pitchers simmer in the minors. The larger signal with those acquisitions was a departure from the Aaron Blair and Matt Wisler eras in Atlanta. Those two combined for 220 innings and a negative WAR while in the Braves rotation.
But the bigger reason for the win projection is the position player improvement in the second half of last year. Led by Ender Inciarte, Freddie Freeman, and Matt Kemp, the lineup was in the top third of the National League in runs scored, batting average, OBP (1st), and slugging percentage in the second half. Dansby Swanson looked the real deal, and each of the other positions provided roughly league-average production.
I don't think the Braves are headed to the playoffs. 77 wins might even be too optimistic of a projection from a Braves fan, but this team is turning the corner as they head into the new stadium.
Miami Marlins, Fourth Place, 75-87
The sad truth about this Marlins team is that they could really use Jose Fernandez. I wrote about it in part here. While the potential sale of the squad should dominate their non-baseball related storylines throughout the season, Jose Fernandez's absence from Earth will be equally troublesome for the Marlins players to deal with. Consider: Last year, they finished 16th in the Majors in WAR (rotation had 10.4 fWAR). If you subtract Fernandez' 6 WAR total from there, they suddenly rival the Braves and Reds in terms of ineptitude.
The Marlins brass didn't do very much this offseason. Wei-Yin Chen is currently penciled in to be the Opening Day starter and I suppose there's some upside somewhere between Edinson Volquez, Dan Straily, Adam Conley, and Tom Koehler in the 2-5 spots, but you really have to squint to see it. The farm system doesn't hold much in the way of help either.
Just as with the Mets, there is hope with the Marlins. Giancarlo Stanton is back and hopefully ready to remind us all that he hits the ball $300 Million harder than anyone else. Christian Yelich is an all-star, a few degrees of lift in his swing away from being a superstar, and Dee Gordon is loads of fun.
This is a team that won 79 games last year and is banking on 40 more games from Giancarlo Stanton to make up for losing one of baseball's brightest stars. An 80 win season isn't happening.
Philadelphia Phillies, Last Place, 71-97
An annotated look at my wins projection for the Phillies (links after the graphic)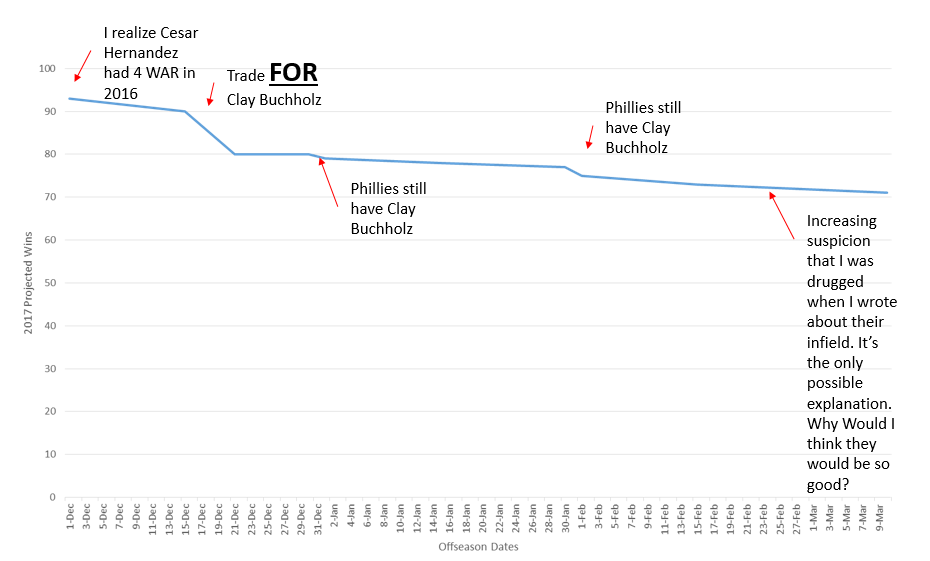 You can see this arch being played out by my multiple articles about the Phillies this offseason:
The good news is that my optimism, as laid out in that piece from December 1, is still there for the Phillies. They have a bright future ahead of them, built around athletic position players and a sneaky-good rotation. A failed offseason pushes their competition window back to 2018.
Bold Predictions
Next year could be a really interesting one for this division. The Phillies and Braves will be ready to compete while the Nats and Mets will still be within their window to compete. meanwhile, the Marlins could have a new ownership willing to make a splash (or two) in their new role just as the Dodgers did two years ago. But first, the bold predictions for 2017:
-Sean Morash