The San Diego Padres have themselves a power hitting infielder who seems to have come out of nowhere with a funny sounding last name, in the form of one Ryan Schimpf. The 28-year old Schimpf absolutely crushed baseballs in AAA this year before earning a promotion to the Majors where he has proceeded to absolutely crush baseballs. He has posted a .565 slugging percentage and 12 homers through 49 games. That's really good, but the skeptic in me is alarmed.
See-the Padres have been down this road before. In 2013, this very same club had a rookie surprisingly tear the cover off the ball for a solid half season. The rookie didn't really have a position, but did a solid enough job at hitting the ball over the fence that people ignored the obvious deficiencies. 24 year old Jedd Gyorko put together a solid enough rookie campaign that he convinced the Padres to lock him into a deal that guaranteed $35 million. Let's all hope the new front office doesn't get fooled again.
Look, it's not a perfect comparison, but just for fun lets entertain the idea that Ryan Schimpf's parallels with Jedd Gyorko don't stop with their odd last name.
Through Gyorko's first 49 MLB games:                  .269/.333/.434 with 6 HR and a 27% K rate
Schimpf's first 49 MLB games (Through Sunday): .224/.348/.565 with 12 HR and a 31% K rate
The two have their differences. Gyorko was a former top 100 prospect. Gyorko was 24, not 28. Advantage Gyorko.
Schimpf has posted a .913 OPS through 49 games. Jedd Gyorko has never even come within 50 points of that. Advantage Schimpf.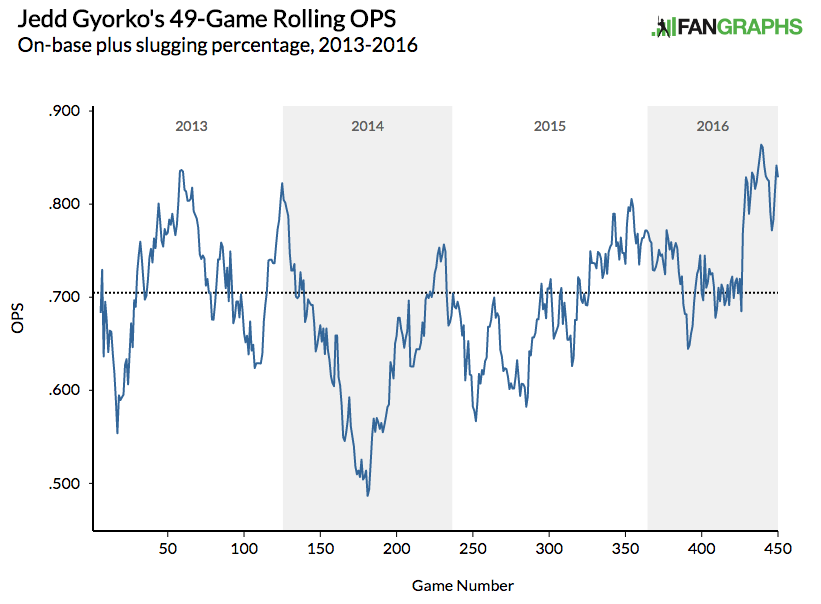 I got into this thinking I was half-insulting Ryan Schimpf by comparing him to Jedd Gyorko, but is that really such a bad thing? Gyorko has been worth about 1 WAR/year. He's an actual Major League Baseball player. The half-hearted attempt at an insult comes from the belief that Gyorko's – and by extension Schimpf's – skillset was never worth the contract that the previous Padres front office handed out. That's not really Jedd Gyorko's fault, he should get paid as much as possible.
This more gets back to my idea that Matt Kemp and Jay Bruce were incorrectly valued at the trade deadline. One player fails to live up to his contract, while another performs similarly and is lauded as a potential October hero. I'm not sure what it says about the Padres that the only two members of this undervalued club that I have identified wore the Brown, but it can't be good.
Overall, The market is not very large for middle infielders that land somewhere in the verrrrry average range on defense and possess no other offensive skills than hitting homers, taking walks, and striking out. But both of these guys are actual Major Leaguers and I'm sure both are very happy with their occupation.
The point is that the Padres shouldn't just go handing Ryan Schimpf $35Million for a half season well done. I hope Ryan does get paid enough that his kids and grandkids don't have to worry about money, but the Padres current front office should learn from the Jedd Gyorko story and be slow to try wrap up Schimpf through 2020. If they just take it day by day, maybe we'll come to value Schimpf appropriately as a useful Major League player assuming he regresses back to a Jedd Gyorko-type output.
-Sean Morash