Off The Bench has its third guest blogger.  Joe Bubar dropped this wonderful text on me in class: "I have a great blog entry idea. What is your starting lineup and rotation on your all
baseball movie team?"  I loved the idea and immediately drew a diamond and was lost for the rest of class.  Who would get the ball in Game 7? Who plays 2B in a baseball movie? Can a girl legitimately make the team?  Does DH mean old guy who can hit or young guy who lost another spot?  Can Kelly Leake play third? ….. You'll also find Sean's picks and Max's team.  We all know which one is best…
Rotation:
Position Players
C: Crash Davis (Kevin Costner; Bull Durham): Baseball movies love catchers. So this was a tough one between Crash and Jake Taylor (Major League). Sure, Taylor played in the majors but Crash hit 246 HRs in the minors. That's a good career, no matter what league you play in. He's getting a shot on my team. And with Chapel pitching to Crash it will be Kevin Costner throwing to Kevin Costner.  Sean:  Dottie Hinson (Geena Davis, A League of Their Own). Max:  Crash Davis
1B: Jack Elliot (Tom Selleck; Mr. Baseball): Jose's (Rick Marzan; Bull Durham) glove is

cursed and Pops (Thom Barry; Major League: Back to the Minors) is too slow so I'm going with Elliot. Sean's Pick: Air Bud (Air Bud, 7th Inning Fetch). Max: Roy Hobbs
2B: Brad Johnson (Andre Holland; Sugar): Have you ever tried to identify a second baseman in a baseball movie? Santos earns his spot on my team by default. Sean's Pick: G Baby (DeWayne Warren, Hardball). Max: Mickey Dominguez (Wilmer Valderrama, Summer Catch)
SS: Juan Lopez #1 (Tim DiFilippo; Major League: Back to the Minors): You would think the shortstop would be a main character of some baseball movie. But I think I'm stuck with Juan Lopez #1, the twin brother of second baseman Juan #2. Sean: Kelly Leake (Jackie Haley, Bad News Bears). Max: "The Jet"
3B: Roger Dorn (David S. Ward; Major League): Every team needs an overpaid player past his prime. Sean: Benny "The Jet" Rodriguez. Max: Roger Dorn
LF: Pedro Cerrano (Dennis Haysbert, Major League): The "JoBu" worshipping Cuban slugger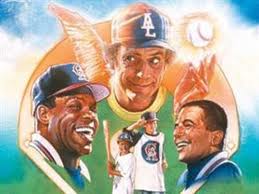 feasts on fastballs. Hopefully the opposing pitchers don't figure out his weakness. Sean: Bobby Rayburn. Max: Al- The Head Angel (Christopher Lloyd, Angels in the Outfield)
CF: Willie Mays Hayes (Wesley Snipes; Major League): Not the Omar Epps version. Sean: Roy Hobbs. Max: Willie Mays Hayes
RF: Mr. 3000, Stan Ross (Bernie Mac; Mr. 3000): I couldn't pick Taka Tanaka (Takaaki Ishibashi; Major League II) to go with the all Major League outfield, so I'm throwing Big Mac in right. Sean: Steve Nebraska. Max: Archibald "Moonlight" Grahm (Frank Whaley, Field of Dreams)
DH: Roy Hobbs (Robert Redford; The Natural): Picked him over Bobby Rayburn (Wesley Snipes; The Fan), Benny "the Jet" Rodriguez, and Downtown Anderson. As long as he's playing DH, injuries and age won't be a problem. Sean: Stan Ross.  Max: Pedro Cerrano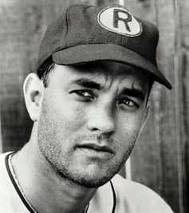 Manager: Lou Brown (James Gammon; Major League): George Knox (Danny Glover; Angels in the Outfield): had angels to help him win the pennant. Lou Brown did it without any divine intervention. Sean:  Jimmy Dugan (Tom Hanks, A League of Their Own). Max: George Knox with Roger and JP
Lineups:
Joe:
Hayes (CF)
Elliot (1B)
Mr. 3000 (RF)
Hobbs (DH)
Cerrano (LF)
Crash (C)
Dorn (3B)
Johnson (2B)
Juan #1 (SS)
Sean: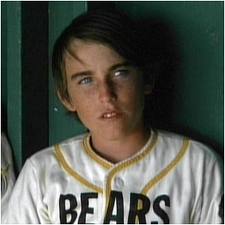 Air Bud (1B)
Leake (SS)
Hobbs (CF)
Ross (DH)
Nebraska (RF)
Rayburn (LF)
Hinson (C)
G Baby (2B)
Rodriguez (3B)
Max:
Hayes (CF)
Grahm (RF)
Hobbs (1B)
Cerrano (DH)
Dorn (3B)
Al (LF)
Crash (C)
Dominguez (2B)
Rodriguez (SS)
So we just hit you with three different teams and really tested your baseball movie knowledge.  The teams are built differently and with different strengths and there seems to be a lean toward Major League.  With any luck, in a few years we can add Major League 3 players to our roster.
-Joe Bubar