Former Atlanta Brave, Chicago Cub, Tampa Bay Devil Ray, Toronto Blue Jay and San Diego Padre Fred McGriff is one of those great players who also happens to be a good guy by all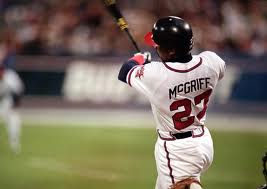 accounts.  He's baffled Hall of Fame voters and may be the guy single most damaged by the Steroid era.  His 493 career home runs would have once all-but-guaranteed his entrance into the Hall.  Yes, the magic number was always 500 but, for a nice guy with a great nickname, BBWA members would and should have made an exception.  He's 26th on the career homer list and the only guys ahead of him eligible for the Hall and not yet inducted are Mark McGwire and Rafael Palmiero.  Both of those guys haven't been elected yet for obvious reasons, but McGriff's skinny build leads me to believe he was steroid free throughout his career and yet HOF voters have voted for him at, to this point, a highest rate of 24%. It's ridiculous that his rates are this low and I can't wait for Fred to get in.
At the risk of letting my feelings for the guy and his ringing endorsement of Tommy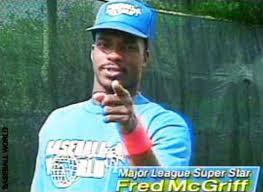 Emanski and his back-to-back-to-back AAU national Championships commercial cloud my judgement of McGriff, let's look at some numbers.  He had 10 years with at least 30 home runs.  The guys with more years: Aaron, AROD, Ruth, Bonds, Schmidt, Foxx, Manny, Thome, Sosa, Mays McGwire, Pujols.  Those are the best home run hitters in the history of baseball.  Ken Rosenthal of foxsports.com, who I really like, said "I do vote for McGriff. He had a long, consistently excellent career, and his rate stats actually are comparable to Eddie Murray's." Murray was a first ballot HOF inductee.
Player 1: .287/.358/.476, 1917 RBI, 504 HR, 129 OPS+
Player 2: .284/.377/.509, 1550 RBI, 497 HR, 134 OPS+
Player 1 is Eddie Murray.  Player 2 is Fred McGriff.  They're very comparable.  Thanks for the suggestion Ken.  I tried to do a fangraphs compare chart of the two players, but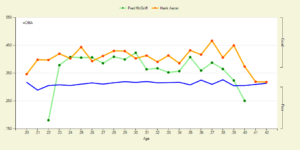 fangraphs didn't like that so I generated a chart of wOBA as compared with Hank Aaron.  Yeah, Hank Aaron. The chart makes McGriff look not so great as compared with one of the top 5 hitters ever, but is useful in showing just how good Frederick has been.
I'm not sure of the real explanations as to why the Crime Dog has yet to receive even a quarter of HOF votes, but there's three possible reasons.  1) Steroids. 2) Bias against First basemen. 3) His lack of a peak.
I'll adress these in reverse order, because I can.  The lack of peak argument is one of the most infuriating arguments in this whole exercise.  Joe Mauer finished first, fourth, and 8th in MVP voting in conscecutive years while playing catcher. Thats a great peak, but the guy isn't even in the conversation for HOF yet.  Jerry Crasnick said: "His big problem is that he's a member of the 'very-good-for-a-long-time' fraternity. He's a home run hitter who never hit 40 home runs and fell just short of a huge milestone."  I really couldn't care less.  Look at all his other accomplishments.
The First Baseman bias is something that David Schoenfield talked about.  He tweeted "Only four HOF first basemen began career after 1936 (McCovey, Cepeda, Perez, Murray). Stargell played more LF."  I find this really interesting and it's something of note.  How are we judging first basemen?  How do we compare first basemen to other positions? Does an average shortstop get in more often than an above average first baseman because of position shortage throughout history?  There's only 13 third basemen in the HOF.  Interesting.
As for the steroid issue, Mcgriff is widely percieved as "clean", but there's still this issue of just how discounted his numbers become.  There's no longer a nostalgia in the 500 home run club.  10 of the people ahead of McGriff on the All Time home run list played in the 90's.  Chicago Tribune writer Phil Rogers said, "McGriff was a great player in the first half of his career but not so much so in the second half, and I think that's why he hasn't received more support. While I'm not saying anything about McGriff personally, I'm uncomfortable with the notion that we know certain guys did not use PEDs. The reality is we don't know who did or did not do anything, and we never will [except for information through the courts or positive tests]."  He continues:
"As unfair as it is to paint everyone with the same brush, it's naive to declare somebody PED-free because we want them to be or they tell us they were."
It's the reality that is the Steroid Era.  And it's a shame that it is swallowing up great players, careers, and people such as Fred "The Crime Dog" Mcgriff.
-Sean Morash