MLB.com's top 100 prospects list came out last night and the top five were all guys you may or may not have heard of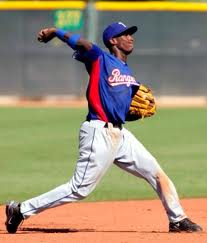 before: Matt Moore, Bryce Harper, Mike Trout, Julio Teheran, and Shelby Miller.  They'll all likely see playing time this year and are sure to excite their respective fans….where it counts.  I don't know how I felt about the list as it seems to favor upside and potential to those more on the verge of contributing and frankly I haven't looked too closely at it yet, but there was a name that came into play at Number 7 that really excites me:  Jurickson Profar.  Profar is a just-turned-19 year old shortstop in the Rangers system that profiles as a legit Major League shortstop more quickly than some may think.  Let's have a closer look.
Profar is from Curucao and represented the nation in the Little League World Series in both 2004 and 2005 (for the record, he hit a combined .353 in the two years while posting a sub-2.00 ERA while going 3-0 and striking out 45 in 25.1 innings).  Profar switch hits and is impressive from both sides of the plate.  This anecdote taken from ScoutingTheSally puts into perspective Profar's ability with the old stick:
In game action, Profar turned on an inside fastball right handed and scorched a line drive foul down the left field line. Not only did the ball clear Fluor Field's green monster, but it smacked the brick wall halfway up the condominiums behind the stadium. As if that wasn't enough, he took a batting practice pitch 375+ left handed off of the top of the left centerfield fence. People talk all the time about the ball sounding different off of a prospects bat and it's usually not completely true. Profar was in the same batting practice group as former Rangers first round pick Jake Skole and his barrel contact sounded hollow in comparison to Profar.
At 5'11, 162 pounds, Jurickson profiles perfectly at shortstop.  While he may be a bit skinny now, an additionally 10-15 pounds over the course of the next two years (natural becoming a man, discovering beer, etc.) should improve his power and durability while allowing him to stay at short long term.
As for how the Rangers will use Jurickson remains to be seen.  At current the Rangers already have a talented defensive wizard at short in Elvis Andrus.  Andrus projects to earn his fair share of All-Star nods while filling the niche within the Rangers lineup of spark plug and contact hitter while surrounded by the likes of Josh Hamilton, Nelson Cruz, Michael Young and Ian Kinsler. With Andrus likely blocking Profar in 2013 and 2014, we see a great potential trade chip for the Rangers to perhaps acquire another pitcher if something happens with the stable of arms assembled at current.
Just throwing this out there: You gotta think that Theo Epstein would covet Profar's .402 second half OBP at short when the time comes to move Starlin Castro to third (Plus, that left side of the infield would be really, really, really good)
-Sean Morash