The Atlanta Braves will soon be without another of their iconic players.  Chipper Jones announced today that he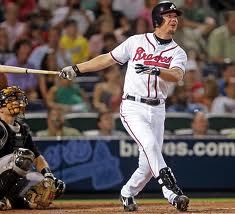 is going to retire at the end of this season and I really want to be sad about it, but I simply can't.  I'm an enormous Chipper fan.  My dog's name is Chipper and my password to many things is a salute to the third baseman.  Watching a Chipper-less Atlanta Braves game will be stranger than watching the Bobby Cox-less Atlanta Braves.  It'll be stranger than hearing the news that Tom Glavine was cut from the Braves while attempting to make a comeback from shoulder surgery and it'll be weirder than watching John Smoltz pitch for the Cardinals at the end of his career.  Consider this:  Chipper was drafted in June 1990.  I was born in April '91.  Chipper made his Major League batting debut on September 14th, 1993 (it was a hit off of Cincinatti Red reliever Kevin Wickander).  I was 17 months old.  Chipper has been the one constant, so it'll be weird.  But (and I'm sure of it) Larry's making the right decision and will thoroughly enjoy this year moreso now that he doesn't have to field daily questions about his future.  
Chipper will be a Hall of Famer and one of the best 3 third baseman to ever play the game along with one of the 3 best switch hitters to ever play the game.  He'll retire with a .300 average, a .400 OBP and over 450 homers.  He received MVP votes 12 times and was a great teammate.  Tim Hudson was quoted
"It's a honor for me to say I've been able to play with him for eight years.  I grew up – this probably isn't going to make him feel real good – but I grew up watching him play. Being able to play with him and Bobby Cox and John Smoltz and all those guys who put this organization on the map it's not only an honor for me but everybody who had the experience of playing here.  He has done a lot in this game and played a long time. Everybody is going to have that day where they hang it up. We knew it was coming at some point. He felt it was his time."
Chipper was asked last year about fans who speculate that he might be playing just for the paycheck at this stage of his career.  Chipper replied: "If they think I'm doing this for the money, they obviously haven't seen my bank account."  I love this quote.
Stuff I'll miss:
Chipper's walkup.  I'm not sure when he adopted it, or when it became an iconic rallying cry for Braves fans, but when Ozzy Osbourne's Crazy Train blasts at Turner Field everyone turns to watch Chipper strut to the plate.  And it always seems to be in a big situation.
The T-shirt Jersey.  There's never been a man with his t-shirt jersey in the closets of so many southern belles.  It seems as though every attractive blonde girl who goes to an Atlanta Braves game has a red or blue Braves number 10 shirt.  It's really impressive.
Three Run Homers from either side of the plate.
Chipper's brutally honest responses to reporters after games.
Shea stadium chanting Larrrrrrry as Chipper strides to the plate only to have Mr. Jones swat 48 homers over the course of his career against the Mets.  Then, Chipper has the audacity to name his kid Shea.
Little known fact:  Chipper is hitting .332 with 46 homers in 232 career games against the Phillies.
It's hard for me to say what else I'll miss about Number 10, but I'm sure we'll have plenty of time throughout the course of the season to hash out the small stuff.
-Sean Morash