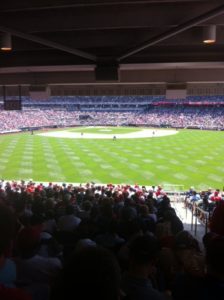 I'm planning a bigger post for this evening but until that time I thought I'd share a few thoughts from yesterday's Yankees- Nats 14 inning affair, which I attended. In no particular order:
Ryan Zimerman is a defensive wizz. He saved that game for Washington at least 3 times and in 1 inning, the 11th I believe, turned 2 sure hits into web gems
Andy Pettitte has more years on Bryce Harper than Harper has years (20 to 19)
Harper went 0-7, the first teenager ever to do that. He k'd 5 times and slammed his bat in disgust once
Joe Girardi put that NL managing experience to use. By the end of the game, and really for the last 3 innings, the Yankees had no body but pitchers on the bench. Girardi used his backup catcher as a pinch hitter and used all his outfield replacements. One of those, Dewayne Wise, went into the game in left and then moved to right when Jayson Nix came in. That very inning, Wise gunned down Jesus Flores (I think) at home with an absolute bullet to stop the go ahead run from scoring and end the inning. The fact that replay showed that the runner was safe is irrelevant.
Andy Pettitte dealt. He threw 7 great innings again.
Jordan Zimmerman has a great backdoor slider that baffled hitters all day. He had a 94mph fastball, 92 mph 2-seamer and that slider. He looked really good.
Craig Stammen was also great. He went 3 shutout innings without allowing a hit.
The Nats bullpen actually threw 7 hitless innings until Brad Lidge came in.
Lidge was terrible. Not only did he blow the game, he got smacked around while doing it. This is not the Brad Lidge of old. He has pitched like a guy with a 10 ERA.
There was a section right where I was that spent the game heckling Bryce Harper. It got louder every time he struck out and was at a fever pitch at the time Harper made a diving catch in center to end an inning. Bryce caught the ball, turned around to the stands in center, tipped his glove, and jogged in.
There were at least as many Yankee fans as Nationals fans and a few times throughout the game, the Lets Go Yankees chants got very loud
The Yankees finally got a win without a home run.
-Max Frankel