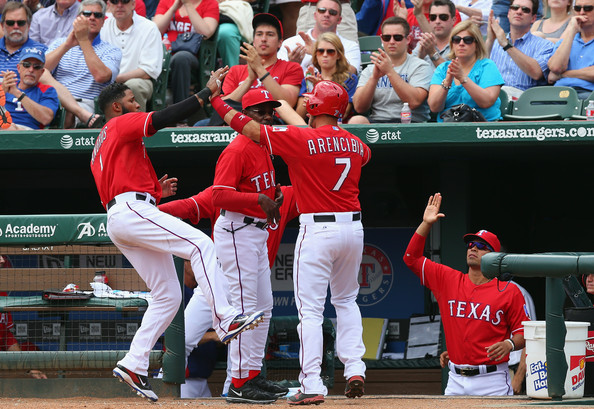 I was happy to see former University of Tennessee star JP Arencibia in a Texas Rangers uniform earlier this week.  Following the loss of AJ Pierzynski, Texas needed a full-time catcher who wouldn't break the bank, and they opted for the former Blue Jay.  Arencibia is still just 28 and has hit 62 home runs since he began as Toronto's full time catcher.  That homer total sits fourth best among catchers in that span.  The power is undeniably good, but the 25.8% caught stealing rate, and 119 extra strike calls he bought his pitchers during that timeframe?  About average.  The .260 OBP is downright ugly.  The guy is hilarious, and certainly deserves to be a major league starter somewhere, but he probably shouldn't be getting 500 at bats for a team that fancies itself a playoff contender.  Texas's pact with Arencibiais not the only less than ideal catcher solution among the league's top teams.  What follows is an admittedly way too early look at some potentially important backstop situations to keep an eye on.
Texas Rangers 
I mentioned JP Arencibia in the open, but the Rangers catching situation is much murkier than simply a question of whether Arencibia can get on base enough to stay in the lineup.  The immediate backup to Arencibia was Geovany Soto, but he's expected to miss at least the first two months of the season rehabbing a torn right meniscus in his knee.  Soto has a career .775 OPS, which is over 100 points better than that of Arencibia.  However, Soto has not been healthy since he arrived in Texas.  I look for the Rangers to give Arencibia every chance to succeed and then bring Soto into the fold as he is ready.  The relationship between Arencibia's OBP and the Mendoza line, and the progression of Soto's rehab could make the Rangers very interesting buyers as we approach the trade deadline.
Baltimore Orioles
There were strong rumors this offseason that Matt Wieters may have priced himself out of Baltimore through arbitration and strong play.  I'm not a huge Wieters fan and find that his shortcomings in BB% (and consequently OBP) are too often ignored, but the fact is things fall off sharply after him.  Wieters could become available if the Orioles find themselves in the cellar this summer, and if if departs, Baltimore will have to get creative.  With the rest of their catching corps registering as "not so good" on the Sean scouting scale, expect little production from Baltimore backstops if Wieters packs his bags.
Philadelphia Phillies
Chooch is back.  He's dependable, affordable, and has a good nickname.  However, Carlos Ruiz is 35 and under contract for another two seasons after this one.  Prognosticators (including me here) have suggested that the Phillies may need to enter full firesale mode this summer as so much of their everyday lineup is getting older, slower, and worse by the day.  I'm not entirely sure that the Phillies will be selling everything this summer–Ruben Amaro strikes me as too proud to fold up camp like that–but they might be best served to entertain offers on their catcher.  To get anything of value in return, the Phillies will need Ruiz to return to his high-OBP's of 2010-2012.  If he reaches at a .320 clip again like last year, not only will the Phillies be bad, they may not have any pieces to trade that anyone else might want.
Cincinatti Reds
Brayan Pena was the Reds opening day catcher.  While Devin Mesoraco is due back by the end of next week, he only reached base at a .287 pace last year (and only .230 after April!).  Mesoraco is still just 25, but if he rehashes his 2013 numbers for too long, the Reds will need an upgrade.  With other big question marks in left and center field, at shortstop and unsteady production from Brandon Phillips, the Reds may have to admit they should have kept Yasmani Grandal and find a replacement.  But neither a replacement nor Pena is good enough for a team with designs on the Cardinals' division crown.
Atlanta Braves
The Braves seem content to let things run with their trio of catchers in hopes that manager Fredi Gonzalez can find the right mix.  I'm not exactly sure that any of them should be starting full time, but Evan Gattis is slated for about 100 games.  El Oso Blanco has his own OBP problems that will likely make Braves fans regret buying this shirt.  I don't expect the Braves to be active in the trade market given the options that they've stockpiled for themselves to get through the year, but another hole in the lineup joining BJ Upton and Dan Uggla could be a big problem.
Boston Red Sox 
For an organization as forward thinking as the Red Sox, targeting AJ Pierzynski in the offseason was interesting.  Pierzynski is 37 and has posted an OBP 50 points higher than his BA just once in a 15 full seasons (and that mark was just .308, back in 2005).  He had a .297 OBP in Texas last year.  AJP will team with fellow 37 year old David Ross to handle the pitching staff, forming the oldest catching tandem in either league.  The Red Sox seem content with this situation as the aging wonders are backed by two youngsters.  Defensive whiz Christian Vazquez (AAA Pawtucket) could be ready this year if called upon, and Blake Swihart (AA Portland)  ranked in at number 56 on Keith Law's top 100.  The Red Sox will be just fine, but the big league catchers are really old.
I expect there to be major activity centering on catchers this summer as the Rangers, Reds, and Braves could all be looking for external help.  Looking at the Orioles' and Phillies' situations, there could be some proven backstops available.  Whether buying, selling, or treading water, each team on this list could see their win total dramatically affected by their catchers.
-Sean Morash
Stat of the Day: Los Angeles Dodger pitchers reached base at a higher rate in 2013 than Blue Jays catchers.