The Philadelphia Phillies may have just struck gold with Charlie Morton.  The Pittsburgh Pirates are famous for their reclamation projects, turning Edinson Volquez' career around and attempting to do the same this year with Juan Nicasio. Morton just left the Pirates for greener pastures in Philadelphia. When the Phil's agreed to pay Morton a guaranteed $9Million this offseason, it sure felt very Phillies.  In paying  at least $9 Million to a soon to be 32 year old who has been on the disabled list 8 times in the past 8 years, while compiling a 4.55 career ERA, some pundits had to question whether the Phil's would be better off just giving that money to charity.  And sure enough in his first start, Charlie was his past self in allowing 6 ER over 3.2 innings. But then last night happened.  Last night changed everything.
Maybe it was just one start, but man, I was impressed.  He went 6.2, didn't allow a run and struck out 7 while allowing just 3 hits.  He walked 4, his season ERA still sits above 5, and he was facing a Padres club that isn't exactly known for scoring.  However, the video portends eminent excellence.  Here's the highlights from last night's start. Note the 95 mph sinker. It was straight filth. How filthy? Well… let's head to the data!
Here's a plot from fangraphs on all of Charlie's pitches last year.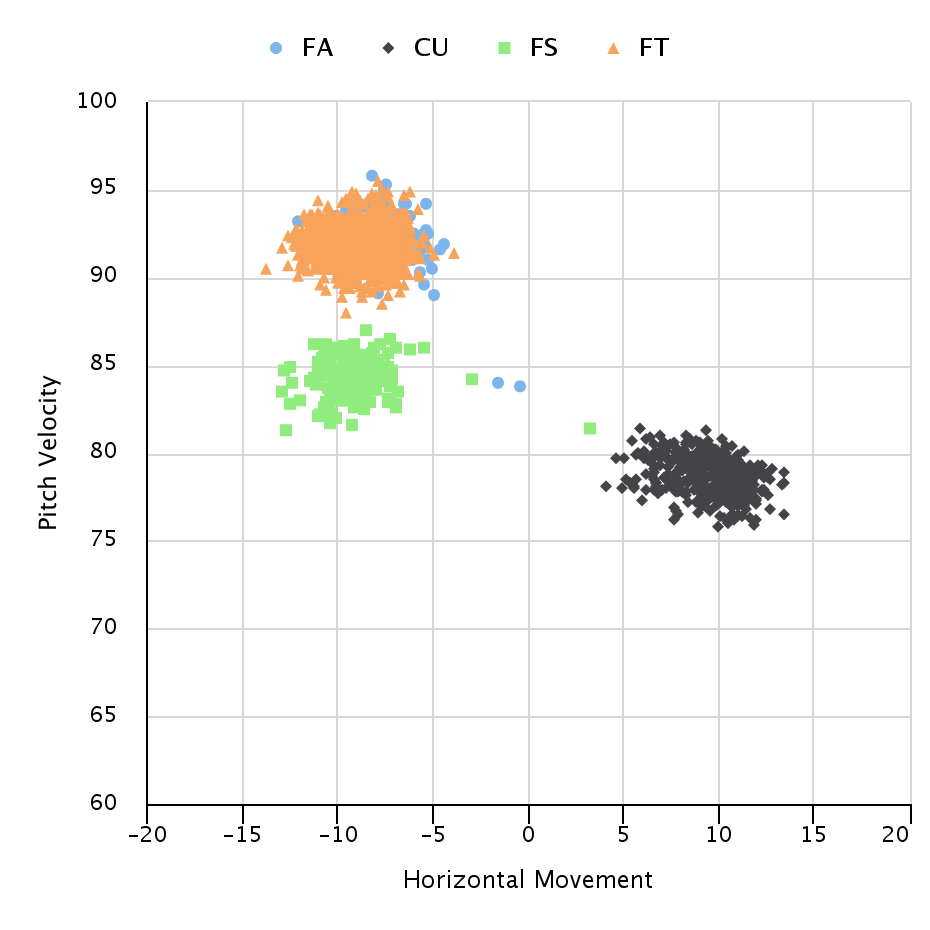 Here's the same graph, again from Fangraphs, but for his two 2016 starts.  Note how Morton's two seam fastball (FT) is both closer to 95 mph and has more movement.  This is a huge development.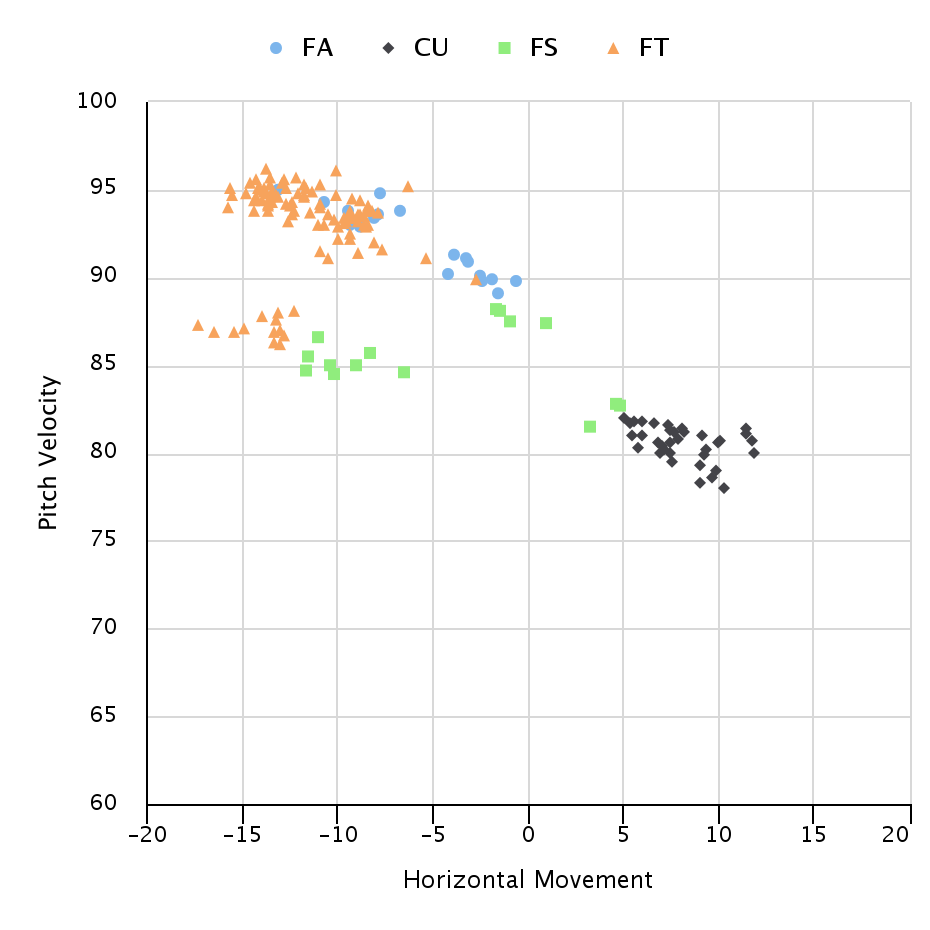 Now, the average baseball fan knows that 95 mph sinkers are plenty rare.  I know that too, but I wanted to see just how rare a pitch this fast with this type of movement really is. Well, I found every right handed pitch that has been thrown at least 94.5 mph and moved at least 13 inches in 2016. Check this out:

Now, we know that Charlie Morton has always had tantalizingly good stuff. When you google "Charlie Morton highlights" you get multiple youtube videos, including this one titled "Charlie Morton Electric Stuff Pirates Highlights 2013." But we also know that Morton fights his way through injury and has flashed enough excellence that he's stayed employed at the major league level for each of the last 9 years. Maybe this is just who Charlie Morton is and I never knew it.  Maybe he throws 95 mph sinkers, fails to get lefties out, walks a few too many people and marches his way to a 4.5 ERA.
The problem is that not only has nobody else in baseball done what Charlie did last night this year, Charlie's never really done that before, either.
I went back and filtered through all 14,330 pitches that Charlie has thrown in front of the pitch f/x cameras.  How many times before last night has he thrown a pitch at least 94.5 mph with at least 13 inches of run? I wish it were zero, but he did it once back in 2010. It was to Ryan Howard with the bases loaded and Howard poked it for a single.
There's more! Remember how I had looked for every right handed pitcher who threw at least 94.5 with similar movement to Charlie Morton? Well, when I adjust the parameters to include any left handed pitchers, the list gets fun.  Clayton Kershaw threw a similar pitch and so did Francisco Liriano and Carlos Rodon. All are undeniably ridiculous pitcher comps for Charlie Morton, but so is Chris Sale.  This year, Sale has thrown 35 similar sinkers, except from the left side. Is Charlie's new pitch essentially a right handed version of Chris Sale's nasty two-seam? It sure seems that way.

Obligatory Sample Size Caveat: Now this is just one game and Charlie Morton has to prove that this 95 mph version is his new sinker, when it never was before.  He's 32, so it's a bit odd to think that he's found some new secret to throwing like a right handed Chris Sale. But it was lots of fun last night, and is sure to be no fun for National League hitters if he keeps it up.
-Sean Morash