American League
Brian McCann is an Astro! Josh Reddick is an Astro!: Rapid Reaction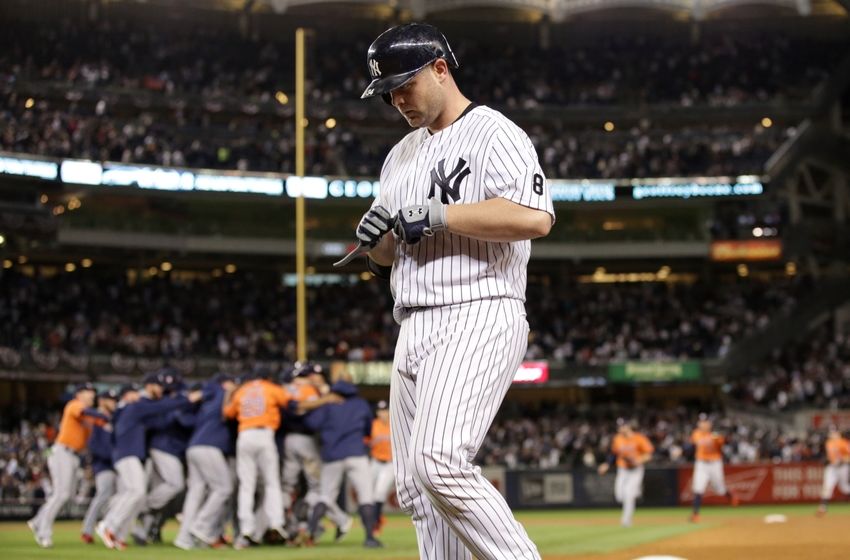 The Yankees have traded catcher Brian McCann and about $11 million of his salary to the Astros for minor league pitchers Albert Abreu and Jorge Guzman.
For the Astros:
All in all a pretty solid deal. McCann will now share catching duties with Evan Gattis, giving Houston a solid offensively minded duo. Neither McCann nor Gattis can catch every day but between the two, they should have things pretty much covered.
I also like this deal because McCann is an experienced and respected veteran and has spent a lot of time working with some of baseball's best pitchers. The Astros are pretty well stocked with talented pitchers but they are mostly young and all have struggled. McCann might be able to play an important role in getting Dallas Kuechel back on track and shepherding Lance McCullers through his growing pains. At the very least, Brian is a steadier hand than Gattis' when it comes to handling the pitching staff and leading a young team.
As I type, word is coming in that the Astros have signed Josh Reddick to a 4 year, $52 million deal. Clearly, Houston is going for it: McCann and Reddick are two veteran players that will help them reload and bounce back from a difficult 2016.
Reddick is a hit-or-miss middle of the order bat. He's a low average, decent power guy- kind of a rich man's Colby Rasmus, and that's a pretty good fit for a team with a couple of high average/ high on base guys at the top of the order in Jose Altuve and Carlos Correa.
Reddick was one of the most coveted outfielders in a thin market and the Astros took the plunge. It's a risk but the money isn't insane.
For the Yankees:
Eh. It's nice to dump McCann's contract and it is clear that Brian did not live up to expectations when he signed the big free agent deal after leaving the Braves, but I don't love this deal.
Moving McCann clears the way for Gary Sanchez to take on full time duties. Sanchez, as good as he's been, was going to be the starting catcher even with McCann in New York. Sure, McCann was an expensive backup catcher / DH but at least he was a good insurance policy for the 23-year old Sanchez.
Dumping McCann's contract, in addition to Alex Rodriguez's and Mark Teixeira's opens up a lot of free money for the Yankees, which is great, but all indications are that Abreu is a good-not-great prospect and Guzman is a pretty big flier. I find it hard to believe that the Yankees couldn't have gotten more for McCann given that the catching market this winter is so thin. Especially considering they asked the Braves for Ender Inciarte and Mike Foltynewvicz this past summer.
Finally, if the point of this move is clear roster space so they could bring back Carlos Beltran to be the backup RF/ DH, I really don't like it. Beltran is still a useful player, but the Yankees were right to move on from him in the summer and bringing him back isn't a good idea. It's time to move on from the teams that have been mired in mediocrity for the last few seasons.
-Max Frankel