Archives
Why The Philadelphia Phillies Should Be Aggressive This Offseason (Their Infield Is Good)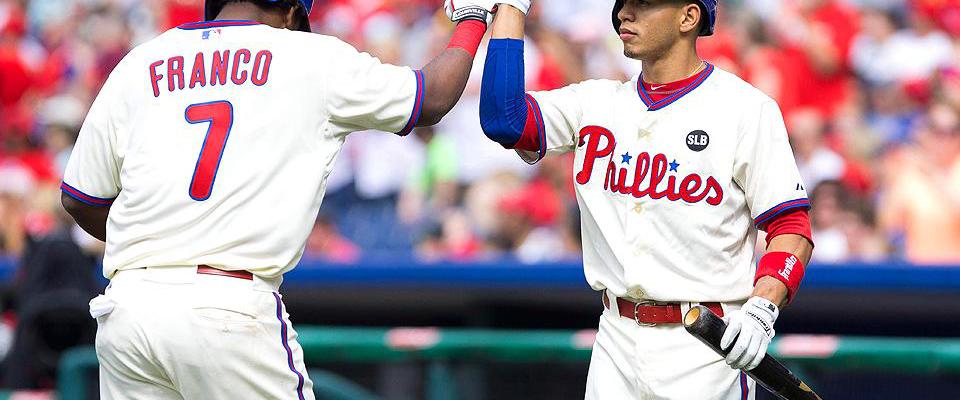 The Philadelphia Phillies are coming off of a year in which they went 71-91. They performed better than most pundits thought they would, but they are still a few pieces away from truly competing. Those pieces are likely in the outfield where the team managed a 0.6 WAR all told. They could use help at all three outfield positions, even as Odubel Herrera does his best 3-hitter impression. I expect the Phillies to make a push for a big time bat (Andrew McCutchen, anyone?) and a complimentary bat to add to a young roster that could suddenly look pretty good. Why am I so optimistic about the Phillies 2017 chances? Well, it starts with a surprisingly strong infield that is ready to be among the game's best in short order.
Consider:
Second Base
Cesar Hernandez posted a 4.4 fWAR in 2016 that was buoyed by an all-around game that was nearly unmatched in baseball last year. The advanced stats simply loved this guy. According to fangraphs, he earned the Phillies a run on the basepaths, 7.1 at the plate, and 16.1 in the field. Those totals seem pretty good, but are definitely abstract. For context,the only players to match those numbers last year were Corey Seager, my boy Adam Eaton, Francisco Lindor, and Brandon Crawford. There's also this: He posted the 22nd highest OBP in baseball. Yes, Cesar Hernandez. He doesn't hit for much power, but he's an absolute darling if you are looking for the traditional defense-first, get on base second baseman. The sabermetric era loves these types of guys and the Phillies would be wise to wrap the 26-year old up, lest his arbitration salaries get out of hand. He won't be a free agent until 2021. The Phillies, whether you chose to believe me or not, are golden at second base.
Third Base
Maikel Franco took a step back in 2016, but he still hit 25 homers as a 23-year old third baseman. Franco is a former top prospect who has shown that he has the power to play in the big leagues. He's still the same age as Gary Sanchez.  Even if 2016 is what we should expect from Franco going forward, he's a league average third baseman on a cheap salary. Given his age, pedigree and the glimpses that we have seen, the upside is so much more for Franco. On a rebuilding squad getting closer to contention, Franco is exactly the type of player that I would like to have.
Shortstop
Look, we all know Freddy Galvis is not good. That's fine. But do you realize that J.P. Crawford is right around the corner? He was a consensus top 6 prospect in all of baseball before the 2016 campaign, though he will likely slide back a bit as he struggled in AAA, but  he was 5 and a half years younger than the average player in that league.
Galvis doesn't get on base. Fine, but the 2017 Phillies shortstop is really J.P. Crawford. The prospect reports about Crawford label him as a defense-first, on-base machine. He's just a phenomenal athlete.
Taking a quick look at these three positions, the Phillies have a solid core to build around. That's why their fans are starting to get excited. For fun, let's assume a repeat for Cesar Hernandez, a mild improvement from Maikel Franco (one more win to 2.8), and 3.0 WAR from Crawford. That's top half of the Majors production, without factoring in (hopefully positive) contributions from backups like Howie Kendrick.
But the way that I look at the infield, there are still two more positions:
First Base
The Phillies are finally moving on from the Ryan Howard era, but hopefully that doesn't mean they have moved into the Tommy Joseph era. The 25-year-old Joseph did manage a .505 slugging percentage in his time in the Majors last year, after missing much of 2015 with injury, but the Phillies would look a lot better with one of the available established sluggers plugged in to compliment Joseph. Perhaps a left-handed hitter capable of splitting time in the outfield would be a great fit. Brandon Moss! He's available and shouldn't crush the bank account the way he crushes right-handed pitching.
Catcher
The Phils were an above average squad behind the plate last year, but the majority of that was before they dealt Carlos Ruiz. Cameron Rupp is apparently positioned to be the club's primary catcher in 2017 following league average production in his time in 2016. Plus, there is apparently mutual interest in AJ Ellis returning. Those two do not get me excited. I suppose few catchers in the game really get me excited.
So if we look at the Phils, we see a mess in the outfield, a rotation that is relying upon arms that have already experienced soreness, and a solid core. However, the thing with this team is that I really do not think they are that far away. If you look closely, the building blocks are there. The upside is there. The bullpen is solid and the infield has the potential to be excellent for years to come. A couple of wise moves this offseason and this team could be actually good as it gears up for Spring Training.
So, what's the problem?  Well, management.  Someone in charge at Phillies HQ started off the offseason by giving Jeremy Hellickson a $17.2Million Qualifying Offer for the 2017 season, despite being a #4 starter. Then, they dealt for Howie Kendrick, giving up Darin Ruf and Darnell Sweeney for the right to pay Kendrick's $10 Million salary. That's 27.2 Million poorly spent in my book.
The Phillies have a surprisingly solid infield. They need to surround it with talent, rather than punting another year just because.
-Sean Morash