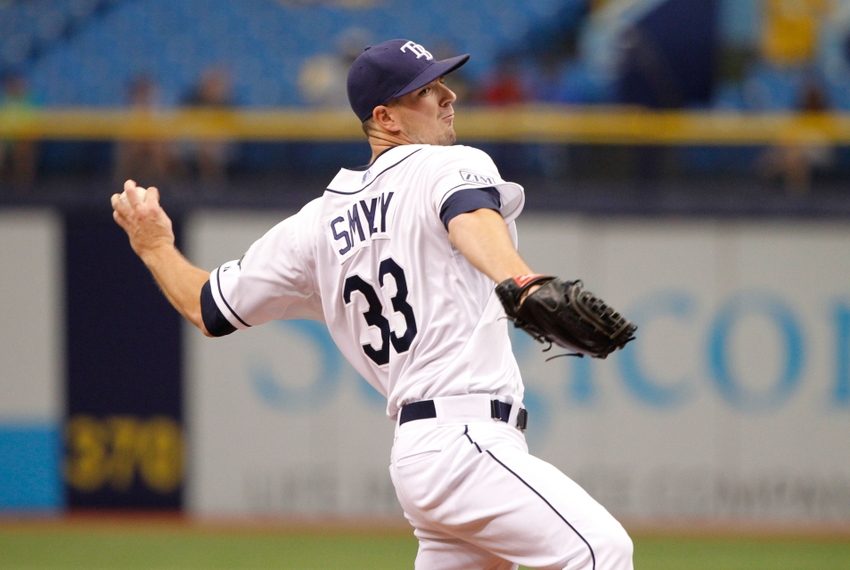 Over the last few days, I have been toying with making my illustrious return to the blogosphere following a Key-West-vacation-induced hiatus from all things. The idea that was bouncing around in my head was a recap of where the Mariners started the offseason and where they currently sit. They've made a variety of moves involving Big Leaguers, but few of the real headlining variety. Well today, they made that theoretical post even more difficult to write as they agreed to two swaps that, when the dust settled, landed Drew Smyly in Seattle, Mallex Smith in Tampa, and pitching prospects in Atlanta. That "Where are they now" post will be for another day. For now, you'll get my rapid reaction.
Seattle Gets:
Tampa Bay Gets:
Atlanta Gets:
Seattle is obviously trading their left handed pitching prospects for an established major league left handed pitcher. Smyly followed an injury riddled, but effective, 2015 with a disappointing 2016. He posted a 4.88 ERA across 30 starts and gave back the 2 strikeouts per 9 that he added to his ledger in 2015. He's still a good strikeout pitcher (167 in 175 innings), and his stuff is still intact. He's a decent bounce-back candidate, and a 2 WAR player right now with upside for more.
They also added Shae Simmons, the Atlanta reliever who missed all of 2015 and most of 2016 with Tommy John surgery. He was once described as Craig Kimbrel lite, and has been really, really good in his brief Big League career. He'll help bridge the gap to closer extraordinaire Edwin Diaz.
For Atlanta, the deal is about adding more left handed pitching to their already stacked farm system. Luiz Gohara is the real "get" here. He's a 20 year old from Brazil, who throws in the mid-90s and touches 98-99. Unlike other pitching prospects that the Braves have acquired, he's also had the success in the Minor Leagues that us stat-nerds like to see. He's has thrown fewer than 70 innings in each of the last two seasons. He needs some seasoning in the Minor Leagues, but was the Mariners number 2 prospect prior to the trade.
Tampa Bay gets young center fielder Mallex Smith. He's a speed-first guy, who started to play quite well before going down with injury that cost him his second half. There was no room for him in the Atlanta outfield between Ender Inciarte, Matt Kemp, and Nick Markakis. (I don't think that's a fat-Matt-Kemp-joke.) He's probably never going to be an All-Star as a slap approach saps him of even doubles power, but his combination of elite speed with an idea in the batter's box, is unique. For Tampa, this is a bet on upside and the potential to have themselves a top of the order starter for the better part of the next decade.
Carlos Vargas is an 18 year old Dominican destined to be a basher at 3B. He's got all the raw power you could ask for, but needs to mature his approach. The Mariners signed him for $1.7M in 2015. Ryan Yarbrough seems like the type of pitcher that the Rays love: Guys who are good for mystifying reasons. He's 25, but just finished up a AA season with a 2.95 ERA in 20 starts. Tampa is clearly looking at quantity of talent over established talent. All of Mallex Smith, Carlos Vargas and Ryan Yarbrough fit in the same 2.0-WAR-eventually-maybe category as Drew Smyly.
Seattle GM Jerry DiPoto seems unable to sit quietly without making trades. If I were a GM, I would probably be the same way. The talent swapping hands here is mostly upside. These are not Chris Sale deals, but they do have the potential to significantly alter the layout of each of the three franchises involved if one of these guys hits it big.
So where are the Mariners now? I'm not sure. I haven't had a chance to catch up on all their other deals just yet. These two deals are pretty good for Seattle. 3 years of Drew Smyly is better than no years of Drew Smyly, but I'm not sure he's all that great. I think Atlanta is the real winner here, having received the most upside down the road. I better get this posted before DiPoto makes another deal.
-Sean Morash