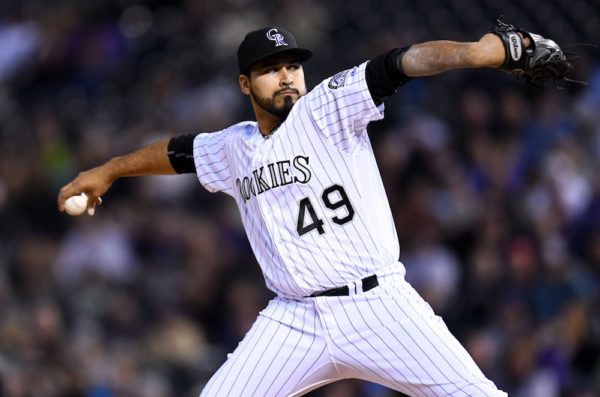 Don't look now but the National League West is really shaken up compared to recent times.  Granted, we are just a week and a half into the 2017 season, but it's worth noting that the 69-93-in-2016 Arizona Diamondbacks are currently holding a one-game lead over the 75-87 in 2016 Colorado Rockies.  We've grown so accustomed to the Dodgers and Giants battling it out every year since the beginning of this decade that we kind of forget about the other teams in this division.
No longer: the Colorado Rockies are here to play.  As of April 12, the Rox stand at 6-3, trailing the D'Backs by a single game.  It's always been a matter of the pitching holding up their end, while the perennially-plus offensive side rocks Coors. (Editor inserted pun, not Jordan's fault.)  Of course, the guys on the hill are cursed by the Coors Field altitude, but the Rockies staff is growing more and more appealing thanks to a series of quality trades and draft choices.
To date, arguably the top-three hitters in the Colorado lineup are all hitting BELOW the Mendoza Line.  Carlos Gonzalez (.188), Trevor Story (.143) and DJ LeMahieu (.188) have all displayed early season struggles.  It's not like they're playing into the Coors Field effect either as the Rockies have played a majority of their games at home thus far.  Once these three get the sticks going, along with adding free-agent signee Ian Desmond to the lineup once he returns from the disabled list, the Rockies offensive unit will be top tier in the National League.  Nolan Arenado has shaken the WBC icicles off his bat if you will, hitting .324 with three home runs thus far.  Gerardo Parra is hitting a cool .375, leading the team in average and Mark Reynolds, the guy that either strikeouts or hits a bomb, leads the team with four long balls, hitting .323 with 10 runs batted in and eight punch outs in 31 at bats.
The starting pitching hasn't been the best so far, but there is reason for optimism. Fireballer Jon Gray displaying a lack of command early, pitching to the tune of two no decisions and a 5.79 ERA.  He's struck out just eight hitters and walked five through 9 1/3 innings.  Look for Gray to get it together and become the Ace of this franchise.  Kyle Freeland, 23, the Rockies first round pick in 2014 (8th overall) from Evansville University and a Denver native, went six innings in his MLB debut, striking out six Dodger hitters and allowing just one unearned run.  The expectations are high for Freeland.
Antonio Senzatela, who?  I've got to be honest here, I follow the minors more than the next guy and I had no idea who Senzatela was when I saw he was starting for the Rockies last week.  In 12 big league innings so far, the 22-year old Venezuelan product has struck out 11 with a 0.92 WHIP.  Opponents are hitting just .171 off him so far, which bodes well for his home park.  After a stellar 2015 in high-A in which Senzatela had a 8.25 K/9 and a 1.93 BB/9, he posted similar numbers in a much smaller sample size in AA in 2016 (4-1, 34.2 IP, 7.01 K/9, 2.34 BB/9, 0.26 HR/9).  My favorite part about Senzatela has to be the HR/9 number, which has never exceeded 0.68 in the minors, which is uber important for pitching at Coors Field half the time.  If you haven't picked up Senzatela in your fantasy leagues because you're afraid of the Coors Field factor, I suggest giving him a flyer.
Lastly, the Rockies finally have a shut-down closer to complement a pretty decent bullpen.  There were a lot of questions surrounding Greg Holland coming into this season after missing 2016 recovering from Tommy John surgery. Holland's devastating slider and splitter are complemented by an electric fastball, a three-pitch mix that is invaluable for a closer.  If you look at the numbers from Holland's dominant years in Kansas City, it's hard to believe Holland, 31, had trouble finding a home in 2017 (13.84 K/9, 2.42 BB/9 in 2013; 12.99 K/9, 2.89 BB/9 in 2014).  Holland's K/9 fell to 9.87 and BB/9 rose to 5.24 in 2015 (perhaps due to the discomfort in his pitching elbow), which is likely where the questions arose.  However, so far in 2017 Holland looks like the Holland of old, converting all five of his save opportunities, a 0.00 ERA and a 14.4 K/9 rate.  If you took a flyer on Holland to begin the season, I applaud you and would like to have dinner with you or something.
The Rockies undoubtedly have the recipe for success.  They are going to be a fun team moving forward, especially with Ian Desmond coming back from the disabled list in May.  That lineup, with Gerardo Parra leading the team in average so far (.375, 1 HR, 6 RBI), paired with a young and up and coming pitching staff could be poised for a playoff run in 2017.
-Jordan Lindsay