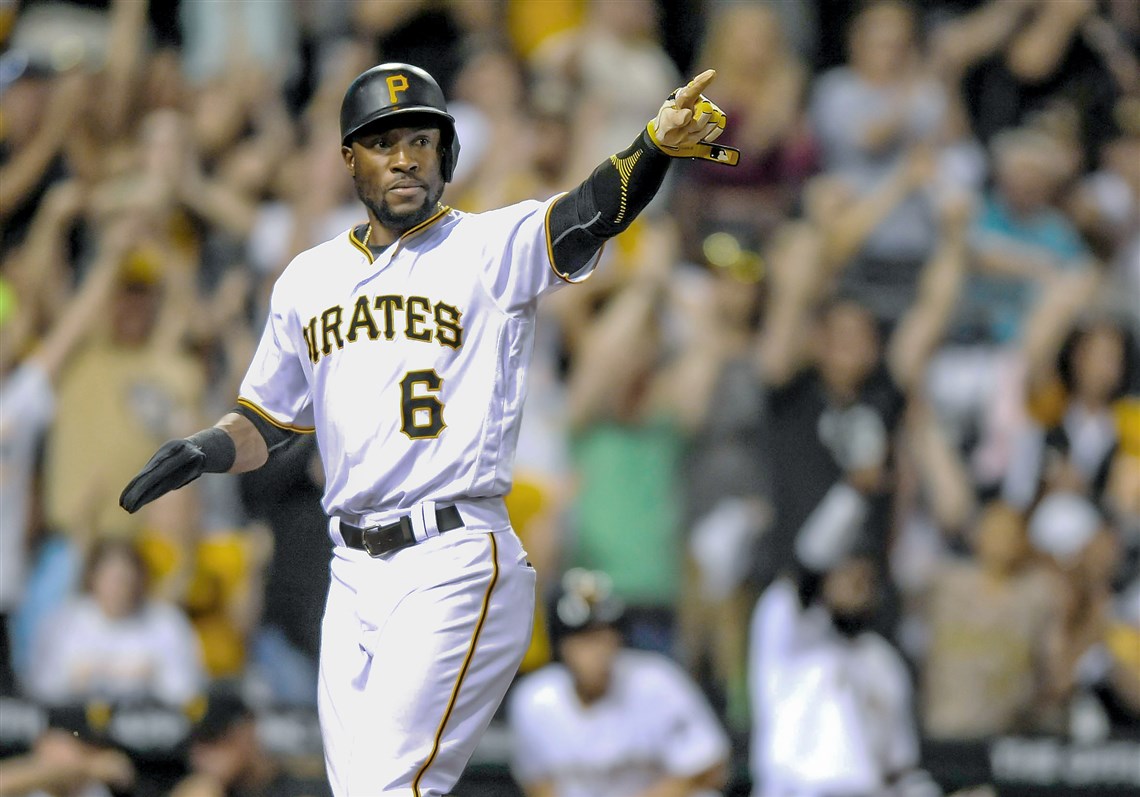 Yesterday, the Pittsburgh Pirates' playoff hopes took a big hit as their centerfielder, Starling Marte, was slapped with an 80-game suspension for utilizing performing enhancing drugs (steroids). As part of the suspension, Marte is ineligible for the playoffs this year, but his mere absence from the lineup for half of the year likely will sink the Pirates' slim playoff chances. He's a 5-win player, and possibly the best player ever suspended for PEDs. The Pirates are not sunk yet, but it's going to be a lot harder to chase down the Cubs without one of their best players for half of the year.
With that understanding, the Pirates are left looking around for solutions. They probably looked at their top prospect Austin Meadows' meager numbers in AAA and quickly realized he was not a viable alternative (yet). They apparently also gave Angel Pagan a call, but he doesn't make them better because he's been worse than replacement level over his last 2 years, in over 1000 at bats. So… John Jaso started just his 8th game in the outfield in his 9 year career. He's obviously not ideal if the Pirates want to make the playoffs. Maybe they don't, but I think it's fair to say they want to compete this year, at least for the sake of argument. That doesn't seem too outrageous considering they definitely wanted to compete at the beginning of the week.
So they have this asset in the form of Starling Marte who will provide zero in the way of help over the next 3 months. They probably want to turn that into some asset(s) that will provide non-zero help. Ergo, trades!
I looked into the MLB official rules and the PED rules. I was unable to determine if one can actually trade an MLB player serving a suspension. Since it's not explicitly illegal to trade him though, I think the Pirates should at least explore the possibility. There is sort of precedent: Aroldis Chapman was dealt last year while facing a domestic violence suspension. The Yankees won that trade from a pure baseball perspective. The Yanks took a lot of flack for that, deservedly. Any team that acquires Marte would need to assess the aesthetics of such a deal within the clubhouse and its fanbase. I'm no PR guru, so I just see a Marte trade as a creative chance to shift assets according to a competition window.
What teams would want Marte? Considering his team friendly deal guarantees him just $22 million through 2019 (with team options for two additional years after that) I would say many teams would be interested in trading for him. I'll highlight a few deals here.
Atlanta Braves Trade Nick Markakis and Sean Newcomb for Starling Marte
The Braves John Coppollela is just the guy to pull off this type of baseball trade. Markakis could slide in and help the Pirates this year. He's not the great player that he once was, but he'll provide above average defense with slightly above average offense. Toss in the Braves' most Big-league ready pitching prospect (a Top 50 prospect in the game) and Marte's long-term value is replaced. The Braves get their needed future upgrade in the outfield by trading from a position of strength. It likely wouldn't be the most popular deal as the Braves are still riding the high of a new ballpark and effectively punting the next few months, but Braves fans have grown to appreciate these nuanced deals. (Editor's note: At least one Braves fan (Sean Morash) has grown to appreciate these nuanced deals.)
New York Yankees Trade Brett Gardner for Starling Marte and prospect Luis Escobar
This is much more of a Pirates desperation play, but Gardner is a real asset for the Yankees. He's sporting a similar contract as Marte, but without the suspension, upside, or uncertainty. For the Yankees, their fans have embraced the rebuild and I doubt anyone believes that Brett Gardner will be on the next great Yankees squad.
Milwaukee Brewers Trade Ryan Braun for Starling Marte
Picture this: Brewers GM David Stearns picks up the phone and offers his former PED-user for the Pirates' PED-user. Straight up. The Pirates definitely don't immediately hang up. They would probably want some salary assistance and probably a prospect or a pitcher. Would it happen? Probably not, but the Pirates would listen. It's also a ton of fun and I'm a blogger and this is what I am supposed to do. I texted Max about it and he responded with 8 texts before I looked at my phone again.
Ultimately, the Pirates would likely be wise to avoid selling Marte at the absolute bottom of his value. However, they could improve their squad by dealing a player with a questionable future who definitely will not help right now. The Pirates projected to have a crowded outfield in 2018 anyway.
-Sean Morash