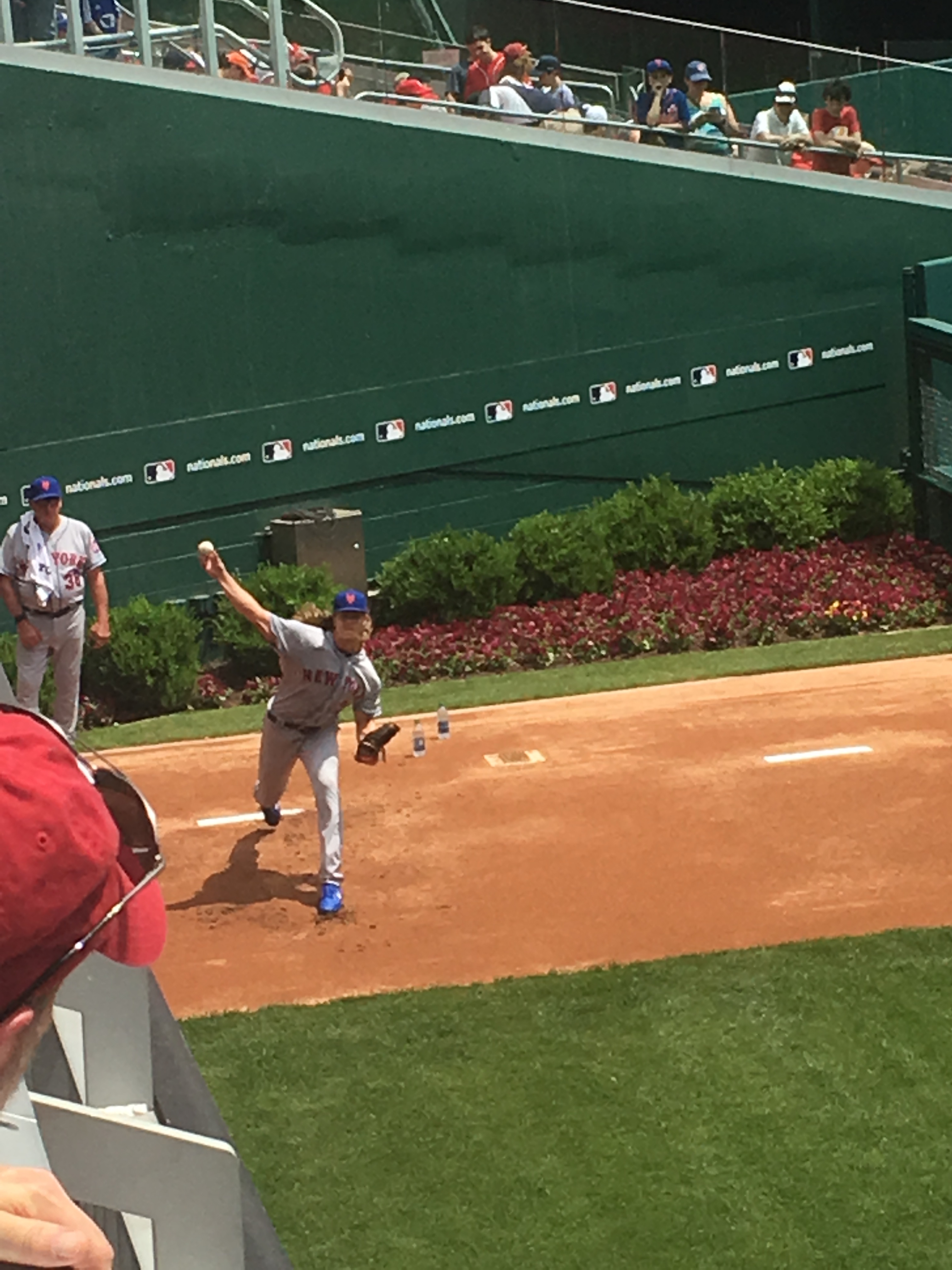 Sunday's 23-5 drubbing at the hands of the Washington Nationals was the culmination of a disastrous week for the New York Mets – one in which bad luck was compounded, exponentially, by horrendous organizational decision making. Problem is, it hasn't just been one bad week; inexplicable decisions are starting to pile up.
I've long been a big fan of Terry Collins, the Mets manager. In fact, I gave him an A- in my 2017 National League Manager Rankings, but if I had to give him a grade for this season, it would be an F. Collins has started inferior players over potential All-Stars and messed with his own starting rotation to the point that he's actively hurting the team. All of it culminated Sunday in what was perhaps the most predictable injury of all time.
Let's start with the easy one. For more than a year, Collins has stubbornly refused to consistently start Michael Conforto, which stunted the young outfielder's ability to work out of some early season struggles last year after a strong 2015 debut. Sandy Alderson, the Mets' GM, didn't help the situation any when he traded for Jay Bruce last summer, creating a log jam of Bruce, Conforto, Juan Lagares, Yoenis Cespedes, and Curtis Granderson in the outfield. All of whom can make very credible cases to be starting on a good MLB team.
As a result, Conforto got only 22 plate appearances in the team's first 13 games, starting just 3 of them. Since some slow starts and, more recently, an injury to Cespedes forced Collins to play Conforto daily, he's put up a .333 line with 6 homers and 12 RBI, mostly out of the leadoff spot.
Baseball Twitter has been beside itself for months over Collins' stubborn refusal to play Conforto regularly and, justifiably, feels very vindicated by his success of late. The Mets however, should be annoyed that they've been sitting on a bright young star, wasting a team controlled year with him on the bench so that aging veterans like Granderson can post .220 batting averages.
So what will the Mets do once Cespedes is healthy again? He's obviously the best of the bunch, so he'll be back in the outfield.
An easy answer would be to move Jay Bruce to first base. The Mets have played Bruce there lately and, without a great alternative on the roster (I do not consider Lucas Duda a great alternative) it seems like a pretty good plan.
Except the Mets told Bruce just this past weekend that his time at first is over and that TJ Rivera would man the position until Duda returns. This decision was, on the one hand, a nice thing to do as reports are that Bruce didn't really like first base. His 6 starts there this season were the most he's played on the dirt in his career, but if the Mets could convince him to stay there and learn the position a little better, it would have really made things a lot easier. As it is, the Mets will be back to their old problems in the outfield as soon as Cespedes returns.
Sure, you might say it's a shame that the Mets struggle to find at-bats for all their talented players, but it's a pretty good problem to have, isn't it? Well, yes. Except that we now see the benefit of consistent at-bats. It's hard to drop a player in for a start here or there and expect him to perform at a high level. Position players need consistent at-bats to feel comfortable and Terry Collins doesn't seem to be able to manage well enough to get everyone solid playing time.
The other thing on this topic, which shouldn't be glossed over, is that Juan Lagares is a potentially excellent player. It's possible that a very good career has been squandered because of the playing time crunch in Queens.
Let's now take a look at the pitching staff.
The Mets, as everyone knows, are supposed to have one of the best staffs in baseball with Matt Harvey, Noah Syndergaard, Jacob deGrom, Steven Matz, and Zach Wheeler, but things haven't gone too well. In fact, those 5 have never made a consecutive turn through an MLB rotation.
Matz hasn't pitched yet this season, as he's out with an arm injury. Wheeler is working his way back from Tommy John and isn't consistent yet. deGrom has been pitching very well actually, with a 2.84 ERA and 2.90 FIP over 5 starts. Syndergaard and Harvey are where the drama comes in.
Where to start? Harvey looked great this spring and pitched quite well over his first three starts, posting a 2.45 ERA. Then, Harvey was moved up in the rotation on short notice for his 4th start, on April 21st, and wasn't quite as sharp, going 7 innings but yielding 3 earned runs and only striking out 2 in a loss. Then, Harvey was moved up in the rotation again for his start on April 27 in lieu of an ailing Syndergaard (we'll get there) and got rocked.
After the game, it came out that Harvey wasn't told that he was pitching that day UNTIL THAT DAY and had done a big workout the day before on the assumption that he had another day to rest before his day to pitch.
WHAT. THE. HELL.
Harvey is one of the Mets most valuable commodities and is coming off his second major surgery. Wouldn't you think that he should be treated a little more carefully? Why do Collins and the Mets think he's the right guy to step in as a fill-in when the rotation has a hole? What in his extensive injury history would lead to that conclusion? It is well known that Harvey always wants the ball, even when it isn't in the best interests of the team, so it's on Collins to be wise. He could not have handled Harvey worse so far this season.
Or, maybe he could have. Maybe he could have handled him like Syndergaard.
Syndergaard had also been pitching well before he was scratched from Thursday's start with shoulder and bicep discomfort. He refused to take an MRI to see if there was anything wrong structurally, then said he was fine on Friday and the Mets let him make a start on Sunday, which of course he left in the second inning after suffering an injury.
On Friday and Saturday, GM Alderson defended the Mets' decision to not push the issue of an MRI with Syndergaard by saying that the team couldn't force the pitcher into the MRI tube.
That's total crap.
While the Mets can't tie Noah down and force him to take a medical exam, they absolutely could have told him that he wasn't getting back on a mound for them until they confirmed that his arm wasn't about to explode on the next pitch he threw. That is well within their prerogative.
Instead, they threw caution to the wind, trusted Noah (just like they've trusted and been burned by Harvey in the past) and watched as he walked off the mound holding his arm in the second inning after giving up 5 in the first. Backup catcher Kevin Plawecki eventually finished the game on the mound.
What a disaster. What an embarrassment. This kind of crap doesn't happen with other teams.
The Mets need to get a handle on things quickly.They doubtlessly have the talent to compete in the NL East, but not if it's all on the bench or the DL.
-Max Frankel