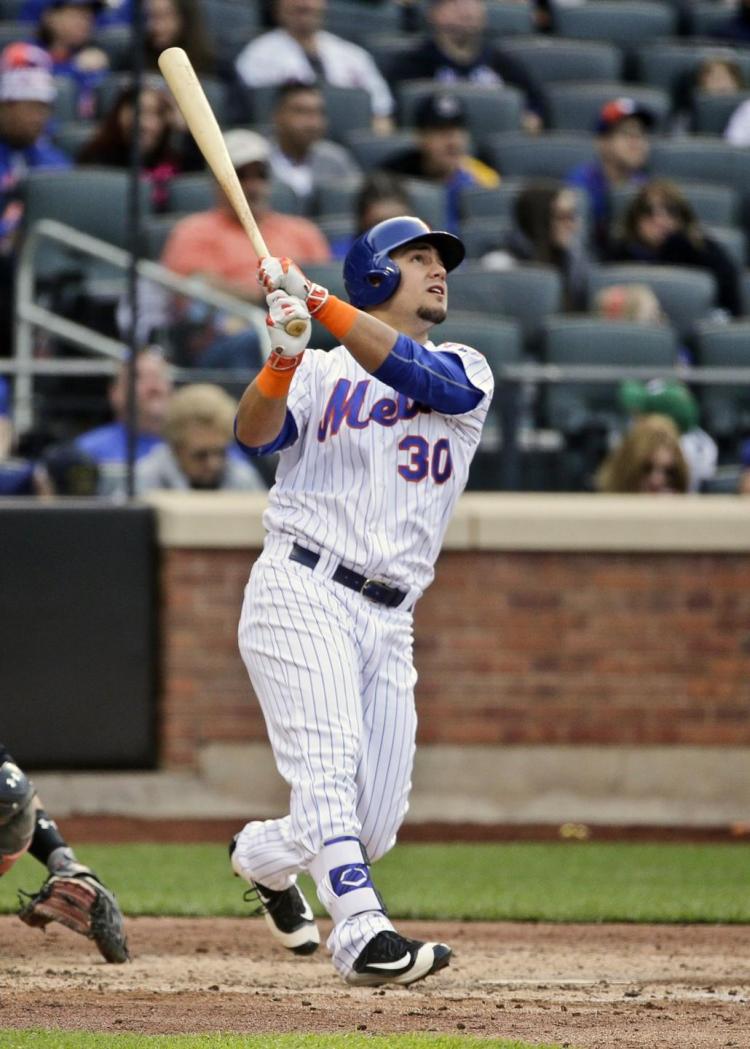 I've been watching a fair amount of the New York Mets lately, though mostly just when Matt Harvey pitches because I find myself rooting for him so hard. Other than the fact that all of Harvey's starts are essentially the same- 5 or so innings, way too many pitches, 2-4 walks, 3-5 strikeouts despite a bunch of deep counts, 2-5 runs allowed- he looks like high school pitcher with great stuff, crappy command, a bad coach unable to help him at all- the thing that jumps out at even the casual observer watching the Mets is how good, fun, and exciting Michael Conforto is.
There is a long and sordid history of how we arrived at the place we're at now, with Conforto comfortably penciled in as the every day leadoff hitter. If you google something like 'Michael Conforto Terry Collins' you will no doubt find Daily News articles and Mets' blogs screaming into the wind about how Collins, the teams' manager spent more than a year steadfastly refusing to find playing time for Conforto despite  the fact that almost all of his other outfield options were demonstrably worse. As a result, Conforto spent the first 2 seasons of his career playing sporadically and mostly poorly.
This year, after injuries forced Collins' hand, Conforto has been a revelation. He's hitting .302/.403/.621 with 14 homers in 50 games and is almost a lock to make the All Star game next month. Right now, with Yoenis Cespedes still out, Conforto is obviously the best hitter in New York's lineup.
So just what kind of value are the Mets' sitting on here? Conforto is obviously very good, but doesn't have a long track record, he's young- only 24, he's capable of playing all three outfield positions, and he won't even be arbitration eligible until 2019.
To answer that question, let's do a similar exercise to the one we did over the winter, where we determined that Trea Turner was the 12th most valuable player in baseball. Sure, Turner is off to a very slow start, but I think the methodology was sound- we go through a trade value list (this time Jonah Keri's because it is the most recent) until we find someone we would trade for Michael Conforto if we were that other team. Let's take a look:
Would we trade the number one ranked player, Corey Seager, for Michael Conforto? …
…..
…..
No, obviously not.
How about number 2, Krys Bryant? Still no. Let's go a little faster:
3. Mike Trout
6. Mookie Betts
10. our old friend Trea Turner
No. All of those are clear no's. But that's not really a knock on Conforto! Those are 10 of the very best players in all of baseball. All of them have proven themselves as team building blocks and, crucially, all of them have at least some track record of success ranging from years of being the best player in the sport to one amazing, but complete season. Conforto doesn't yet have any of that.
Let's keep going:
11. Paul Goldschmidt
12. Manny Machado
.
.
.
29. Xander Boegarts
30. Dansby Swanson
31. Yoan Moncada
Hmm. Ok, now, finally, we're getting somewhere. Sure, Dansby Swanson plays a premier position and Yoan Moncada is baseball's top prospect, but neither have the proven success of Michael Conforto. In fact, Swanson doens't have much success at all- he's batting .194 with a negative WAR as of this writing. Conforto on the other hand, sports a 2.3 WAR in 2 fewer games.
So that brings us to the deciding question, would the Braves trade Swanson straight up for Conforto? Would the White Sox trade Moncada?
No. Probably not. Sure, Swanson has struggled but he's only 23 and plays shortstop. Sure, Moncada doesn't have any MLB success but he's essentially conquered the minors and he could very well be a guy to crack that vaunted Top 10 in years to come. Too much potential, no deal.
32. Aaron Sanchez
33. Odubel Herrera
Now, would the Blue Jays trade Aaron Sanchez straight up for Conforto? Would Phillies trade Herrera for him?
Well maybe on Sanchez, it would definitely be worth some thought, but I bet the Phillies would be all over a Herrera for Conforto offer from the Mets.
Sanchez' numbers are a bit bette than I initially thought. Last season he went 15-2 with a 3 ERA. In his career, in 100 games, he has a 2.90 ERA and more than 8 wins above replacement. That's excellent. His early career sort of resembles that of a right handed Jose Quintana– an under the radar pitcher who's stuff doesn't blow you away, who might even be overshadowed by a teammate in the same rotation, but who just consistently throws up low ERAs and successful seasons.
Sanchez is very good. But, trade value ranking not withstanding, he's not in the conversation for one of the league's best pitchers. Not yet anyway. If the Blue Jays could turn a very good but not great consistent starter into a young, team controlled, potentially explosive outfielder, they'd have to seriously consider it.
For the Phillies, if they could turn a young, potentially explosive outfielder into a younger, cheaper, potentially just as good if not better outfielder, they'd be crazy not to do it.
Now, I'm a huge Odubel Herrera fan, I've been on Team Odubel since day 1 and I love that he's a Rule 5 guy turned franchise player, it's an awesome story. However, he's struggled a bit this year and last year's All Star season, the one that followed up his first great season and earned him a $30.5 million extension, was .286/.361/.420 with 15 homers, much less than Conforto is doing now (in admittedly only 50 games).
As good as Odubel Herrera is, I think it's not that much of a leap to thing that Michael Conforto is just all around better, and now he's finally showing it. Bottom line, the Mets might be holding on to the 33rd most valuable player in baseball. Not bad.
-Max Frankel