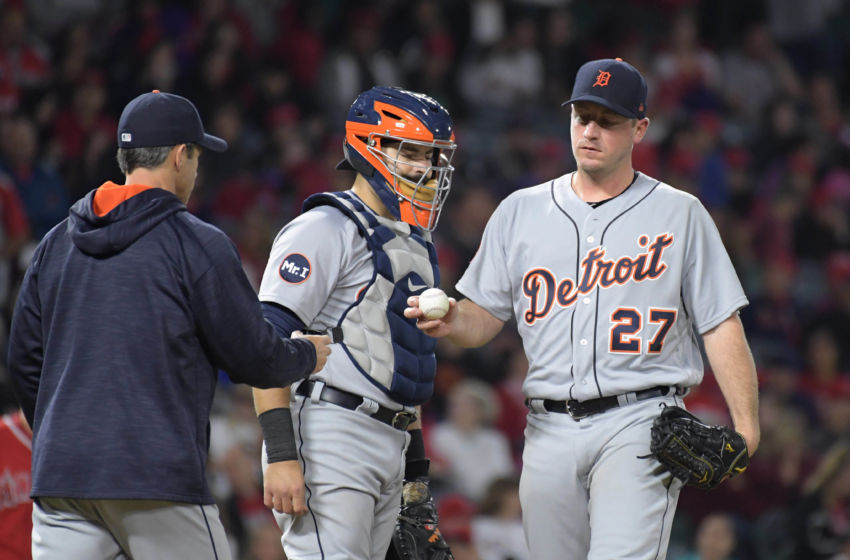 Want to guess who entered Sunday with the worst record in the American League? Would it surprise you to learn that it's the team with Miguel Cabrera, the only active triple crown winner and top 3 best hitter in baseball over the past decade, Justin Verlander, one of only 2 active winners of both the Cy Young and MVP awards in the same season, and arguably All Star caliber players at nearly every position? It surprised me. The Detroit Tigers are horrible.
What's worse, the Tigers are bad bad bad and owe a ton of money to players already on their roster going forward. Longtime owner Mike Illich, who died earlier this year, had been committed to winning a championship in short order and so had directed his front office to sacrifice long-term financial flexibility to secure short-term wins.  The problem with that strategy is that the wins haven't come and the contracts remain.
Essentially, the Tigers problem is that they have to be in 'win now' mode right now because they have a plethora of aging players, who will continue to earn their large salaries as they get older and presumably worse. And the team isn't even good now. They were 32-42 entering last Sunday and with the Kansas City Royals, Minnesota Twins, and Cleveland Indians all playing well, 10 games under .500 is a real problem.
Going forward, things are even more grim. This season the Tigers have over $199 million in player contracts, which I think is a team record and is more than $63 million above league average. Next year, they already have more than $138 million on the books, which is more than $58 million above league average. In 2019, they already know they'll owe more than $111 million. That's a problem considering who's going to get it.
The Tigers highest paid players are Miguel Cabrera and Justin Verlander, who together account for more than 28% of the payroll. That would be an issue under any circumstance, but it's especially troubling with Cabrera. The big righty has received MVP votes every single year of his Hall of Fame career, but is having by far his worst season with just a .262 batting average and .3 WAR. For $28 million, you're going to need more production.
Cabrera though, is awesome and will probably turn things around. I'd be more concerned about Justin Upton, Victor Martinez, and Jordan Zimmerman, who account for 11%, 9% and 9% of payroll, respectively. Upton is under contract until 2021 at more than $21 million annually but seems to have settled in as a 2 WAR player with 30 homer power and little else, despite being just 29. If you're a team with a decent sized payroll and Upton is your highest paid player, you can build around that and creatively structure a roster to compete. That's exactly what the Toronto Blue Jays have done around Jose Bautista. But Upton is just the 3rd highest paid player on a team in which 9 players account for 81% of payroll (including starter Mike Pelfrey, who pitches for the division rival White Sox on the Tigers dime).
Martinez, for his part, has been a disaster. At 38, he's only able to hit even when completely healthy, which is a problem for a team with the defensively challenged Cabrera. Plus, V-Mart has been hurt and fairly ineffective, putting up a 0.o WAR over 60 games.
Zimmerman is only 31 and was brought over from the Washington Nationals to be a solid number 2 behind Verlander. Nope. Last year, his first with Detroit, he put up a 4.87 ERA before getting hurt and over his first season and a third in a Tigers uniform, he's combined for a .5 WAR. That's more than $20 Million down the drain.
It gets worse: Anibal Sanchez is owed $16.8 million this year and was so bad that he was sent to AAA after being banished to the bullpen. He's back in the MLB now, but sports and ERA over 7.
Very simply, the Tigers built a star-studded, top heavy roster, which has time and time again failed at competing with deep, young teams like recent Cubs and Royals squads. Then, those well-paid stars, almost en masse, start playing poorly.
Things look bleak for Detroit. They can't move guys like Zimmerman or Martinez as they have no value. They won't move guys like Cabrera and Verlander; they are the only marketable pieces at this point. Tigers management should move guys like Upton and JD Martinez, even if it requires them to retain some salary. The Tigers need to turn the page on the Illich era of desperately chasing short-term championships and try to rebuild because what they've got going now isn't working at all. Oh, and fire Brad Ausmus.
-Max Frankel