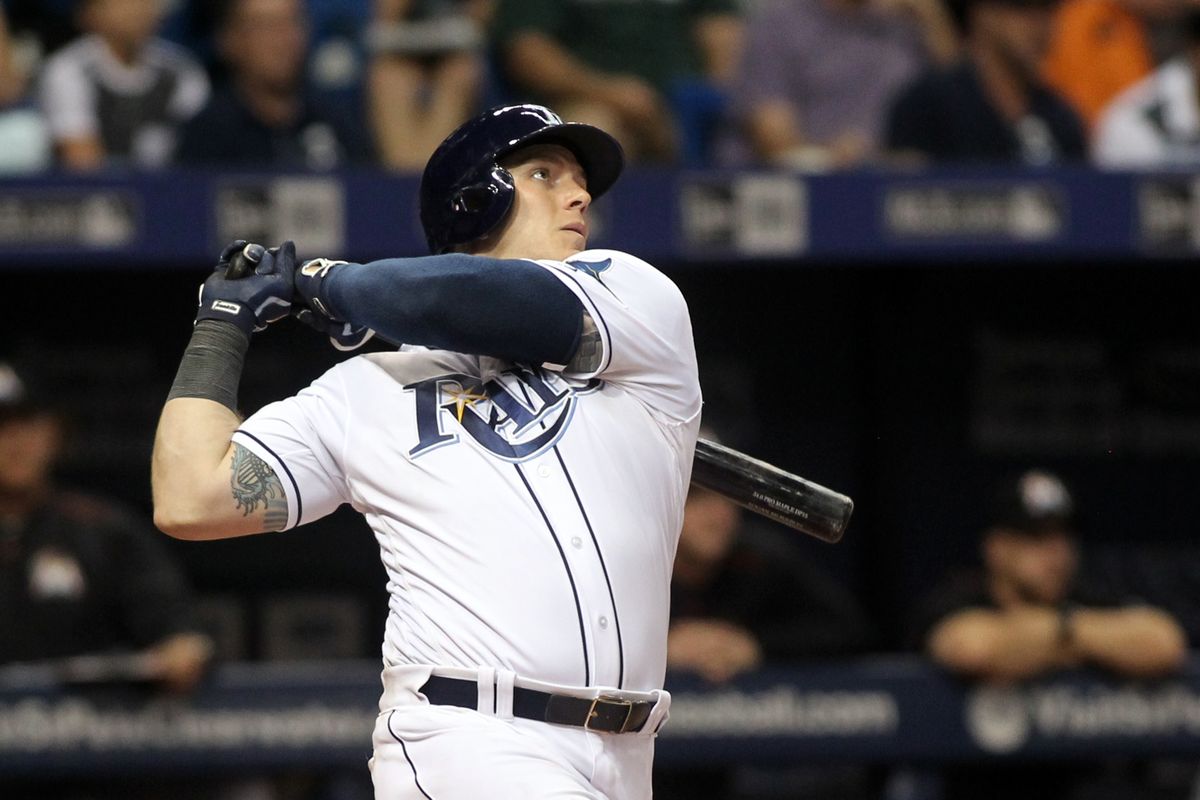 The Tampa Bay Rays have put together a respectable 2017 campaign, highlighted (per usual) by their pitching staff and a host of underrated position players. It also helps that Logan Morrison has apparently taken the very below average player that he once was (he wasn't worth the roster spot or headache in multiple Big League stops), and fashioned it into one of the league leaders in homeruns.
I famously wrote last year that the Rays were just a few moves from being competitive. Headlining that piece was the need for a first baseman worth a damn. Well, fast forward to now and Logan Morrison has 36 homers on the year and looks to be worth slightly more than "a damn."
Incredibly, he hasn't gotten much publicity for the stunt, as homers are flying out of MLB parks at a far greater pace than ever before. He's just 1 of 29 guys with 30+ homers, and the player stories surrounding him are somehow more interesting for sportswriters.
Take a look at each of the guys ahead of Morrison on the 2017 HR list:
So let's give Morrison his due credit; his spot in the limelight. I was quick to throw him to the curb last year, but have yet to formally remove that cloak of shame. Well here you go LoMo: I'm going to try to figure out why you no longer suck.
The first place to look in The Year of the Fly Ball (2017) is a player's batted ball profile. Has LoMo shifted his technique to get more loft and produce more homers?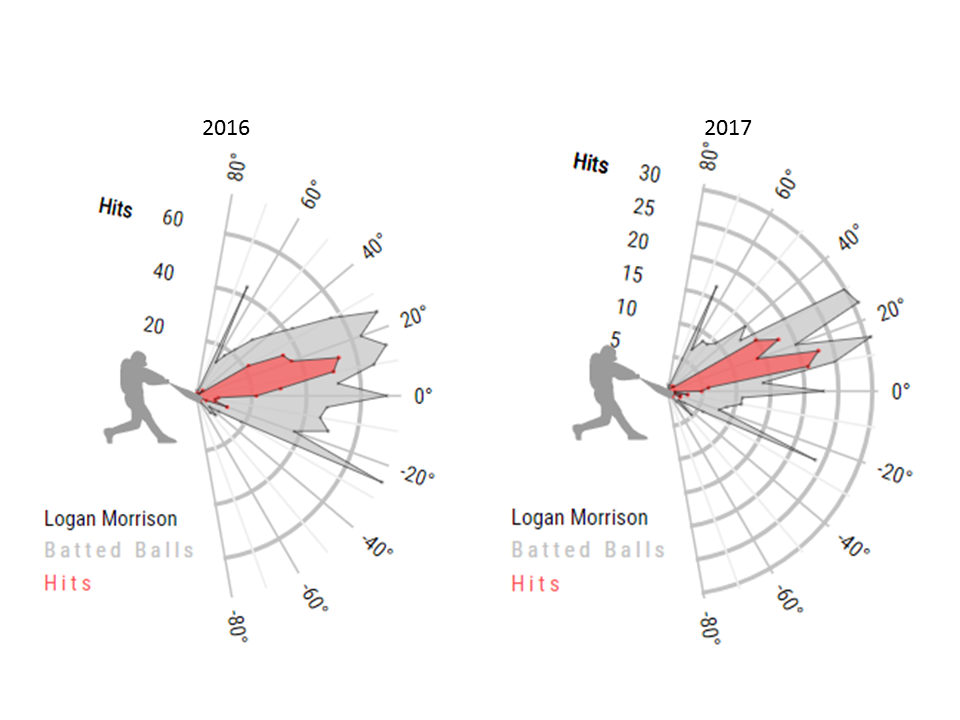 Well… it looks to me like that protrusion just above the 20-degree mark is significantly greater this year, but the above is hardly an entirely compelling story. What do those graphs mean? Can we really make any significant observations from weird ninja stars? Well here are the ninja stars of Ryan Zimmerman, the supposed poster child of "hit more flyballs."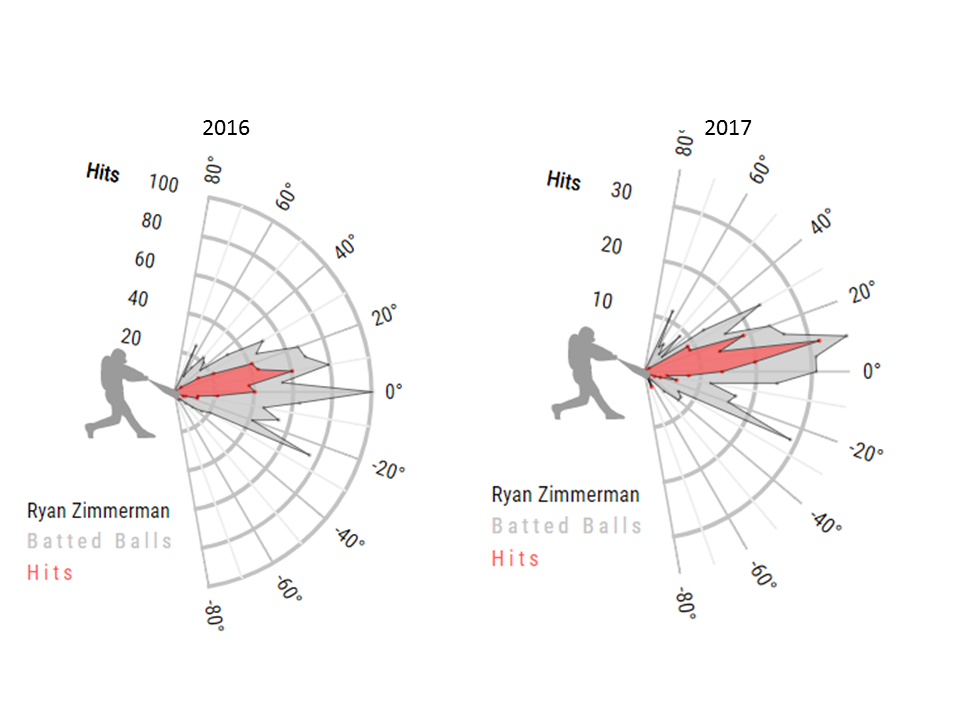 Zimmerman has developed a similar two-pronged fork in 2017, though his contact appears to be flatter overall than LoMo's in both 2016 and 2017.
We have the makings of a trend, but I'm still not quite sure how to read a two-pronged fork instead of a clump. Do we really want a three-pronged fork of red jagged lines? I'm partial to four-pronged forks myself, mostly when eating. (Trying really hard not to make a spork joke. Editor, please insert witty spork joke.)
Below is a bar graph of Logan Morrison's balls in play based on launch angle. The further right we go, the higher the launch angle. So PU means pop-up, FB = FlyBall, LD = Line Drive, etc.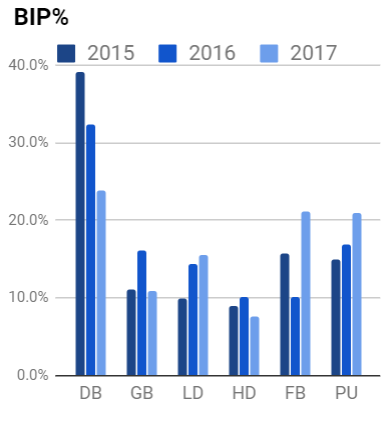 Here we more clearly see that Morrison has transitioned from a groundball (DB = Dirt Ball) machine into a flyball magistrate. He's cut his choppers down from 40% to 24% and added those percentages back into the more productive buckets. Simple enough.
Morrison isn't alone here in upping his homer total by hitting more balls in the air. It's a league-wide trend. He deserves some credit for being more successful than others, but there's also reason to believe that he's been a bit lucky. Andrew Perpetua's xStats show that Morrison has "lucked" into 7 extra homers this year. That's the 5th most in baseball. (Mike Moustakas and Didi Gregorius have the most, while Joe Mauer and Mitch Moreland have apparently been robbed of the most would-be homers.)
So where does that leave us? Well, LoMo sits at 36 homers. If he had just 29 homers, he might not be getting his own piece on OTBB – but he would still be tied with Bryce Harper. And that'd be pretty damn good.
-Sean Morash