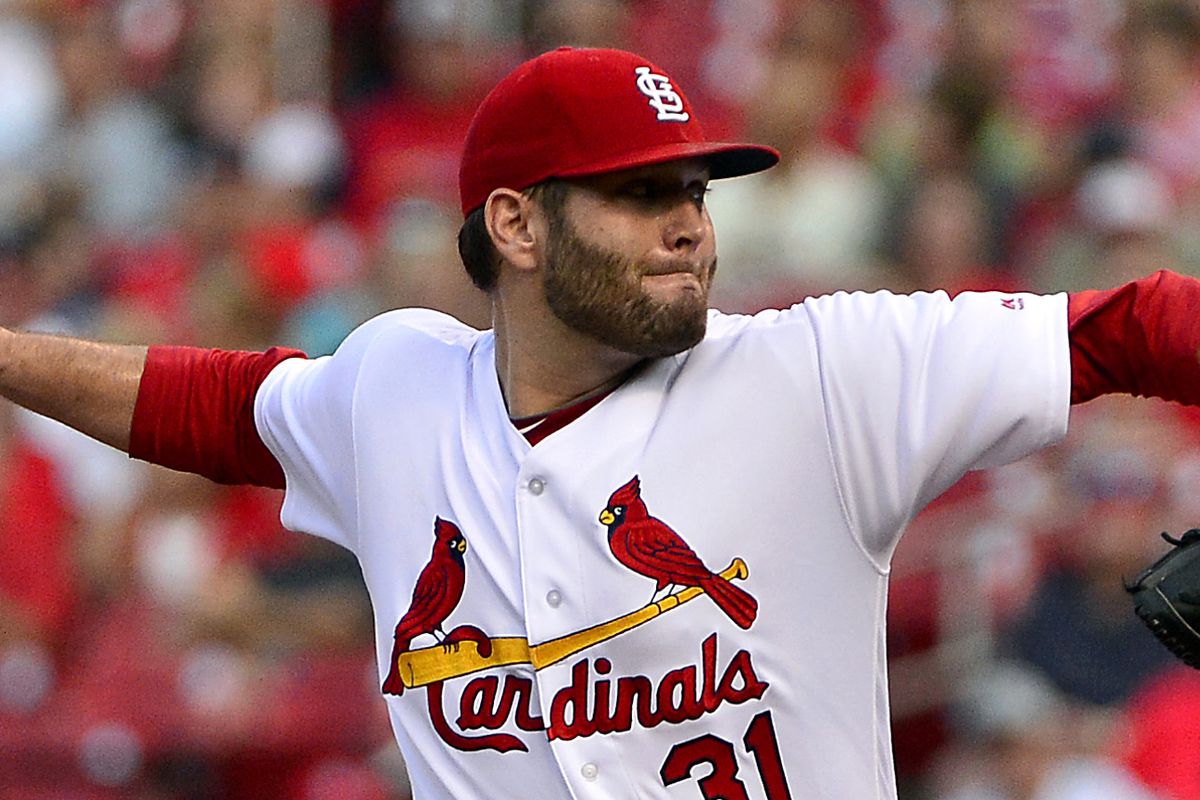 The St. Louis Cardinals yesterday offered starting pitcher Lance Lynn a $17.4 million qualifying offer as he enters free agency. That means that the Cards are willing to pay Lynn that much to play for them next year.
Honestly, both Sean and Max were totally flabbergasted at that. Lance Lynn? $17.4 million? What!?
That's crazy money for a mid-rotation starter who doesn't get a single fan excited when they see he's pitching that day. But then, we dove into his stats and were left with this all-consuming, possibly unanswerable question: Is Lance Lynn good? And, less important for us but certainly of great consequence of the team from St. Louis, is he worth more than $17 million or 1 year?
Max:
No? I'm not sure. Honestly, when I think of Lance Lynn I think of a pretty generic righty with a straight fastball who's always good enough to make my fantasy team but never good enough for anyone to try to trade for him. I know he missed all of 2016 with Tommy John surgery but that's kind of all I got. At first blush, no chance he's worth a QO.
But! Then I looked at his B-Ref page. He has a 3.38 career ERA, which was raised by the 3.43 he posted in his first post-TJ season, and we know those can be rough. He was, on the surface at least, dominant in 2014 and 2015 with a sub-3 ERA in 2014 and a 3.03 ERA in 2015. His consistent 1.2ish WHIPs concern me though.
Sean, is Lance Lynn good?
Sean:
I thought you nailed it earlier when you texted me that you nearly lept from your standing desk when the QO news was pushed to your phone. I was right there with you. There's the first blush reaction – no chance. There's the ERA and other stats, which are sealed onto his baseball card forever. Then, there's the fact that the Cardinals rarely misstep and so he has to be worth it.
But I tend to side with my gut. And my gut is somehow telling me that Alex Cobb is worth $100M but that Lance Lynn, basically the same pitcher, isn't worth $17M. I'll hit you with two links from our archives. 1) your post from 2013 when Lynn pitched in the playoffs over Shelby Miller 2) My post from January when I noted that Lynn was one of 18 pitchers since 2013 with at least 490 IP and a sub 3.26 ERA. Also related, this is our 11th post that at least mentions Lynn, but first with him in the title. Did I just contradict myself in the same paragraph?
Max:
Possibly, but you took a spin in the 2013 way back machine to get that link so I'll let it slide.
I want to focus on your point about the Cardinals rarely missing. You're right. They almost never miss and they've spent most of the last decade in the NLCS because of it. Is it possible that the 'Cardinals seal of approval' is clouding our judgment here? That we're thinking 'oh, if St. Louis thinks he's good, he must be good?'
Lynn's baseball reference comps include Jake Arrietta, Corey Kluber, and Adam Wainwright but also Mat Latos, Anibal Sanchez, Clay Buchholz, and Josh Johnson. Not exactly a murder's row.
Looking at that list though leads me to something else. Is it possible that Lynn is good but won't be for very long? Latos, Sanchez, Buchholz, and Johnson all fell off a cliff shortly after they turned 30 and Lynn is 30 now. Maybe the QO is smart because although the Cards are paying a tippy top price, they aren't tying themselves long term to a guy that might not be that good in a couple of years.  Buy 1 year high to avoid years 2,3,4 etc.
That's some 10th dimensional chess going on right there by the Cardinals.
Sean:
I prefer my chess to be played in the normal amount (Two? Three?) of dimensions. But that said, I like your point about finding a comp for Lynn. That second group, the bad group, all have one thing in common: a rapid loss of velocity as they aged. Here's a chart for you.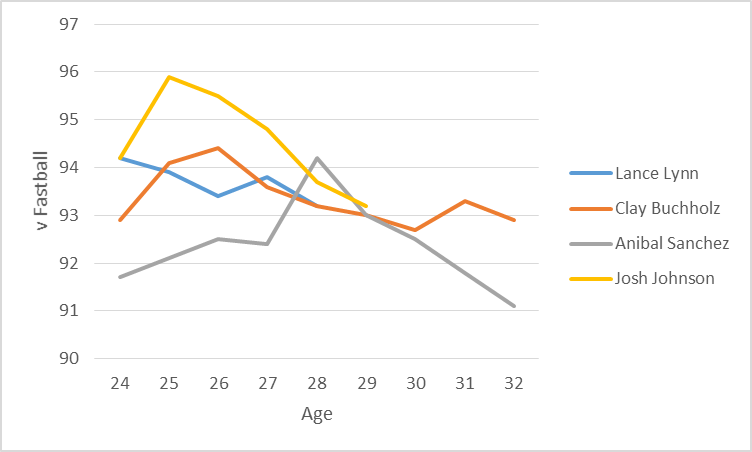 Guess when they started going downhill from a performance perspective?
But all that really tells us is that Lynn is unlikely to be good in the future. I feel like we knew that. However, all of the guys that you mentioned have had some sort of peak season in which they affirmed their status as 'good' in the consciousness of us baseball folk. Lynn's peak season (according to WAR) was 2013, when he posted a 3.7 mark with 3.96 ERA and ranked just 26th in the majors in that stat sandwiched between Hiroki Kuroda, Hyun-Jin Ryu, and with Justin Masterson hanging out. Compare that with the other three guys on that chart:
Anibal Sanchez: 6.0 WAR in 2013, ranked 5th in MLB
Josh Johnson: 5.9 WAR in 2010, ranked 5th in MLB
Clay Buchholz: 3.0 WAR in 2010, which ranked 43rd in MLB, but he posted a 2.33 ERA in 173 innings and we were all sure that Fangraphs WAR was a goodfornothing stat
So I guess I am saying that Lynn will not be good in the future, and isn't good now. He's merely average, lacking the peak season that makes us take note.
Max:
Lance Lynn is an average pitcher? I'm extremely comfortable with that unsatisfying result, it jives well with my preconceived notions.
The upshot here is that the Cardinals probably made a good decision by offering him the QO, paying the premium for what might be the last good year of Lynn as it might be worth it to avoid having to tie yourself to him long term. The Cards strike again.
Welp, there you go.
Sean: 
I would just add that we might have a better idea of who Lance Lynn is after next year. Does the guy continue to lose velocity or does he regain another half mile per hour another year removed from Tommy John surgery? Regaining another half mile per hour would put him squarely into the David Wells school of number 3 pitchers, who are definitely not Aces. If I'm one of the other 29 organizations in baseball, I'm not offering up a multi-year deal AND giving up a first round draft pick to find out the answer. Lynn should be in Cardinals red next year.
-Max Frankel and Sean Morash