AL East
Mitch Moreland Makes Sense for the Boston Red Sox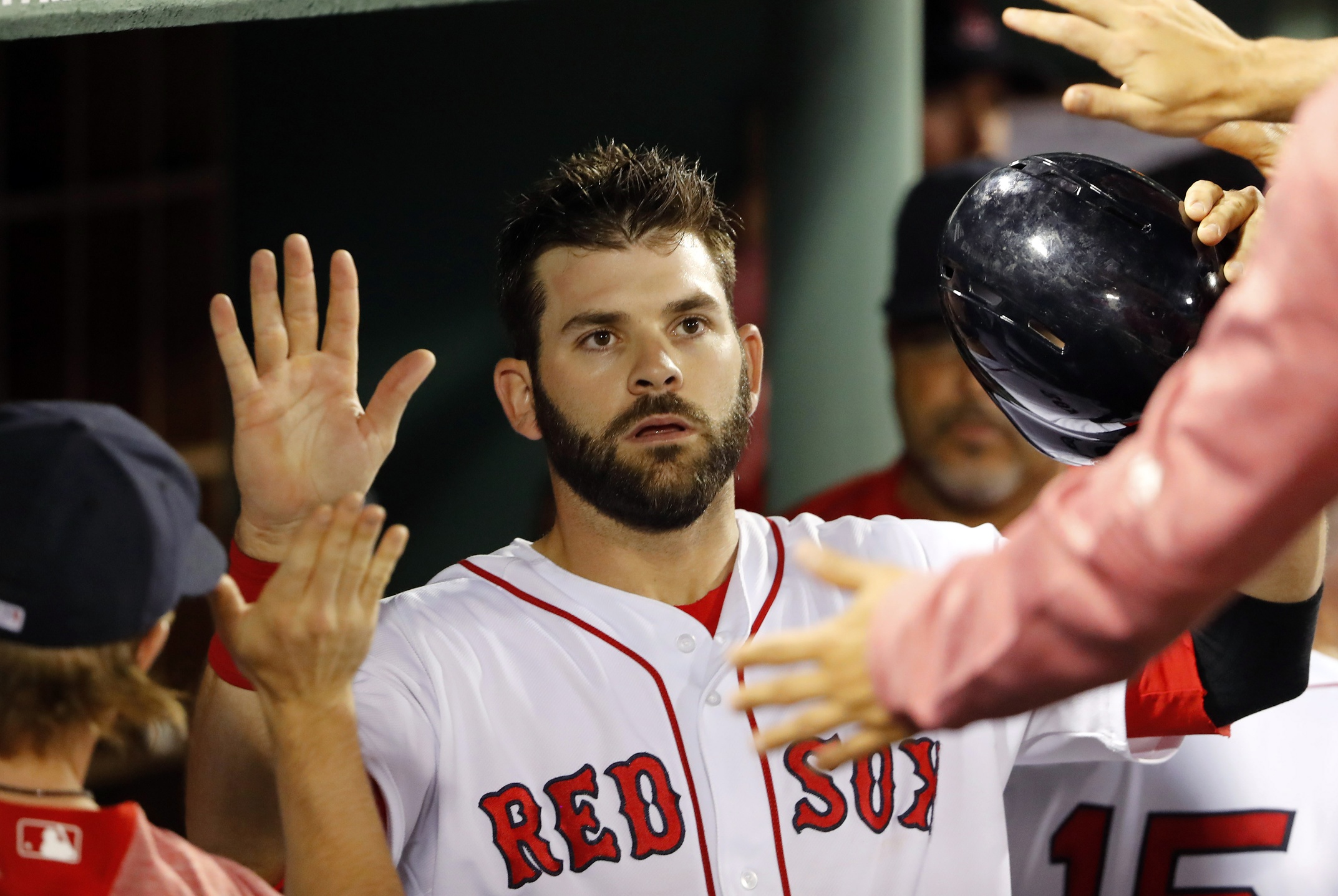 On Monday, the Boston Red Sox filled their hole at first base, but not with J.D. Martinez, Eric Hosmer, or Jose Abreu, but with Mitch Moreland. Again.
Moreland—who re-signed with the Red Sox for $13 million over two years—initially came to Boston on a one-year deal last winter at the bargain-bin rate of $5.5 million. It was a curious selection from a free agent class rife with right-handed sluggers like Edwin Encarnacion, Jose Bautista, Mark Trumbo, Mike Napoli, Matt Holliday, and Chris Carter—all seemingly well-suited to take advantage of Fenway Park. Moreland, on the other hand, looked like a poor fit for Fenway as a lefty with only 10 home runs and 28 doubles to left field in his career through 2016.
Moreland wasn't even supposed to be a full-time starter for the Red Sox in 2017, as John Farrell's original plan was to platoon him with Hanley Ramirez, with Ramirez slotting in at DH when Moreland was manning first. But Moreland's hot start and Gold Glove defense earned him a regular gig, which he retained despite suffering a broken toe in mid-June. Moreland played through it, avoiding the disabled list and suiting up for 149 games – a career-high.
Overall, the first Moreland deal proved to be a good one for Boston, as he played to a 2.0 WAR (per Baseball-Reference) following an offseason when teams paid an average of $10.5 million per WAR. The former Gold Glove winner was one of the team's few reliable power sources, belting a career-high 34 doubles and ranking third on the club in home runs (22) and RBIs (79). He also rebounded somewhat in the average department, batting .246/.326/.443 (99 OPS+) after hitting just .233/.298/.720 (87 OPS+) in 2016.
Despite his productive season, Moreland was not expected to return in 2018. Dave Dombrowski had his sights set on bigger and better free agents, namely Hosmer and Martinez. But with the Red Sox zeroing in on Martinez, their chances of signing Hosmer appear remote. Dombrowski has said repeatedly that he's looking to add one bat, not two, and both are expected to fetch nine-figure contracts, leaving room for only one in Boston's budget.
At the very least, Moreland is an insurance policy in the event Dombrowski fails to land the impact bat he desires. Moreland's reliability makes him a safe investment, as he's slugged either 22 or 23 home runs in four of the past five seasons, and he's still a tremendous bargain, as he barely needs to exceed one WAR over the next two years combined to earn his contract. And while he turned 32 last September, his offensive numbers could rise again if he stays healthy, especially after cutting his strikeout rate to 20.8 percent last year and posting the best walk rate (9.9 percent) of his career.
Signing Moreland also buys time for Sam Travis, who was rated as the team's No. 4 prospect by Baseball America and made Keith Law's top 100 prospect rankings last year. Travis looked like he might be Boston's first baseman of the future after slashing .272/.332/.434 with six home runs and 29 RBI in 47 games at Triple-A in 2016, which may have influenced Dombrowski's decision to sign Moreland as a stopgap last winter rather than commit multiple years to a pricier free agent. But while Travis displayed improved plate discipline at Pawtucket and held his own in 33 games against Major League pitching last year, his alarming lack of power at both levels clouds his outlook. His slugging percentage has declined every year since his 2014 debut and he has yet to reach double-digit home runs in a season at any level. He's only 24 and has a solid build (6'0, 205 pounds), so the power may come, and if it does he won't be blocked by a veteran making $20 million per year. With Moreland holding down the fort, Boston can afford to be patient with Travis.
When the Red Sox initially signed Moreland last winter, they probably weren't expecting him to be their first baseman for the rest of the decade, but that's the path they've chosen. Cost-effective, certainly, but also puzzling given Dombrowski's willingness to overpay slugging first basemen in the past (i.e. Prince Fielder and Miguel Cabrera). With Boston's payroll expected to exceed $200 million next year, Dombrowski has to cut costs somewhere, but with other teams getting three reasonably-priced years of Encarnacion, Trumbo, and Carlos Santana, it's hard to see why the Red Sox settled for three years of Mitch Moreland.
-Tyler Maher