To start our blog, we thought it be a good idea to go team by team, analyzing their roster and gaging their outlook for the 2011 season.
With all due respect to the other 29 teams, we've decided to start with the reigning World Champion San Francisco Giants.
Projected Lineup:
Andres Torres (CF)
Freddy Sanchez (2B)
Aubrey Huff (1B)
Buster Posey (C)
Miguel Tejada (SS)
Pablo Sandoval (3B)
Mark DeRosa (LF)
Cody Ross (RF)
Starting Rotation: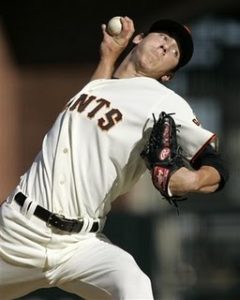 Tim Lincecum
Matt Cain
Jonathan Sanchez
Madison Bumgarner
Barry Zito
Strengths:
The starting rotation is the first thing that comes to mind when you think of the champs. They have excellent rotation depth with the emergence of Madison Bumgarner (7-6, 3.00 ERA, 6.97 K/9) last year and the always solid performances of Tim Lincecum (16-10, 3.43 ERA, 231 K's) and Matt Cain (13-11, 3.14 ERA, 1.08 WHIP), who last year entered himself into the conversation about baseball's top starters. If Jonathan Sanchez can stay consistent and Barry Zito can return to some semblance of the pitcher he was in 2002 when he won the American League Cy Young Award, the Giants will once again be a force to be reckoned with. Honestly, Zito better improve his performance this year because last year was an embarrassment. Leaving your highest paid player off your playoff roster looks bad for the team, it casts them as financially irresponsible and poor scouts of talent, but it looks worse for the player. Zito should be ashamed that his team doesn't think he can help them win to the point that they would ignore his massive contract and basically throw money down the drain rather than play him in a big spot. For his sake, he better have a good year.
The Giants also have considerable depth on their bench with veterans Pat Burrell, Mike Fontenot, Aaron Rowand, and Nate Schierholtz all at manger Bruce Bochy's disposal late in games. Mark DeRosa's versatility makes him a valuable tool, especially in the NL.
Weaknesses:
Pablo Sandoval (.268, .323 OBP) really struggled at times last year eventually losing his starting job. He reported to Spring Training 28 lbs lighter this year and the Giants are counting on a return to his stellar rookie form, he hit .330 that year.
Buster Posey carried the offense through the playoffs last year and provided the late season spark necessary to catch the Padres. The Giants could be in serious trouble if Posey suffers a serious Sophomore Slump or fall prey to injury as backup catcher Eli Whiteside (career .234 AVG, 6HR, .645 OPS) is not a capable replacement.
Storylines:
Fear the Beard: What does closer Brian Wilson have in store for us this year. We sincerely hope he successful enough to make it back onto Rome is Burning with Jim Rome as the last the last interview was priceless: Watch Here.
Belt Buckle:  Brandon Belt (Class AAA: .352, 23 HRs, 22 SBs, 112 RBI) is the best prospect in the Giants' system.  He's ranked 17th in the MLB by Keith Law of ESPN.com. Belt is a natural first-baseman but Aubrey Huff is still under contract for two more years. Belt may force the Giants' hand by hitting his way into the Pro's much the way Posey did last year.
Can Cody do it again?: Can NLCS MVP Cody Ross continue his playoff heroics over the course of an entire season or will right field be an offensive vacuum for San Fran this year?
Prediction:
93-69, 1st Place NL West, look for the Giants to make a run a repeating as World Series Champions (unless the Phillies get in the way). The rotation will be predictably solid and the bullpen is passable. Brian Wilson will turn in another strong performance at the back of games this year and the improved offense, with the additions of Tejada and DeRosa among others, will pay dividends. Pitchers will figure out Posey a little bit and he wont turn in the superb numbers he put up as a rookie. There will inevitably be bumps in the road, we can see this team suffering a bit of a Series hangover and getting off to a slow start, but the Giants should coast to a second straight divisional title in the mediocre NL West.
Bold Prediction:
Brandon Belt replaces Aubrey Huff at first base by early June, contending for rookie of the year with 20+ home runs.

Lincecum will spend more than 15 days on the disabled list

while celebrating his new "prescription"

with shoulder inflammation.

And Now Something Completely Different:
In this section we will include links to random things on our minds or just things we find entertaining.
As always, questions, comments, or concerns can be sent to offthebench@offthebenchbaseball.com. Or feel free to comment away below.