The Detroit Tigers currently sit at 25-27, are in 4th place in the tough AL Central, and have a payroll pushing $200 Million.  They fired their GM a year ago and he went on to land a gig with the Red Sox, where the potential for offensive firepower from a year ago has turned into the real deal in 2016 and perhaps the greatest offense in the last century.
The Tigers owe Prince Fielder another $30 Million to be bad on the Rangers; he's compiled a -1.5 WAR over the past calendar year, which is literally the worst in the majors.  Their newest big bat from this poast offseason is scooting along with a .578 OPS.  Plus, they just demoted one of their $16+ Million right handed starters to the bullpen.  Things could be looking really bleak in Detroit for a long time, but they could be worse.  I'll get to that.
But first, a bit about Anibal Sanchez.  He's that starter that just got demoted to the bullpen, and things aren't looking bright for him. He's going to get paid over $16,000,000 this year regardless of performance, but check this out: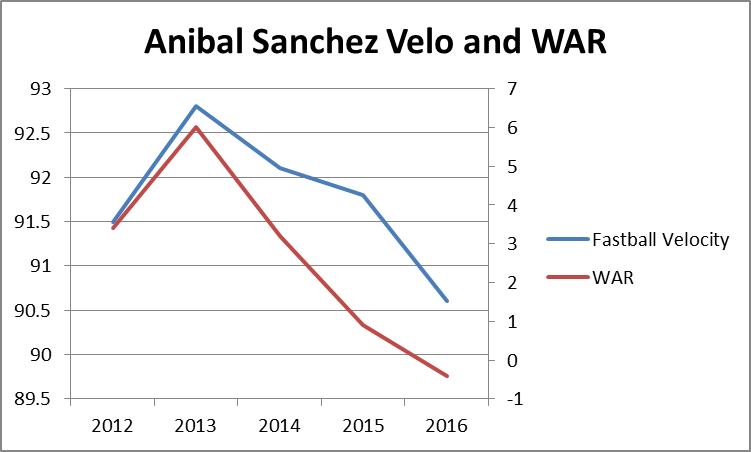 It's that simple for Anibal Sanchez.  He's lost his velocity over the last three years, in large part due to injury, but also likely because he's 32 and has been in pro ball since he was 17.  2016 appears to be a bit of a double whammy for him too.  Not only is he throwing out a career worst average fastball velocity, but he's also walking people at the highest clip since he was 25.  Sanchez sports a 6.67 ERA and hasn't gotten through an outing this year without surrendering multiple earned runs.
Tigers fans probably all realize that Sanchez is bad now. They probably knew that the $80 Million deal that the Tigers handed him after the  2012 season wasn't going to pay dividends long term.  They probably felt like that in 2013 even when Sanchez was posting a clearly flukey 6-WAR season.
That's all the bad news. 
The good news in Detroit is that Sanchez is headed to the bullpen in part because the Tigers have 5 capable starters.  Jordan Zimmerman has taken quite well to the American League.  Justin Verlander has gone back to striking out over a batter per inning like he was when he was receiving Cy Young votes annually, and the depth behind those two is pretty good.  They've got rookie Michael Fulmer and his 95 mph fastball.  They've got Mike Pelfrey, who will at least throw strikes, and they've got the sneakily very good Shane Greene working his way back from an injury.  Between all those pieces, the rotation should be pretty good. It won't be great, and it certainly won't be cheap, but serviceable is likely all it takes.
I framed that Prince Fielder payment thing in an unfair light in the open.  It's far better that the Tigers are paying Fielder just $30 Million to be bad, than the $145 Million that they originally signed up to pay him from 2016-2020.  He's the Rangers problem now.  The Tigers have their own set of expensive sluggers mostly under performing.
Justin Upton, Victor Martinez, and Miguel Cabrera make $68 Million this year combined.  Miggy and V-Mart have both hit well, but Upton has struggled. While we all wait and ponder if his brother, Melvin Upton, really did steal Justin's talent for the 2016 season, we can also expect a little regression for Ian Kinsler, currently sporting an .896 OPS. So while regression to the mean might mean Justin Upton's performance improves over time, the other guys will likely see a bit of a decline.
That just all feels rather boring.  Is that what the Tigers are now? Are they the most boring team that $200 Million can buy? Are they planning to shed payroll soon with a chance to rebuild the club soon, like the Yankees?  Are they waiting on their next big prospect wave to create unfair depth at the MLB level, a la the Cubs?
I just don't get where this team is heading.  They're 25-27 right now and most everything has gone right. Miguel Cabrera and Justin Verlander have produced, when they didn't last year.  And even Nick Castellanos has turned into a star.  They've got $178 Million tied up next year and I'm not sure where they should get better. Maybe a change in the manager or bullpen?
Overall, the Tigers are OK.  Things could be a lot worse in Detroit, but OK is actually pretty bad news for the Tigers.  They've got a $200 Million payroll, stars that are quickly aging, and appear to have a few young players ready to help at the Major League level.  I don't see how next season will be be better than 2016, and that's a big problem.  They're 25-27 and things have mostly gone right.
Anibal Sanchez' awfulness can't be to blame for their mediocrity, but his rapid fall from grace should be a warning to Tigers leadership.  Losing just a little bit of talent at the major league level means going from pretty good to really bad really quickly.
-Sean Morash