As both a sportsman and a fan of almost all things sports, I joined a large contingent of people who were thrilled when the once and future "Sports Guy" Bill Simmons' new website, The Ringer, launched on the first of June. In the debut of The Ringer's MLB Podcast, the talented Mallory Rubin argued her case for the inclusion of Manny Machado of the Baltimore Orioles in baseballs burgeoning discussion on just who might be able to join Mike Trout and Bryce Harper as the consensus best position players in baseball.
In what may be viewed as homerism, since I am a Colorado native (even though anyone who knows me, knows I'm a much bigger Cubs fan), I immediately wondered if the Rockies' own third-baseman, Nolan Arenado could also be in the "best player to build a franchise around" conversation.  Since both his and Machado's rise coincided in spectacular 2015 seasons, the two have been inextricably linked, to the point where Baseball Reference gives the two cornerstones a Similarity Score of 952 out of 1000. My whole idea is just to compare the two players, so allow me to preempt any complaining.  I'm not saying one is better than the other; they're both fantastic. GMs who get paid millions of dollars might be up all night choosing between all four of the aforementioned mentioned franchise players. So without much further ado, I intend to plead Arenado's case for inclusion in this debate of elites.
Defense!
Let's start with the leather-work, the big D can often get forgotten in our Fantasy Sports-driven age. In most of the basic statically motivated arguments, Machado and Arenado are once again almost inseparable. Here, Arenado has a slight advantage in conventional metrics boasting an impressive .966 fielding percentage to Machado's .961 in 2015 and again thus far in 2016 by a .993 to .987 margin. A fair argument one might point out is that Machado also puts in some time at shortstop, but the generally mediocre Rockies pitching staff probably surrenders more scorched liners at Arenado than the pretty decent O's group, which outranks Colorado in ERA, hits and overall runs allowed- but I digress.
My point is that for everything Machado does with the glove, Arenado either can match or one-up. You have two Gold Gloves? Let me give you three in a row (and counting?) including becoming just the 10th player in MLB history to snag the award in his rookie season. They rank 17th (Arenado) and 18th (Machado) for active third-basemen assists, 24th and 16th in putouts and sabermetrically, Arenado sees Machado's 1-2-1 finish in Range Factor per game between 2013-2015 and does one better by going 1-1-1 and is currently leading the league in that category while the Orioles' number 13 has a taken a small turn for the worse this season.
So defensively, both players are neck and neck with a slight advantage in Arenado's favor. While I admit I'm a little biased towards Colorado, his GIF party tracklist goes from the sick one-handed, slick throws to first, the diving stops, and even sometimes games that have a little bit of everything that will leave you speechless.
As will probably be my much-belabored point both stars are incredible and we should all be happy so let's ramble along to swinging the lumber.
Fetch me my boom-stick
On the offensive side of the plate is a comparison between to two budding superstars.  I argue that here is where we get to a sticky situation of personal preference. —Sidebar: This is the point in the article where everyone likes to point out that the Rockies play at Coors Field and that's unfair to which I would respond,"Fair? Who's the Nihlists here? What are you a bunch of crybabies?" and failing the Walter Sobchack reference I'd point you here and to fact that once again BBRef gives "Neutralized Batting" stats, which will further elucidate my proceeding points. And yeah it is unfair to play at a place that looks like this.—
Machado has the slight advantage in career batting average by a .284 to .282 over Arenado, has a better OBP and already lords over an ever increasing gap in BABIP as the Colorado third-basemen is having a bit of a downward trend in that regard. On the flip-side we have Arenado's epic 2015 season where he led the NL in homeruns (42), RBIs (130), and total bases (354) and he's leading the league again at the time of writing in the two former categories. Additionally, Arenado bests Machado in slugging % and ISO, though he might be giving up that lead in short order.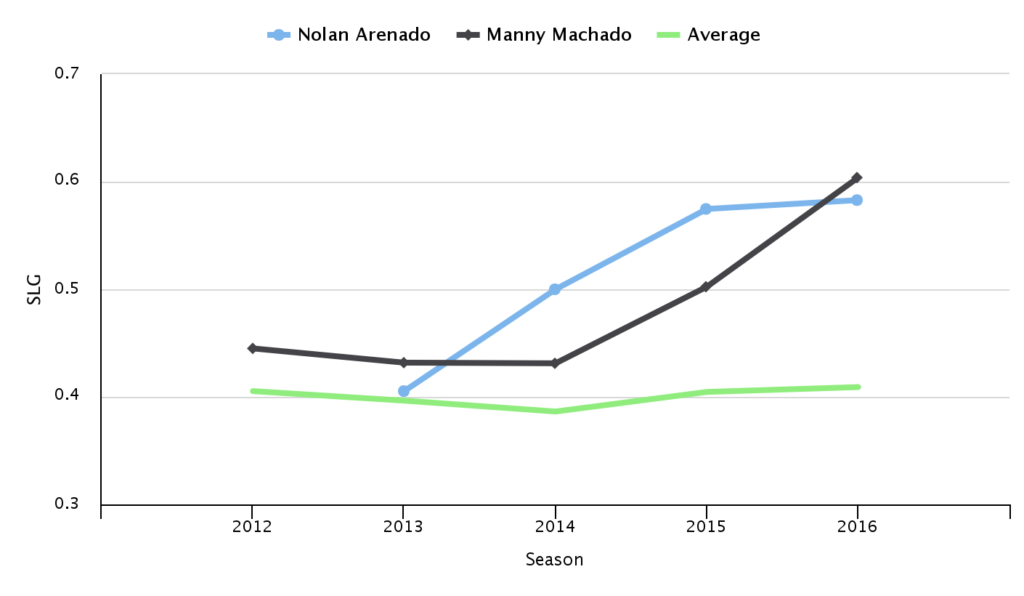 Trends and predictions are always tricky to use when evaluating the franchise player "worthiness." Thus far, Nolan has the edge in power numbers and Manny is the more smooth hitter. Things can always change as these youngsters' (They're still just 25 and 23 years old respectively) careers mature and they are surrounded by varius players that can protect them in the lineup, but an interesting and positive difference in 2016 Arenado is revealed in this nifty article from FanGraph. He's changed his approach at the plate to flat-out ignore his trouble spots and as such, his base-on-balls %, strikeout % and BB/K all seem to be heading in the directions you'd want to see.
To nail home a final point of comparison, I'd like to take a page from Sean's awesome article about advanced metrics for exit-velocity, generated velocity and launch angle. The two players once again are nearly identical for the initial pair of categories. Machado rakes an average launch speed of 92.03 mph along with an average generated velocity of 76.27 mph (Thanks MLB Statcast), whereas Arenado nips at his heels at 91.99 mph and 76.13 mph. With almost a negligible gap between them, the real difference lies in their launch angles and average heights. Arenado leads both categories with a 19.95 degree average exit angle and an average height of 58.94 feet; Machado sits much lower at 14.43 degrees and 39.45 feet. Though stats aren't everything, this seems to corroborate what we knew- Arenado goes for launching more high-trajectory fly balls and Machado is a line-drive hitter that hits to all fields. So once again it's definitely a matter of preference.
So what now?
Basically it looks (to me at least) like a win-win either way. Both players remain somewhat overshadowed by divisional rivals that garner much of the media hype (Giants, Dodgers, Yankees, Red Sox, Blue Jays) and attention and Machado has the added disadvantage of playing geographically close to Harper's Nationals. Statistically the players are almost even and their respective highlight reels are always an enjoyable way to conduct the "eye test." So does Nolan Arenado make the cut for franchise players? I say "let's go!".
-Jesse Hartman You can follow Jesse on Twitter @hartmonster3