Rankings
Five Players to Watch in the Dominican Winter League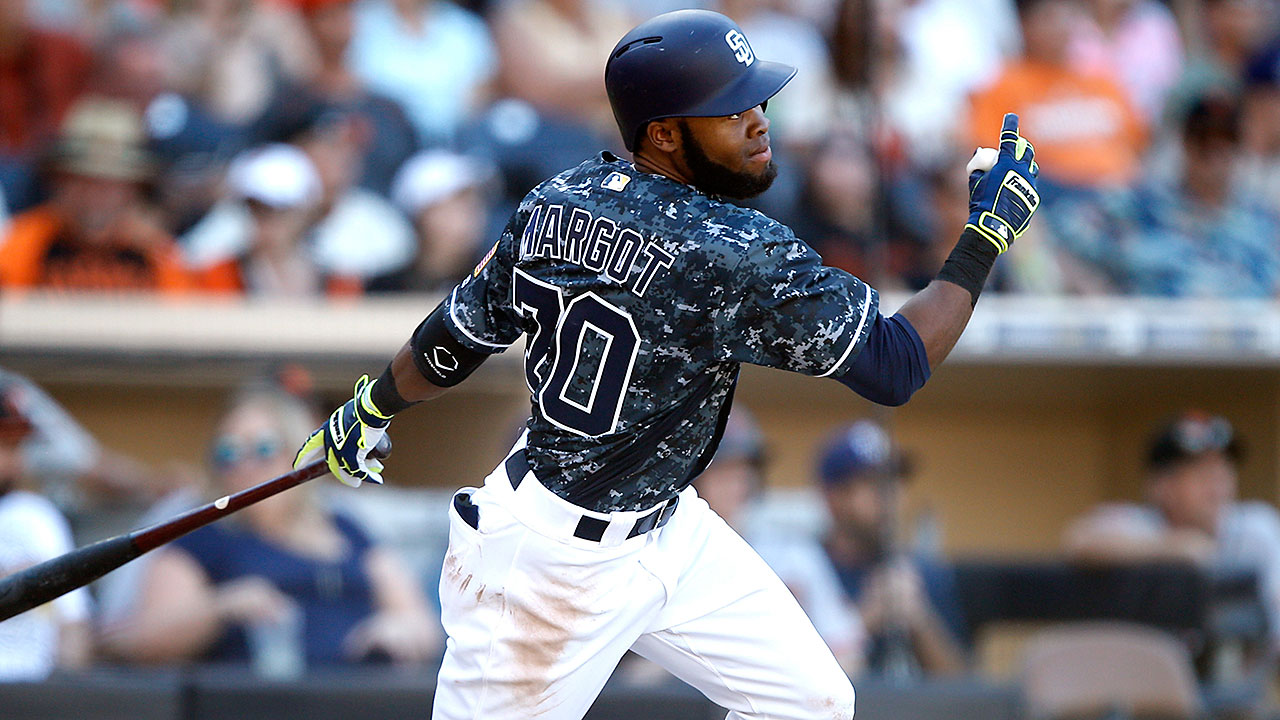 Today's post comes from Joshua Schwager of basbeballranks.com. It's an excellent peice and displays his deep knowledge of minor league prospects. Enjoy and follow him on Twitter at @baseballranks
Tomorrow will be the fifth edition of Opening Day in the Dominican Winter League (DWL). The opening game will feature Aguilas Cibaeñas vs. their rivals from the northern region, Gigantes Del Cibao.
The DWL has functioned as a bridge to showcase players to major league clubs. This talent was on full display last year as the league produced quite a few notable storylines.
Joey Rickard was the league MVP during the DWL regular season and was deemed "MLB Ready" by scouts. Rickard was selected during the Rule 5 draft by the Baltimore Orioles serving as a part-time starter and backup role. Another interesting story was Tyler White, a Winter League MVP candidate, this performance helped him be considered for the starting job at first base for the Houston Astros. White ended up winning the position out of spring training and started the year off on a torrid pace before MLB pitchers figured him out.
The DWL has a competition level that is closely behind Japan. One of the keys to the league is making adjustments as the players face many different levels of pitching and batting. In one at bat you could be confronted with a 100 MPH fastball. Then next at bat you would be facing a veteran pitcher pitching low 80s with pinpoint accuracy and movement.
This article will cover the top 5 players to watch in the DWL, and then try to figure out who might be the next Joey Rickard or Tyler White.
Arizona Diamondback SS/2B (Aguilas Cibaeñas)
Domingo Leyba will be making his long-awaited DWL debut after going 5th overall in the 2014 draft. Leyba is in a tight battle for the starting shortstop position with teammate Rando Moreno. So far in training camp, Leyba has looked excellent offensively and defensively, even though he has already shown an average arm for the position. Leyba's upside gives him the edge in this battle and he should be named the regular shortstop to start the season. Leyba has hit over .300 a few times in his minor league career and can hit for gap power and provide an above average speed. He is still just 21 and has never played in the Majors so he should be one of the top prospects in baseball if he performs well in the DWL.
The Diamondbacks want Leyba to work on his pitch selection and tone down his "free swinging" approach. Leyba will be facing very high-level competition; it will be the proper time to see how he adjusts under scrutiny. An outstanding winter ball season would give Leyba a slim chance to fight for a position in spring training. I doubt he ends up making the roster due to his age and he could still continue to develop his game in the minors. He finished 2016 as the #217 prospect in baseball.
Colorado Rockies OF (Estrellas Orientales)
The Colorado Rockies are ready to give Tapia a spot in their crowded outfield next season. The starting position is why the Rockies management okay-ed Raimel Tapia to keep working in the offseason and face pitchers with different approaches than he has seen in the minors.
Tapia has been a hitting prodigy in the minors hitting for high average in every league he has played so far. The Dominican League will be his big test, provided he gets enough at-bats. Tapia is also on rookie status for the DWL as he was selected #2 overall in 2014 and hasn't made his debut yet. Tapia will be competing with Leyba for the Rookie of the year award, even though his major league team only granted him permission to play until December 10th which it is around 85% of the regular season.
Raimel Tapia will be very exciting to watch: his plus hit tools and speed combined with unique batting stance is quite the sight. Before being called up to the Rockies, Tapia, was the 28th highest rated prospect in the Top 250 MiLB Rankings.
Jose Miguel Fernandez
Cuba FA 2B/3B (Aguilas Cibaeñas)
One of the best batters coming out of Cuba, Jose Miguel Fernandez, is a hitting machine. Fernandez hasn't play organized ball in two years, a factor that could play against him. Another weakness is question marks surrounding his defense. Reports from training camp and exhibition games have shown his lack of mobility at second base and a stiff glove at third base. He has committed a few errors so far.
Fernandez has great strike zone awareness and is a high OBP producer with average power without striking out often. In Cuba last year he struck out only nine times in four hundred at bats, which are a very impressive amount in any league. If Aguilas are patient enough to find him a spot in the lineup and ride out his questionable defense, he should be one of the stars of the season.
Fernandez will try to improve his defense at all cost since his dream is to get a job with a major league club. This summer, you can expect many professional franchises to send agents and scouts to talk with him.
San Diego Padres OF (Toros Del Este)
Manuel Margot is back with Toros del Este after being the regular center fielder for the first two weeks of the season last year. Hopefully, Margot will see a longer permit to play winter ball for the Padres this year. Margot is expected to compete for a starting job next spring training with the Padres, so Winter ball should be a good workout to test his skills.
Margot has four solid tools to showcase with power being the below average trait. Margot will be playing most of his games at Francisco Micheli ballpark, which is the league's most pitching friendly stadium. There extra base hits and stellar defense wins games, and it should suit Margot's game well. Many could argue that Margot is among the top ten prospects in baseball going into the DWL and 2017 season.
Toronto Blue Jays SS (Gigantes Del Cibao)
Richard Ureña will start the season as the regular shortstop for Gigantes Del Cibao. Ureña has someone pop in his bat and could take advantage of the home run friendly field that is Julian Javier Stadium. Urena will probably keep working on his defense and pitch recognition even though he has already improved his pitch awareness.
Ureña is quite young for the DWL, but he should do fine.
Who will be the Next Joey Rickard?
Well, one of the players who could make the jump from AA to MLB from this league could be Willy Adames, currently in the Rays organization. Adames was the #4 overall in the 2014 DWL draft will be the regular shortstop for Tigres del Licey. He will be sharing the SS/2B with Raul Mondesi Jr who is expected to join Licey in two weeks. Adames maintains plus bat speed which generates raw power and could be a threat to his gap power on the spacious Juan Marichal Stadium. A big season from him could win him a chance to stay with the big league team in spring training.
Who could be the next Tyler White?
I can't guarantee he will make his major league team out of training camp, but I could bet on Rhys Hoskins having an MVP type of season in Winter Ball. Rhys Hoskins will be playing in the most home run friendly stadium (only 330 feet by left field) in the league. If he can adjust to a number of breaking balls that he will probably receive he should do fine. His teammate Tyler Marincov and Dylan Cozens (Aguilas Cibaeñas) are other candidates, even though most of them will only play until Thanksgiving Eve break which marks around 75% of the regular season.