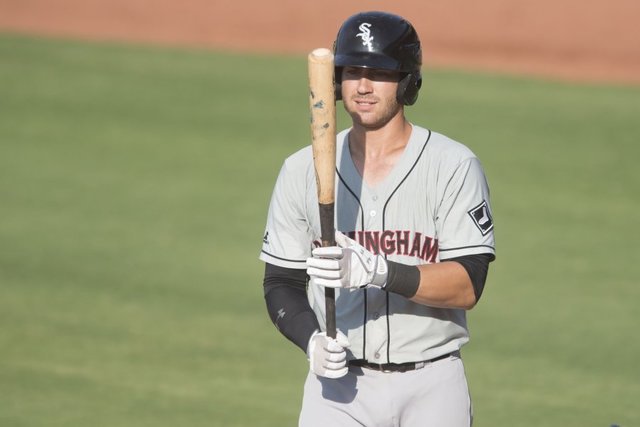 Don't scout the stat line. It's a common mantra repeated by real life scouts given the modern era of amateur baseball scouting and the insane amount of data available at our fingertips. It is a simple reminder that each hitter and circumstance is different, that the minor leagues are made up of ballparks of varying dimensions and that competition varies greatly across various leagues. However, in an era where we have that data at our fingertips, it behooves us to at least take a look and see if we can find anything to note.
I sorted the minor league leaderboards at baseball-reference to find the 2016 AA batting leaders across the three AA leagues: Southern, Eastern, and Texas. In order to qualify for those leaderboards, the player has to amount at least 140 plate appearances at that level. That's hardly a full season, but it's as good of a mark as any, so I went with it.
The results were a combination of big-time prospects, non-prospects and a few that made me go
¯_(ツ)_/¯
With that, let's take a look at the top 10 OPS leaders in AA this year.
Rowdy Tellez, 21, 1B, Blue Jays Organization
2016 AA stat line: 514 PA's, 23 HR, 4 SB, .297 BA, .917 OPS
Rowdy! Holy cow, this guy's name is Rowdy! New favorite player. Analysis over.
…..
Not actually. This guy is a diamond in the rough for the Blue Jays. He was selected out of high school in the 30th round of the 2013 draft and has done nothing but hit since getting acquainted with pro ball at age 18. In 1369 minor league plate appearances, Rowdy has a .289 average and 45 homers. His .917 OPS is a combination of his natural power and his thorough understanding of the strikezone. Tellez managed to work 60 walks this year. He's 21 now and may be thrust into some big league action next year, especially if the Blue Jays suddenly find themselves without Jose Bautista or Edwin Encarnacion. Bernie Pleskoff at Today's Knuckleball ran a full piece on Rowdy, but I copied a few of the interesting points here:
"He got his nickname when he was in his mother's womb he kicked a great deal, more than what would have been expected. His grandmother started calling him "rowdy." That's the name he prefers today. His given name is Ryan.
With his size, one would expect that Tellez would have played football in high school. That was not the case. In fact, when he was younger he wanted to be a dirt bike rider.
He didn't go as high in the June Draft in 2013 as many had expected. Many big league clubs thought he would be honoring a commitment to play at the University of Southern California. The Blue Jays selection changed his mind and he became a professional baseball player."
Rowdy apparently weighed as much as 275 pounds in high school, but has worked his weight down to the 225 range. He's now a fit looking dude, but not svelt.
Moises Sierra, 27, OF, Marlins Organization
2016 AA stat line: 307 PA's, 9 HR, 6 SB, .336 BA, .932 OPS
Moises might be a name that is familiar to Blue Jays or White Sox fans. He spent time in the majors in parts of three years, but was relegated to AA duty in Miami as the Marlins outfield was among the most talented in the bigs. Sierra put together a very solid year in AA, but appears to be something of a tweener. He's not a big power guy, doesn't steal a lot of bases, and doesn't man the outfield like Andruw Jones. That's the same profile that I used to describe Adam Eaton, but Sierra is obviously a step down from Eaton in each facet of the game.
Sierra suffered a shoulder injury in July that robbed him of the chance to play for the Marlins in September, but he's back and apparently ready to play for the Cibao Giants in the Dominican Winter League. Depending on his performance there, Sierra may be a classified as a late-bloomer and earn a shot at earning his next cup of major league coffee.
Dylan Cozens, 22, OF, Phillies Organization
2016 AA stat line: 586 PA's, 40 HR, 21 SB, .276 BA, .941 OPS
First thing is first: That is a huge stat line. It's befitting because Dylan Cozens is a large human: 6'6 and 240 pounds. However, his pedigree does not live up to these similar huge standards. Cozens was a second round pick in 2012, but had never posted an on base percentage above .350 before this year and he had never hit for nearly this much power. John Town ran an excellent piece on how Cozens' 2016 season does exactly pass the sniff test.
Apparently the Phillies' AA park is a hitter's paradise and Cozens took advantage by swatting 29 of his 40 homers at home, despite getting a nearly identical number of plate appearances at home and on the road. However, 40 homers is 40 homers and even if Cozens is Darrin Ruf 2.0, that's not such a bad thing.
Rhys Hoskins, 23, 1B, Phillies Organization
2016 AA stat line: 589 PA's, 38 HR, 8 SB, .281 BA, .943 OPS
So you remember how the Phillies' AA ballpark is supposed to be a hitter's paradise? Hoskins' stat line is another of the beneficiaries. Rhys' 2016 splits are not quite as drastic as Conzens, but he did hit 25 of his 38 homers at home. However, Hoskins put up big numbers in 2015 as well. He's a former 5th round pick out of Cal State Sacramento, but he's going to have to continue to prove that he can hit in order to reach the Majors.
Andrew Pullin, 22, OF, Phillies Organization
2016 AA stat line: 206 PA's, 10 HR, 0 SB, .346 BA, .952 OPS
So you remember how the Phillies' AA ballpark is supposed to be a hitter's paradise? Yeah…. Pullin put up some excellent numbers in his two months in Reading. Pullin got called up after hitting fairly well high-A ball, but he doesn't have a history of really crushing baseballs. Pullin has hit well in various stints, but has yet to find the consistency to be classified as a stats-prospect.
Travis Denker, 30, 3B/OF, Diamondbacks Organization
2016 AA stat line: 257 PA's, 13 HR, 0 SB, .303 BA, .971 OPS
Mr. Denker has spent the last three years bouncing around in various independent leagues. He got his cup of coffee with the Giants back in 2008 and has continued to pursue the dream, when the Diamondbacks signed him this summer out of the American Association. He obviously hit well once he got to affiliated ball, and has a strong minor league track record. The reality is that Denker is on the wrong side of 30 and may well end up in independent ball again next summer.
Still, his story is what makes this list so fun. We have up and comers like Rowdy Tellez, guys whose stats are inflated by short porches, baseball oddity Denker and then this next guy.
Alex Bregman, 22, SS/3B, Astros Organization
2016 AA stat line: 285 PA's, 14 HR, 8 SB, .297 BA, .975 OPS
Bregman assumed the position as the top prospect in baseball sometime this spring. He crushed it in AA and then crushed it in the Majors after getting the call up. I won't be spending much more time discussing Bregman in this space. He'll be written about plenty in the coming years.
Austin Meadows, 21, OF, Pirates Organization
2016 AA stat line: 190 PA's, 6 HR, 9 SB, .311 BA, .976 OPS
Like Bregman, Meadows is a top prospect. He's not quite at the level of Bregman – few ever reach that rarefied air – but he is highly thought of enough that the Pirates have entertained the idea of shipping out star Andrew McCutchen.
As evidenced by the above stat line, Meadows absolutely crushed it in AA for the first two months of the season. However, he stumbled a bit out of the gate in the more advanced AAA and then was shut down for a month with a hamstring injury. He returned and didn't hit so great and then got injured again and will miss playing this Fall. Still, Meadows has a bright future ahead of him and is the type of talent that we would expect atop the hitting charts.
Ryon Healy, 24, 3B, A's Organization
2016 AA stat line: 164 PA's, 8 HR, 1 SB, .338 BA, 1.036 OPS
Healy came into 2016 as a bit of a no-name. He was selected in the third round in 2013 by the A's, and hit fine enough in his first two full years in pro ball. If you squinted, you could see how maybe he would help the A's one day. Then 2016 happened. He crushed it in AA at age 24. That's definitely good, but only good enough to earn him a promotion to AAA. Ryon spent the next two months in AAA doing pretty much what he had done to AA.
So he got a call-up to the big league squad and managed an .861 OPS with 13 homers in his two months in Oakland. It was definitely a big year for Ryon Healy, who has worked himself into the A's future plans. The momentum for that started in earnest with this AA stat line. One word of caution on Healy: he struck out in over 20% of his major league at bats. As a guy coming from nowhere, that is worrysome because he could quickly return to nowhere.
Nick Delmonico, 23, 1B/3B, White Sox Organization
2016 AA stat line: 159 PA's, 10 HR, 1 SB, .338 BA, 1.073 OPS
This is kind of fun for me because I played against Nick Delmonico when he was a second baseman at Farragut High School in Knoxville, TN. His dad is the former University of Tennessee baseball coach, and the Delmonico boys are littered throughout the minor leagues. I believe Nick is the youngest and most talented, but has had his share of personal problems, dating back to his high school days. Aside from some personal stories that I won't share because I simply can't ensure their accuracy, Nick has apparently run into trouble in pro ball. When the White Sox signed him, Jim Margalus recapped his struggles.
In his 4 years since being drafted, Delmonico is now on his third different organization. He was suspended for 50 games for testing positive for amphetamines and was released from the Brewers because "he wouldn't return phone calls. We couldn't find him."
For their credit, the White Sox have looked past all that and given Delmonico a new chance to prove himself. Over the season's first two months, he proved what I (and the White Sox) have long known: he has the talent to play in the big leagues. He struggled in his adjustment to AAA, hitting just .206 with a .593 OPS across his first 40 games at that level. He rebounded in August, knocking 4 homers and a .843 OPS. He's an interesting guy going forward. He has the talent to help the big league squad, but must continue to work at his craft both offensively and defensively.
The range of players atop the AA OPS leaderboard is fascinating. We have guys working their way back from independent league purgatory. We have guys, like Delmonico, finally putting together spurts that their talent has long enabled. We have guys riding high en route to major League stardom, and we have guys whose numbers cannot be split from their home ballpark. Plus, we have a Rowdy. Minor League leaderboards are phenomenal.
-Sean Morash
Note: this originally ran over at baseballranks.com but I didn't want to rob our faithful readers of the fun list.