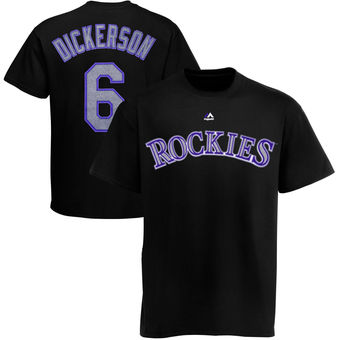 After I dropped off my girlfriend to help with wedding preparations, my white Chevy Tahoe and I were faced with two hours to kill and all of Denver at our fingertips. Of course, there was at least some small semblance of a goal in mind- adding to my ever growing MLB team t-shirt collection.
I figured I'd head to Denver's 16th St Mall, a pedestrian street lined with tourist traps, chains, and restaurants in the heart of downtown.
After parking, I walked the length of the Mall, pretending that I was't laser focused on finding the shirt, before stepping into a sports apparel store I thought might meet my needs. It didn't. Every wall was packed with orange Broncos gear from floor to ceiling. There was one wall with a little Nuggets stuff and a few University of Colorado sweatshirts, but no baseball gear at all. I asked the clerk and he told me that since baseball was out of season, they didn't have any Rockies stuff. That seemed pretty weird considering Denver only has 3 teams and it seems pretty reasonable to stock all their stuff all the time, but I thanked him and headed out. He stopped me though, with a whisper.
The real secret, he told me, was that the official Rockies dugout store up the street was having a moving sale, clearing everything at 50-70% off. I nearly ran the three blocks.
When I finally found the store tucked into an office building, I was in Rockies heaven. Hats and sweatshirts were  50% off, jerseys 70% off and all women's stuff 60% off. I scanned the racks looking for the plain black Rockies t-shirt with nothing on the back that I had come for but came up empty. It seemed the store had been picked over pretty well with the best stuff was available in small or XL. It would take a keen eye to find the diamonds in the rough.
I headed to the women's section to grab my girlfriend a fancy purple Under Armour and on my way back I saw it, the Holy Grail. A rack of shirseys of former Rockies, all marked down to just $2. Tulo was there, but only in small. So were Jhoulys Chacin, Josh Rutledge, and even Willin Rosario. I considered Rosario because I wore the number 20 in college, and easily dismissed Chacin because 45 isn't a number I like. I almost grabbed a Rutledge before stumbling upon a perfectly sized, prime condition, number 6 Corey Dickerson shirsey, of which I am now the proud owner.
-Max Frankel