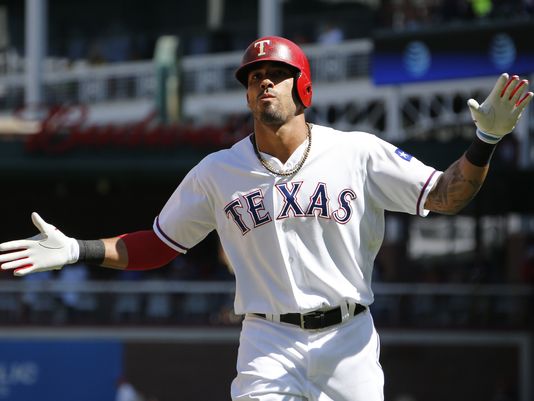 Ian Desmond is headed to the Colorado Rockies for 5 years and $70 million and according to various reports, he's expected to start at first base. This in itself is puzzling; first base will be Desmond's third position in three years following stints at shortstop and center field for the Nationals and Rangers respectively. Following an offensive collapse in 2015 that saw the then 29-year old slash .233/.290/.384, Desmond bounced back last season to hit .285/.335/.446. He went from a below average wRC+ of 83 to an above average figure of 106. He then used his 2016 numbers to gamble on himself, rejecting the Rangers' qualifying offer and forcing the Rockies to cough up the 11th overall pick in the 2017 draft to sign him.
Committing $70 million and a draft pick to a player that will be learning a new position for the second time in two years is odd, but not unprecedented (see Hanley Ramirez and the Boston Red Sox). About a month ago, FanGraphs posted an article arguing that the Rockies could be on the verge of contention. With a core of Nolan Arenado, Carlos Gonzalez, Charlie Blackmon, and DJ LeMahieu in place — as well as Trevor Story, David Dahl, and Jeff Hoffman emerging–the foundation is there. Add in breakout pitcher Jon Gray and up-and-coming prospects Ryan McMahon and Raimel Taipia, and the argument begins to look a lot stronger. The organization's position in terms of talent and their willingness to ditch a first-round pick to commit to a slightly above average hitter in Desmond, shows me that they're ready to start pushing the envelope in Denver.
So do the Rockies really plan on putting Desmond at first base for the foreseeable future? Maybe not. The two things that a team can count on with him are (1) durability (he's played no less than 154 games since 2013) and (2) versatility. Trevor Story is a lock to be the team's starting shortstop, but there have long been trade rumors surrounding outfielders Charlie Blackmon and Carlos Gonzalez. Desmond's versatility could turn out to be very valuable should the Rockies push a deal including either Blackmon or Gonzalez.
Gonzalez already makes more sense in a move to first than Desmond, as his adjusted defensive metrics playing the outfield have been below league average for the past three seasons while Desmond was essentially an average center fielder for the Rangers.
This creates an opportunity for the Rockies to dangle Blackmon on the trade market, a move that's already gained traction with the Cardinals. St. Louis is actively looking for an athletic outfielder to compliment Stephen Piscotty and Randall Grichuk in the corner positions, but their deal to send Jaime Garcia to Atlanta complicates the situation.
Pitching is the most evident need for the Rockies, as their bullpen combined for a 5.13 ERA while blowing 28 saves in 2016. The Blue Jays are in heavy talks with Dexter Fowler to take over as their leadoff hitter, though the two sides are apart on the dollars of the deal. The Jays have a deep staff, but it's hard to see any way they'd be willing to part with either of their young starters in Aaron Sanchez or Marcus Stroman to acquire Blackmon in that role.
A more likely trade partner for the pitching-starved Rockies could be the Chicago White Sox.
In trading Chris Sale to the Boston Red Sox, Chicago's south-side team showed that no player on the roster is untouchable. Jose Abreu is an obvious candidate to follow Chris Sale on his way out of the organization. At just 29, the former Rookie of the Year has a large enough window to figure into the Rockies' plans for contention. Blackmon alone wouldn't be enough to pull Abreu from the White Sox, but a package including a couple of prospects may suffice (it could even be enough to bring David Robertson into play).
Or….. the Rockies are signaling that they don't care about draft picks and are ready to go all in. If they're giving up a first for Ian Desmond, why not sacrifice a second-round pick and get Edwin Encarnacion? This would make a trade of either Blackmon or Gonzalez for pitching inevitable, moving Desmond to the outfield and giving Edwin an opportunity to consistently hit 40 HR a year playing at Coors Field.
Either way, the Rockies see themselves as up and coming contenders. They have the foundation, the prospects, and now a measure of versatility in Ian Desmond.
Yes, Desmond alone is likely going to be overvalued at 5/$70 million for his ages 31-36 seasons as an average hitter and average defender, but the options he presents to the Rockies open the door for greater talent acquisition.
-Daniel Cassese