Archives
The Baseball Player Political Cabinet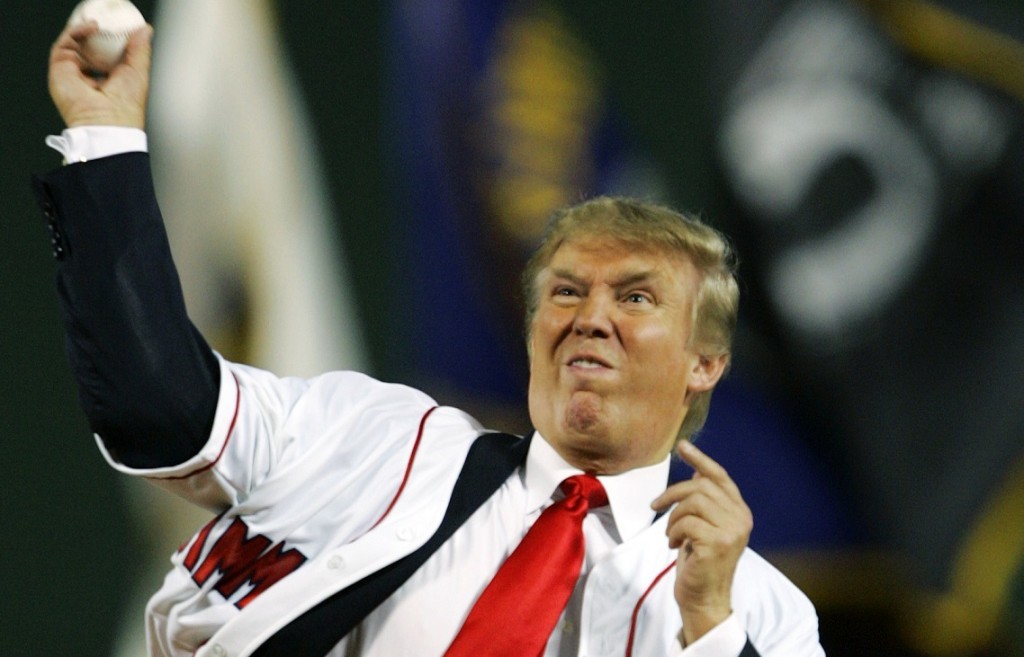 Max Frankel:
Hey! Idea: baseball player political cabinet. Which players would be best for each cabinet position. My first nominee: Ozzie Smith for Secretary of Defense because, well, you get it.
Sean Morash:
Ha! Brilliant! Trump needs some help
Max Frankel:
Glad you're on board. Who's your choice for education?
Sean Morash:
It's funny. That's immediately where my head went as well. I want Pedro Martinez or Greg Maddux. Both are brilliant and insightful. They definitely need to be in our cabinet, but I'm not sure if Education is the best place for either. My mom, a liberal school teacher, kinda hates the Dept of Education. Can we give this to someone with the best intentions but who we really don't care if they mess it up too bad because it might actually be hopeless? Tell me that's not A-Rod. I dare you.
Also- do we have any rules? We know Trump's one rule is: "Are they worth $1,000,000?" If so, they're in. Do we need our cabinet representatives to be retired ballplayers? Do they need to be alive? What about American Citizens?
Max Frankel:
All great questions. I say the only rule is they have to be a single person, no teams. Managers are fair game (I was thinking that for education, a good teacher) Qualifications are whatever you want them to be.
The fangraphs splits leaderboard is currently not working which is preventing me from naming our secretary of homeland security
Sean Morash:
According to USConsititution.net, the real life Constitution lays no qualification requirements for appointees. They can be young, old, male, female, of any race, religion, or nationality. Fun fact: Henry Kissinger was Secretary of State and was born in Germany, becoming a US citizen at age 20.
So no nationality requirements will be necessary for our exercise. Next question: How many cabinet positions are there?
Max Frankel:
Many. We've already got defense. Now we need:
State
Treasury
Attorney general
Interior
Labor
Commerce
Agriculture
Health and human services
Housing and urban development
Transportation
Energy
Education
Veterans affairs
Homeland security
Thoughts on Hall of Famer Luke Appling for health and human services? His nickname was 'Old Aches and Pains'. Gotta be him or Tommy John right?
Sean Morash:
It's gotta be Tommy John. HHS has a goal of "protecting the health of all Americans and providing essential human services." That description couldn't be more vague. Tommy John has essentially proven to be the little angel for every pitcher. He (more specifically, the surgery he made famous) protects the health of pitchers. Before we induct him, does MLB have someone who is actually in charge of this sort of thing? NFL probably has a concussion guy, does MLB have a health and safety pro who is quietly very good at his job and deserving of a promotion?
Max Frankel:
We're not naming some MLB organizational guy to the cabinet! Must be a player or manager or something. I'm fine with Tommy John though.
Ok. That's two. Who's next?
I have another nominee. I'm on fire. Ted Williams for veterans affairs. WWII vet, decorated pilot, all time great. Who else do you want? Not the most personable guy though
Sean Morash:
VA needs a friendly face. I'm all for Hoyt Wilhelm. He's anotherWWII vet and he fought at the battle of the Bulge (ha!) but was a knuckleballer so definitely more friendly.
Max Frankel:
Hmmm. I kinda like the idea of Ted in cabinet meetings knocking heads for vets. Let's table this one. You got any?
Sean Morash:
Did you just gloss over my Alex Rodriguez nomination? Are you going full Merrick Garland/SCOTUS on me?
Max Frankel:
Eh. I don't love it. We need a good baseball teacher. Dom DiMaggio's nickname was the Professor. So was Greg Maddux's. Maybe one of them?
Sean Morash:
See I think we're coming from fundamentally different places. My natural inclination is to watch the world burn. Take this Jose Canseco tweet for instance… I'd love to find a place for him in our cabinet. He clearly wants to help
Max Frankel:
As convincing as that tweet is- and it is, we should definitely consider Jose for something- I think we're trying to find the best baseball fits. We're about to watch the real world burn, I think we need to prove baseball can do it better
Thoughts on David Eckstein for Sec of Labor since he's such a blue collar, gritty guy?
Sean Morash:
I'm all for it. I also think he could be the National Security Advisor because he's just pesky, diligent, and a little annoying. Those qualities are highly valued when it comes to national security!
I'm not going to argue with you on Labor though because national security advisor is technically a White House aide and not a cabinet position.
Max Frankel:
National security advisor is not technically in the cabinet. We could expand to all senate-confirmable positions but we've got enough work as is
Ha. Glad we're on the same page
Who's next?
Sean Morash:
Can I nominate Barry Bonds for press secretary?
Max Frankel:
Not in the cabinet. Sorry
Sean Morash:
So I can just appoint him? Perfect. Done.
Max Frankel:
Works for me
Shouldn't Pete Rose be in the cabinet? Where would he be?
Sean Morash:
Ok so for education, it's got to be Maddux. He's got an amazing ability to get the most out of everything and Education needs that.
Max Frankel:
Ok. I'm in. So now we have defense, labor, education, and we're in the final two for veterans affairs
Sean Morash:
And agriculture is easy. It's gotta be Shoeless Joe Jackson. Dude literally lives in corn fields in Field of Dreams. I can think of no better candidate
Max Frankel:
Wow. That's brilliant. I thought that one would be hard. Good work.
I'm still struggling with fangraphs to find homeland security. Stupid web apps
How's Pete Rose for energy? Him being Charlie Hustle and all… got lots of energy
ARod for treasury? The guy signed the richest contract in history twice, he must know something about money
Sean Morash:
AROD-Treasury is great. I'd like Jose Canseco as his number two. They're both great with money. As for Energy, I like it but I was hoping for someone who would be all about green energy. Maybe I'm biased, but that's a must. Wow- go to bakerenergyteam.com.
Max Frankel:
Get. Out.
Sean Morash:
Dusty Baker started a renewable energy company! I can't believe this. Literally emailing them now to do a full article about what they do.
Max Frankel:
Well that's it. That's amazing. You see Gary Matthews on there too? I kinda like him as Secretary because Dusty Baker feels a little Trump-y to me
(Also, we should totally work at Baker Energy Team. Very strong polo game, I'd imagine)
Sean Morash:
That's great. I'm emailing Gary Matthews! I wonder how involved Dusty during the offseason.
Ok, that's a different post for a different day. Back to Dept of Interior. What do they do? Can I nominate Jon Lester for the whole chicken and beer fiasco on the interior of the clubhouse?
Maybe Joe Maddon is better. He creates great cultures. DOI is all about cultures.
Max Frankel:
Interior is more like public lands, wildlife stuff, national parks etc
Nolan Ryan. He was a Texas Ranger. Rangers patrol parks. Boom. Done.
Sean Morash:
Ok done, but by some twisted Sean logic, maybe we want a Cub. Bears live in the parks and are tough.
Max Frankel:
I was thinking a Cub. Actually, how about Mr. Cub, Ernie Banks?
Sean Morash:
Yes. He has this friendly, energetic and tenacious attitude that we need in our cabinet.
Matt Kemp for Housing and Urban Development? Have you seen his house?
Max Frankel:
Ok. We're making progress.
No I haven't. Got a photo?
Sean Morash:
http://www.11alive.com/mb/sports/photos-matt-kemps-115-million-mansion-for-sale/366478671
Max Frankel:
Wow. Nice place. Kemp's definitely qualified. But do you think he's the best bet? I'm thinking Babe Ruth, of House that Ruth Built fame. I mean, the guy built a house, what more could you want?
Sean Morash:
Probably not a drunk womanizer in a position of power solely because he could hit homers, but that's just me
Max Frankel:
Says the guy who advocated for Jose Canseco?!
Sean Morash:
Canseco is the number 2! How about Cal Ripken for HUD? The former Oriole does a ton for inner city youths.
Max Frankel:
Ok. That's a good compromise choice. Done
Thoughts on Chairman of the Board Whitey Ford for Commerce? I feel like if you're a chairman of the board you must have some business/money/whatever commerce is sense
Sean Morash:
What Board did he chair? I frequently chair boards but nobody else attends  the meetings.
Max Frankel:
I'm not sure it was a real board actually
And that sounds like you just have pretend meetings
Sean Morash:
Which is exactly what Whitey Ford apparently did! We can't have a delusional 88 year old in public office.
/looks up oldest living member of Congress/
Did you know that John Wold is currently a House Rep from Wyoming and that he is 100 years old?
Just kidding. He served in the 1970s. Dianne Feinstein is 83. Whitey Ford at 88 just won't fly.
Max Frankel:
Got anybody better?
Also, Google John Dingell
(In case you're busy, Dingell was a congressman from 1955-2015 and retired at age 89)
Sean Morash:
Didn't we already appoint a dead guy? So that whole line of logic is futile for this exercise. Whitey Ford it is!
Max Frankel:
Great!
Who's next?
What about state? That's the big kahuna
Sean Morash:
Oh! I agree. Bobby Valentine! He was literally going to be the Ambassador to Japan.
Max Frankel:
And that's the number one reason he should be nowhere near our cabinet
State should be for someone dignified, tactful, and most of all, competent
I'm thinking Casey Stengel 🙂
Or Yogi!
Imagine Yogi Berra in a high level meeting with some diplomat and the translator trying to figure out what the hell he just said. Worth it just for that
Sean Morash:
You just got me to laugh out loud at my desk. The possibilities on that are endless
"When you come from the left, that's like coming from the right."
"The future ain't what it used to be."
"If the world were perfect, it wouldnt be."
I made up one of those Yogi Berra quotes.
Max Frankel:
The first one? I know the other two
Anyway. He's perfect
Only 3 to go!
Sean Morash:
Agreed. Let's go from that to Attorney General. Everyone hates lawyers so it's the perfect cabinet position to discuss next. How about former all-star Cubs third baseman, Vance Law?
LAW is right in his name!
Max Frankel:
It's just not bad
I wish Lawyer Milloy played baseball
Sean Morash:
Guess who was drafted in the 19th round of the 1995 draft?!
Max Frankel:
Hahahaha. Are we counting that?
Sean Morash:
I think we should stick with Vance Law. I bet he's more likely to get approved by congress anyway.
So that leaves Transportation and I think we only have one option: Rickey Henderson.
Max Frankel:
Alright. Vance Law it is. I know nothing about him though, hopefully there are no skeletons
I like it! But for the official record, make the case
Sean Morash:
He's fast! That's how humans transport places. If anyone knows moving from place one to place two, it is Rickey Henderson.
Max Frankel:
He's been known to steal a lot (of bases). Think that holds up the confirmation?
Sean Morash:
I think Rickey referring to himself in the third person throughout the hearing will be well worth the appointment
Max Frankel:
So that's it. I just left work but if you're near a computer wanna see if you can find out who leads the MLB in career winning percentage at home and we can fill out our full cabinet?!
Sean Morash:
Ha! That's how we were going to do Homeland Security? That's fantastic! Well, fangraphs has apparently killed the win, so I've got the best career xFIP at home, minimum 1000 IP. It's Roy Halladay (with a 3.14). He's a doctor too! He's perfect.
Max Frankel:
Halladay will be great! Glad you approve of my methods
Sean Morash:
Awesome. I'm very happy with our cabinet and our appointments. These are solid decision makers capable of leading the country. I think Trump might call them "the real deal."
The Baseball Player Political Cabinet
Defense- Ozzie smith
State- Yogi Berra
Treasury- Alex Rodriguez
Attorney general- Vance Law
Interior – Ernie Banks
Labor – David Eckstein
Commerce- Whitey Ford
Agriculture – Joe Jackson
Health and human services – Tommy John
Housing and urban development – Cal Ripken
Transportation -Rickey Henderson
Energy- Gary Matthews
Education -Greg Maddux
Veterans affairs – Ted Williams or Hoyt Wilhelm
Homeland security-Roy Halladay