AL East
Hanley Ramirez And The Fate of the 2017 Boston Red Sox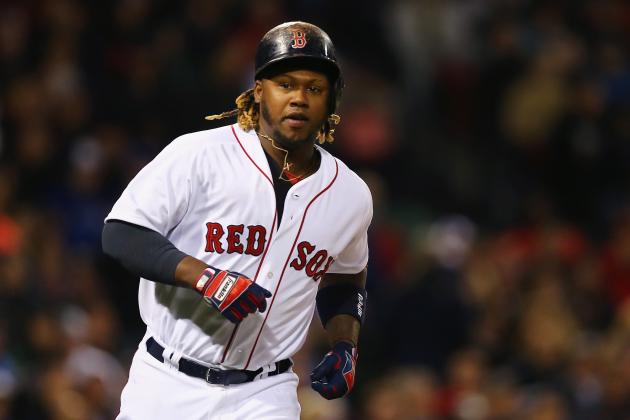 This post was originally published over at Hot Stove MLB. We've reposted it here.
The Boston Red Sox had an up and down year in David Ortiz' final season, but about as good a campaign as could have been hoped for. David Price's struggles and the resurgence and emergence of Rick Porcello and Steven Wright, respectively, were a wash; the outfield's collectively stupendous production belied the void that was third base and catcher (pre-Sandy Leon). Generally speaking, the collective offensive over-performance balanced the myriad disappointments on the mound.
When all was said and done, the Red Sox limped into the playoffs and washed out in a flash. But, no one seemed to mind (least of all ownership) because through it all it was Ortiz' swan song season, and that was enough.
But now Ortiz is gone, and the front office is light the convenient veil.
Red Sox Nation will be back to its familiar, championship-or-bust, whining, unsatisfiable ways in 2017. Now, it's beyond clear that major upgrades are required should contention be truly plausible– most notably, the team has an enormous need for humans capable of throwing a ball 60.6′ with something resembling break and command and without a doubt Chris Sale will help in this respect— but one other thing is certain: Hanley Ramirez will have to repeat and / or build on his (re-)breakout(-ish) 2016 numbers.
To recap, I say "re-breakout-ish" because Ramirez is the type of player who always should have been doing this, sort of once did most of it (when he was young), but hasn't been young, or doing it, for nearly a decade– and had his worst year as a pro in 2015. Last year was his first truly full season since 2012, the first since 2008 (and just second ever) in which he hit 30 homers, and his .866 OPS was the best full season mark since back when he was young and "sort of doing most of it" (2007-09 he was over .940 OPS each year).
So what gives? Well, diving into the advanced stats… basically nothing. His Ramirez' BB%, K%, Swing%, and virtually every other % statistic are within a standard deviation of his career averages. He didn't see a different arsenal either, as per Fangraphs, all the pitch type metrics were essentially spot on.
The only plausible rationale, then, is clear: Hanley Hit More When Hanley Thinks Less (HHMWHTL). In 2015 the Sox moved him to LF– with the Green Monster no less– but last year he switched to 1B, and had himself the best defensive season of his career. (Incidentally (or not), his initial decline some years back corresponded with his introduction of 3B.) 
So, with Ortiz gone, the grand plan of Ramirez, 1B/DH, will finally come to fruition in 2017. In fact, now that Mitch Moreland is coming on, Ramirez might spend more time at DH than he ever has before, will removing the defensive part of baseball help Ramirez's offensive stats even more? Or will spending all that time on the bench between at bats cause more harm than good?
-Ari Glantz