American League
Anibal Sanchez Could Be a Good Mid-Season Trade Candidate for the Detroit Tigers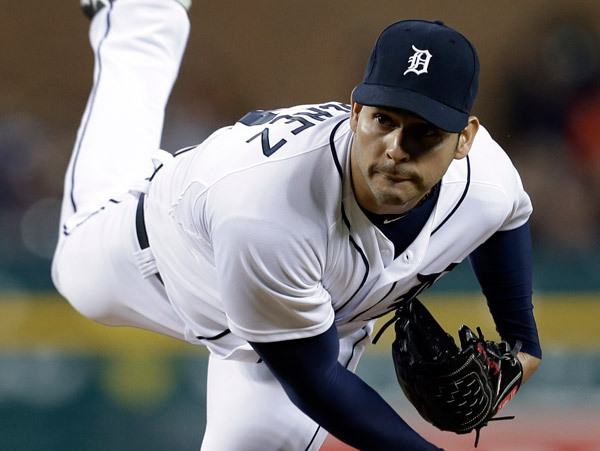 This post was originally published over at Hot Stove MLB. We've reposted it here.
Anibal Sanchez is bad. He didn't used to be bad, he used to be good. That's why the Detroit Tigers gave him just about $80 million in 2012. The very next season, Sanchez rewarded Detroit with the best season of his career, posting a 2.57 ERA and leading the AL in FIP and ERA+ en route to a top 5 Cy Young finish.
That was along time ago, though, and now the Tigers are paying more than $16 million a year for Sanchez to post an ERA near 6, give up 30 homers a year, and have a disastrous 1.4 WHIP. According to bWAR, the Tigers would have won an extra game last season by starting a generic AAA caliber player instead of Sanchez 26 times.
By the end of the season, Sanchez had been banished to the bullpen, but that doesn't mean he can't be of some use to Detroit moving forward. 2017 is the last guaranteed year on Sanchez's contract, he has a team option with a $5 million buyout for 2018 that almost certainly won't be picked up.
If Detroit can coax a couple of good months out of Sanchez to start next season and agrees to pay the vast majority of his salary, they should be able to flip him to a contending team in need of some emergency pitching help.
Of course, if the Tigers could coax a few good months out of Sanchez, they probably would have sometime during 2015 or 2016 when he stunk up the joint, but I have a possible plan.
At his best, Sanchez's slider and changeup were his bread and butter and he used them off his fastball to keep hitters guessing. Those days are over. In 2013, Sanchez threw his 4 seamer about 37% of the time and his change up right around a quarter of the time. Last year, when things weren't going so well, the change up usage fell to under 20% and fastball usage ticked up to more than 40% as a response to bad results.
It didn't help though and I propose an entirely new approach. Sanchez should become a sinker first type of pitcher. Throughout his career, Sanchez has never used his sinker more than 2 out of every 10 pitches, but I suggest making it his primary offering. That way, he can cut down on all those homeruns and just offer a different look for hitters that have seen him for years.
Will it work? Who knows. But if Sanchez can put together a mini-resurgence at the start of next year, it could pay major dividends for the Tigers.
Be sure to go to Off the Bench for lots of in depth analysis transaction reaction, and some cool thought experiments, as well as the occasional contest. Follow me on twitter at @otbb_max.
-Max Frankel