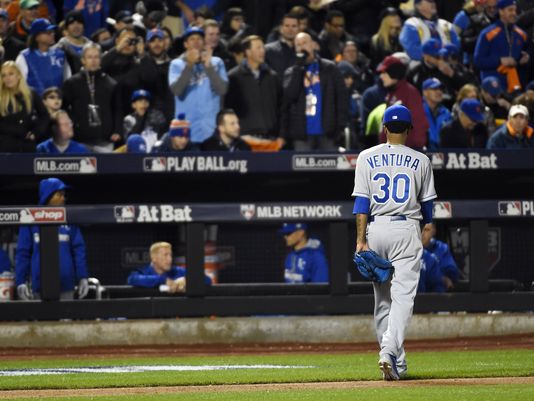 Reports out of the Dominican Republic within the last hour are that Royals pitcher Yordano Ventura has died in a car accident. He was 25 years old and he will be missed.
The young pitcher had a terrific delivery, a fastball that could challenge anyone's in the game in terms of both velocity and precociousness. His future was as bright as the sun. He was fun to watch and I cannot help but think of the recent passing of Jose Fernandez. As I search for words, I am left feeling how Max felt just 6 months ago. This sucks.
I have been especially close to death in the last year. Through various life events, I have been left to ponder the meaning of life and the reasons to keep living. How does one articulate the desire to keep living? I was left to go back to hope of a better future, of a better tomorrow and of the good times ahead. The passing of these young stars is so difficult because of how it shakes that fundamental motivation of life.
I'm 25. It's not that Yordano's passing dampens my will to live, but it's a reminder that each day offers its own hope. Death and tragedy have no bias. Might as well enjoy love.
In 2017, we fans feel especially close to these players. We have them on our fantasy teams and we root for their best performance selfishly. Their successes become our successes and their struggles become our struggles. I had the pleasure of hosting Yordano on my fictional squad for both the good (His rookie year in 2014 when he had a 3.20 ERA and finished 6th in Rookie of the Year voting) and the bad (When he struggled through the first half of 2016 both statistically and with multiple brawls).
I had multiple people text me about this in the last hour. They all felt especially close to Yordano. He was knowable in a way that other baseball players are not. Maybe he had some things to learn, but he was 25. I know I still have things to learn. I hope I have a chance to learn them.
I'll leave this disjointed post with a final thought: I remember big moments in my life by the sounds. I attach emotions to the sounds that accompanied the first time I experienced them. I still can't listen to a certain Zac Brown song because of an ex-girlfriend. Meanwhile, Green Day will always remind me of my mom's coworker, and the Squirrel Nut Zippers will remind me of cleaning the house. I'm sure others have similar experiences with their wedding song, or the song they share with their significant others.
Well, as I scrolled through Twitter and felt my heart sink, this jam from Alabama was blasting through my speakers. Today, as the glacier of baseball's winter feels its deepest and the reality of our political future sets in, there's still hope and there's still reason to keep adding.
-Sean Morash
"As Long As There's Love" – Alabama
I wanna add
And not subtract
Put more in
And take less back
And multiply
And not divide
All the faith
That I can findAs long as there's love
We can cope
As long as there's love
We have hope
As long as there's love
Like a newborn child
As long as there's love
We can survive
I wanna be that missing link
That brings about
All world peace
I wanna be
That doctor man
That wipes disease
From our land
As long as there's love
We can cope
As long as there's love
We have hope
As long as there's love
Like a newborn child
As long as there's love
We can survive
Big as the moon
Small as a star
Dreams don't matter
Who we are
As long as there's love
We can cope
As long as there's love
We have hope
As long as there's love
Like a newborn child
As long as there's love
We can survive
I think about
All the kids
Will they live free
As I did
Will they know
Right from wrong
And have the will
To carry on
As long as there's love
We can cope
As long as there's love
We have hope
As long as there's love
Like a newborn child
As long as there's love
We can survive