Chicago Cubs
Former College Hitting Coach Breaks Down Jason Heyward's Swing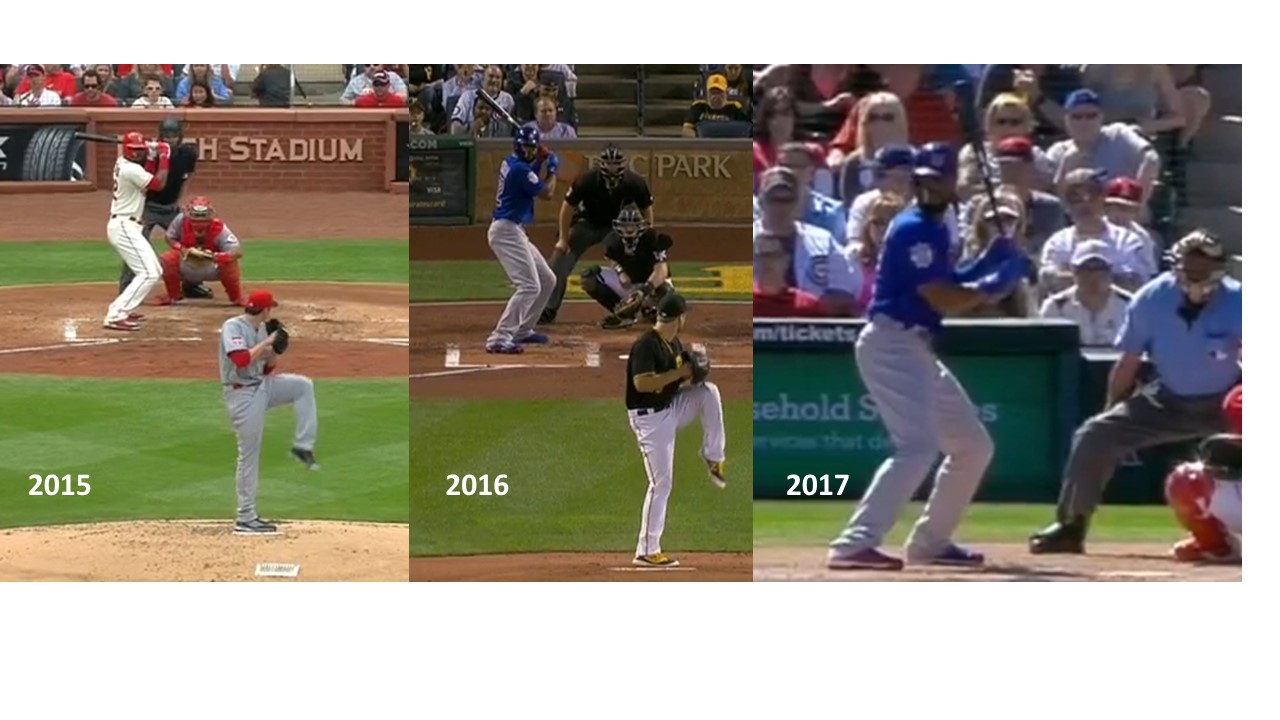 Jason Heyward is 6'5" 240 Lbs; he's a plus runner with plus bat speed, a plus arm, a plus defender, and apparently off-the-charts makeup. He's been a top prospect since he was drafted. He looked like a future super star after his 2012 season that saw him hit 27 HR and 30 doubles. He signed a mega deal with the Cubs after a somewhat resurgent season with the St. Louis Cardinals only to fall to all-time lows in virtually every offensive statistic known to man. He struck nearly twice as many times as he walked, barely broke the .300 OBP mark, and hit a lowly .230 that was devoid of power and production. Thankfully for the Cubs, he is a stalwart defender and still has some worth. Will he ever live up to the contract he signed last off-season? Not likely. But the real question is how to get the ultra-talented 27 year old back on track for the prime years of his career? It's easier said than done, but where there is a will there is a way. For me it is a 4 step process.
1. Tear it all down.
His swing simply does not work. It's rigid, it's long, and the small changes he has tried to make have done nothing to get at the root of his swing problems.
2. Find his athleticism
For such an incredible athlete, his swing lacks any athleticism. This has been evident since he was a high schooler. One of the first rules of coaching hitters should be: DO NOT take away a hitters athleticism. Use it as a way to promote rhythm and timing in their swings. Let him be an athlete again. The rigidity in his swing does not allow him to create timing. The swing unveiled this spring fails him by starting his swing in the front with little connection between upper and lower body. This leaves him continuously out of funk, unable to stay behind the baseball. All of these factors not lining up contributes to his inability to recognize pitches. This is evident in his takes and the excessive amount of bad early count contact (which mask his strikeout totals). The Josh Donaldson leg kick is the new thing in hitting; I don't necessarily think it needs to be that exaggerated, but the benefits are hard to deny:
It forces a hitter to be athletic, create rhythm and unlock the moving parts of the swing.
It allows a hitter to recognize pitches and forces the hitter into having a timing mechanism.
It occupies time in the swing preventing a hitter from rushing out, getting out of their base, and gives them a chance to stay behind the baseball.
Bottom line is he needs to find his athleticism in the batter's box if he wants to have any chance of getting back on track. If this does not happen, any other adjustments are going to have minimal impact.
3. Get the barrel out!
The idea of using the back side of the field is archaic, especially for a man of his stature and strength. This does not mean that he should have a Kevin Millar pull approach. It means that his backside of the field should be the left center field gap not left field. Too often in his at bats his barrel never shows up. Its passive guidance of the barrel. Much of this starts with his lack of rhythm, which doesn't allow him to create any separation, which doesn't allow his swing to work from back to front. His first movement is his front shoulder, not his back shoulder, which creates an arm bar, he then loses his barrel early in swing, leading to a long swing with an inaccurate barrel. If he can be athletic in the box and give his hands a chance to connect with the backside of the swing, he will be able to keep the ball fair on the pull side, elevate the baseball and let some of that power show up.
4. Revamp the AB plan
I am positive that he has a plan at the plate, but it does not get executed. Much of this stems from #2, which leads to his inability to recognize pitches. After watching plenty of his at-bats, it really looks to me that he does not see the ball well. He can't pull the trigger on fastballs in fastball counts and he is very early to commit to breaking balls in counts where breaking balls should not be a factor in his process. He is either 1.) guessing wrong a lot or 2.) doesn't see the baseball well enough to execute his plan.
Maybe part of his inaccurate plan is that he is not dangerous anymore (until proven otherwise). People aren't going to pitch him backwards, they don't have to. He needs to make sure he can get to whatever velocity fastball he is facing and be willing to sell out to it in any count that he doesn't have two strikes. The pitcher needs to know they don't get any free bee strikes early in the count. This will force pitchers to edge fastballs, which will lead to more 1-0 counts. Until he proves he can get to velocity again, teams are just going to pitch him, let him take or wrap it foul then get him to chase resulting in bad contact or a swing and miss. This at bat story line has been going on too long to not make some sort of an adjustment. Within this change he has to be comfortable enough to take off speed pitches early in the count. Obviously, there is situational hitting where he will need to stray from this plan (RISP, Base open pitcher behind him etc…) but during most at bats the plan needs to be simplified until he is dangerous again.
Finally, we'll leave you with a few screenshots. Do you still believe the news of a completely revamped swing this Spring? Maybe it is different, but has he addressed the four points laid out here? I still see a rigid approach, with an arm bar that cuts off his bat control and will rob his power.
Heyward is a superstar talent that is a few adjustments away from being a superstar player. Albert Einstein said it best, "The definition of insanity is doing the same thing over and over again and expecting different results." His changes this spring amount to dropping his hands before loading and varying the openness of his open your stance. Heyward needs to make some real changes and be the freakish athlete he is. He'll soon smash baseballs from left center field to the right line. It's simple, really: loosen up, be athletic, find some rhythm, and become dangerous again.
-Andrew Kiriakedes