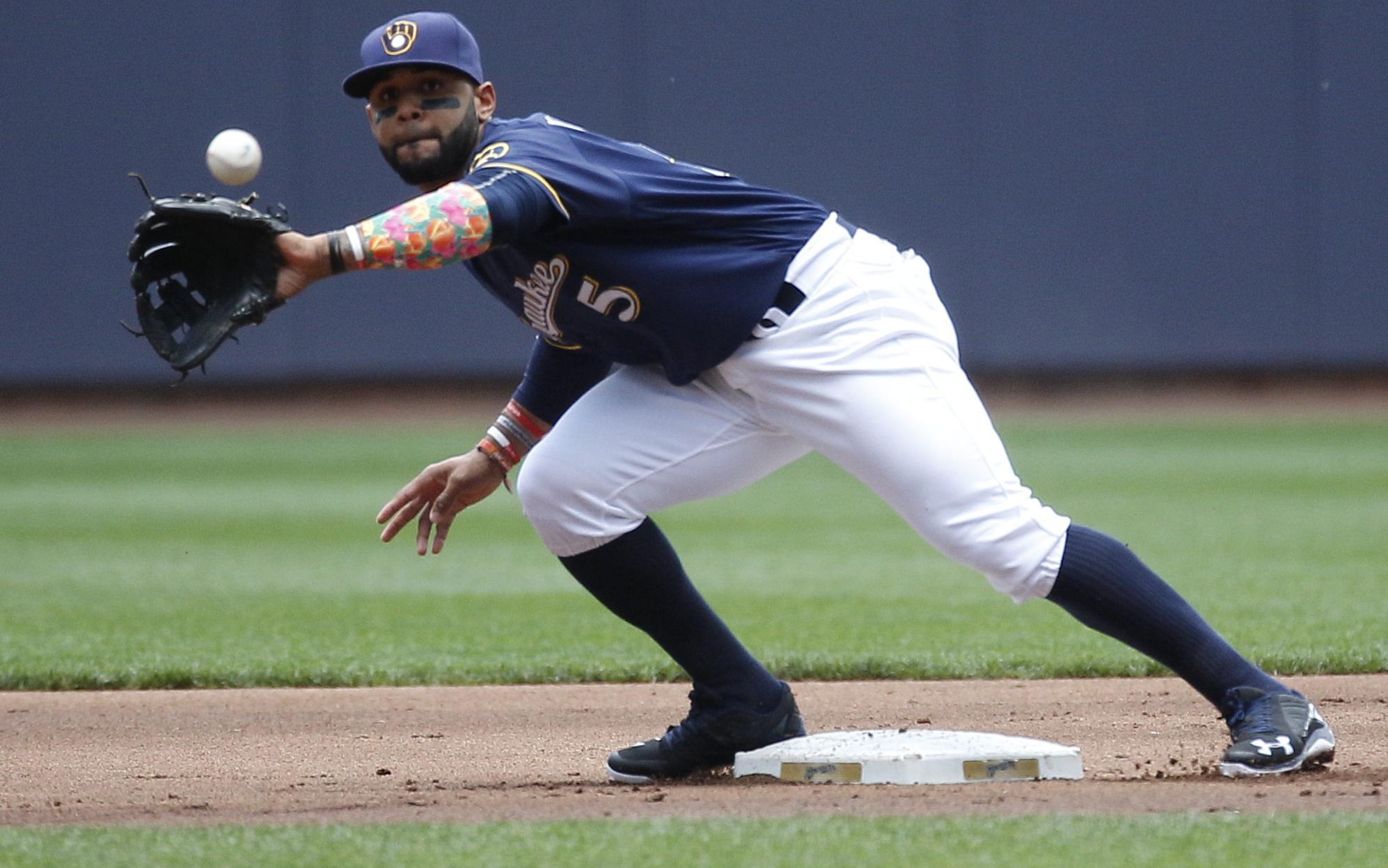 We're continuing our season previews today and Max tells me that I have been assigned the NL Central, but I cannot write about the Chicago Cubs because they are "boringly good." I'm also crossing off the Cardinals, who I don't care that much about, the Reds, who are boringly bad, the Pirates, who are interesting but only because their pieces do not fit together properly. That leaves me with the Brewers, which is good because I have thoughts on the Brewers. I have had two weeks on this assignment, here are all of the thoughts that I have had on the Brewers in that time:
…..
….
……….
..
…….Ryan Braun is good
….
I like their slide at the stadium…….
…I wonder if they have the little dog still.
…
……
….
.
😕
5
OK, I think I'm done poking fun at the Brewers. You're here for my thoughts and I will conjure them. I seemed to remember (unreasonably) thinking they would be good last year. A quick google search found that I was surprisingly high on them prior to the 2014 season. That's a long time ago. Man, I haven't really thought about the Brewers much lately. Let's look at their roster and then figure out how the future looks.
Lineup: 
This is actually an interesting squad. Ryan Braun is fascinating as he looks to prove his post-steroid place in baseball. Is his true talent what he displayed last year, with 30 homers, and a .300 average? Was he back on the juice?
Jonathan Villar at the top is also an interesting player to monitor in 2017 as the 26 year old nearly joined the group (of 3 players ever) to steal 50+ bases and swat 20+ homers a year ago. He was never that type of player in Houston, but 2017 will help the Brewers figure out if they have a truly elite leadoff man on their hands.
The corners of the infield are interesting, too. Eric Thames is back from crushing homers in Korea and nobody really knows what to expect. Meanwhile, Travis Shaw figures to be their regular third baseman after showing flashes of both brilliance (April-May) and ineptitude (June-August) in Boston last year.
Their outfield is just OK at the moment, though Domingo Santana absolutely crushes baseballs and I still believe that Keon Broxton is athletic enough to be a serviceable center fielder. The outfield is intentionally uninspiring outside of Ryan Braun; their two top position player prospects (Lewis Brinson and Corey Ray) figure to contribute in 2018.
Don't get me wrong; it's not the best group of position players out there. But the group is fascinating in a way that watching a card house be built is fascinating. It could work and it could be fun, but it seems inevitable that it will crash eventually.
Pitching Staff: 
We actually ran a pretty decent guest post on the Brewers rotation last year, and much of that remains the same. The rotation isn't a squad that has an extremely high ceiling, but each pitcher is surprisingly good (except for Matt Garza who used to be surprisingly good). Javy Guerra, Zach Davies, and Jimmy Nelson each had better secondary stats in 2016 that did not make an appearance in their respective ERAs. Wily Peralta constantly wows me with his stuff, but underwhelms with his stats, though he did have a 2.92 ERA in his final 10 starts last year.
We don't really have a great way to evaluate players other than their stats and these guys are not great by the stats. I will say that I don't hate their top 4, plus their top pitching prospect Josh Hader appears ready to help.
Bold Predictions: 
On the whole, this Brewers squad is wholly underwhelming. There is little to get excited about with the team, which is rough. However, the team definitely will not be the train wreck that the Reds will be. The Brewers finished 73-89 last year. I think they'll be 2 wins better in 2017.
Ryan Braun has a .353 on-base percentage and more homers than Chris Davis
Wily Peralta has a 3.32 ERA and strikes out at least 8 per 9 innings pitched
Keon Broxton steals 27 bases
Eric Thames hits home runs
Craig Counsell, Brewers manager, has a temper tantrum against the media this year
The Brewers social media intern does weird stuff with the dog
-Sean Morash