AL West
Fixing the Houston Astros' Lineup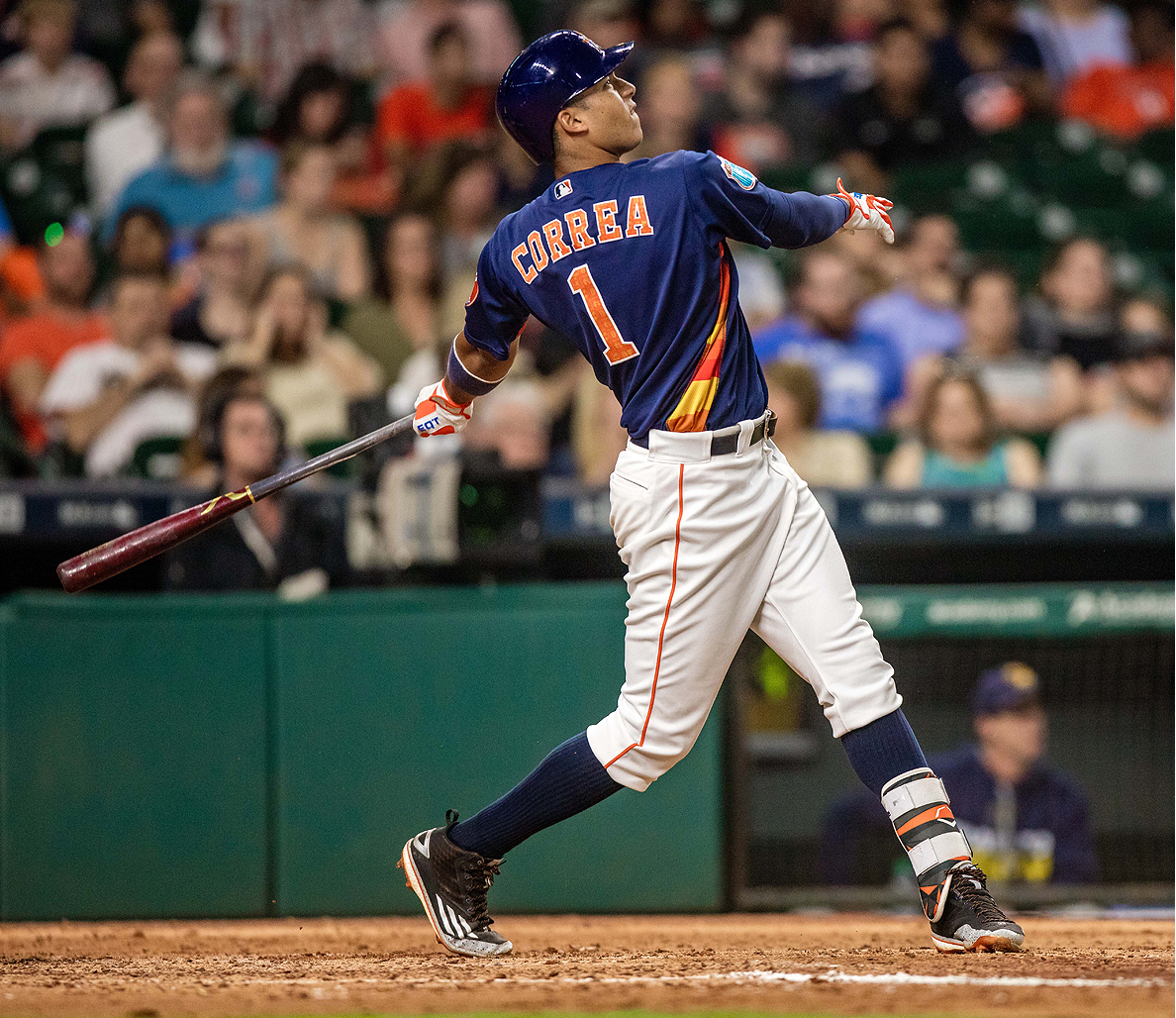 I took a lot of guff recently from Astros Reddit for my projected lineup in a recent post. A post, mind you, in which I picked the Astros to win the World Series, so you'd think they'd have cut me some slack. Nope.
I will admit that upon further consideration my initial thoughts about the Astros starting lineup leave some things to be desired. I'm not going to use this space for an impassioned defense of a hypothetical batting order full of players who happen to be healthy right now for use in 1 out of 162 games. I admit, I made some mistakes.
However!
It seems like making an Astros batting order might be a pretty difficult thing to do, considering that real life manager AJ Hinch made an absolute mess of it on Opening Day.  I contend that whatever faults my sample lineup had, it was still better than the nonsense that the Astros actually went with to start the season.
To understand why, let me go over my theory of lineup construction based- I hope at least- on a heavy dose of analytics and rational thinking, sprinkled with just a little old school baseball tradition. In a perfect world, with absolutely no understanding of who the individual players are, this is how I'd structure my lineup (if I have a DH, like the Astros do):
High OBP hitter with as much speed as possible. Power not so important and I won't trade OBP for speed, but both is ideal.
Best overall hitter no matter what. This is the guy I want at the plate more than any other.
Second best overall hitter. High average guy with some pop is ideal
Depending on the power I have elsewhere in the lineup, a power hitter here is ideal. I'd like a guy who takes walks and hits doubles and homers.
Some power, maybe a doubles guy. Speed not necessary but an extra base hit guy.
The most talented of my remaining hitters. Perhaps a younger guy with a lot of potential, who isn't very consistent yet.
Very flexible depending on the team. Also very dependent on who else I have. Typically, I'd like to put my weakest hitter 8th and a higher OBP guy with a little speed 9th so this would be the remaining player.
Overall weakest hitter. A defensive specialist or a guy struggling or a big slow catcher who might run into one from time to time. Lower average player.
Higher OBP guy, ideally with some speed.
There it is. I'm sure you could nit-pick it to death but I think it should be generally uncontroversial. I'm not going for anything too revolutionary. Additionally, I'll admit that there are of course exceptions that can and should be made. For instance, a lot has been written about the Cubs batting Kyle Schwarber leadoff this season because he's a great hitter whom the team hopes can get on base a lot (and they don't have better options). I like that and I support that decision.
The Astros lineup on Opening Day? Not so much. Let's first look at what the Astros are working with in terms of players, without putting them in any batting order:
C: Brian McCann– a former middle of the order guy who's now in the lineup for his defense mostly. Has been a power hitter most of his career and has some power.
1B: Yuli Gurriel- A Cuban import known as a strong hitter but without much MLB experience. Struggled a bit in his brief time last season.
2B: Jose Altuve– The reigning MLB leader in hits and the batting champion. Also steals bases.
SS: Carlos Correa– Young, but great with a lot of power and a lot of potential. MVP candidate.
3B: Alex Bregman– Highly touted rookie who got a cup of coffee last season and is expected to be a strong bat for years to come. Though he struggled in the MLB last year, he had a high average and a lot of power in the minors.
LF: Nori Aoki– small slap hitter who aims for a high OBP, little power, and some speed.
CF: George Springer– Tons of power, not the highest average or OBP.
RF: Josh Reddick– Power, not the highest average or OBP but can get hot for stretches
DH: Carlos Beltran– 20 year veteran with about 20 homer power at this point. Very experienced hitter should have a high .200's average and decent OBP
That's what AJ Hinch was working with. This is what he came up with:
George Springer
Alex Bregman
Jose Altuve
Carlos Correa
Carlos Beltran
Josh Reddick
Yuli Gurriel
Brian McCann
Nori Aoki
???????????
Why? The Cubs are doing it so you should to? Houston has what might be baseball's best leadoff hitter and they go with George Springer, a career .356 OBP, who stole 9 bases last year (but hit 29 homers) first? Altuve had a .396 OBP and 30 steals to go with leading the league in hitting. Just saying.
My (new and improved) lineup?
Jose Altuve
Carlos Correa
Alex Bregman
George Springer
Carlos Beltran
Josh Reddick
Brian McCann
Yuli Gurriel
Nori Aoki
Get your best hitters to the plate most often with men on base. Yes, Carlos Correa hit just .274 last year but you need to know that if your team makes it to October this year, it's because Correa got you there. He's the best hitter on the team, treat him like it.
If you like Bregman and think he can hit enough to be at the top of the order, why not third where he can bring Altuve and Correa around? Springer has all the power you want, Beltran has doubles power and is a middle of the lineup bat, Reddick is the backup Springer, McCann is still one of the best hitting catchers in the game, Gurriel is still figuring it out in the MLB but could move up in the order later if he gets hot, and Aoki gets it all started again.
This makes so much more sense than what the Astros had. Altuve should be first, everything else follows.
Oh, in that first game, George Springer led off the season with a home run.
-Max Frankel