AL West
The Houston Astros Will Win the World Series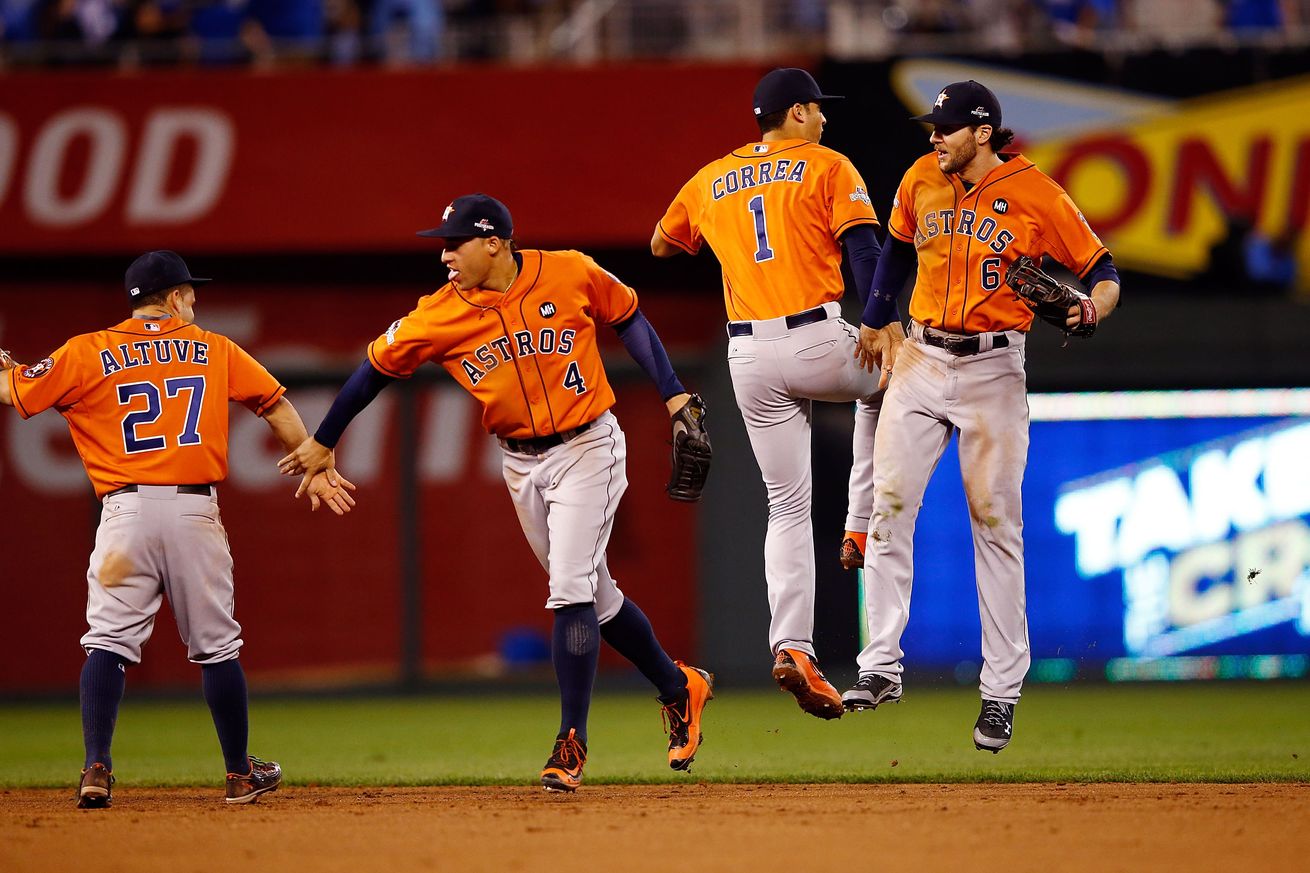 Sports Illustrated said it in 2014 and it might just turn out to be true. The Houston Astros have had 2017 circled on their calendars for a while now and they've set themselves up well. Houston enters 2017 with a really good young core of position players supplemented with some strategically placed free agents and trade acquisitions and a pitching staff that certainly has some question marks but has the potential to be excellent.
The Astros seem to following the blueprint of the reigning world champion Chicago Cubs, who built their roster around young hitters like Addison Russell, Kris Bryant, Kyle Schwarber, Willson Contreras, and supplemented things with pitchers from outside the organization like Jake Arrieta, Jon Lester, and Aroldis Chapman.
It is, obviously, a good strategy if you can do it right, as well as a relatively new one. For the better part of the last decade, teams like the St. Louis Cardinals have tried to build homegrown pitching staffs and cobble together a lineup from high priced free agents. Only truly deep organizations can do what the Cubs have and what the Astros are attempting.
But Houston is off to a great start. Their lineup is beyond deep and led by some genuine superstars. Their rotation, meanwhile is the wild card. It could be great, it could really hold them back, and either way, I'd be shocked if it didn't include a very big addition before the team plays on August 1st.
Projected Lineup:
Jose Altuve (2b)
Carlos Correa (ss)
Carlos Beltran (DH)
George Springer (cf)
Josh Reddick (rf)
Alex Bregman (3b)
Brian McCann (c)
Nori Aoki/ Evan Gattis/ Jake Marisnick (lf)
Yuli Gurriel (1b)
This is the really exciting part of this team. That's a lineup with the potential to be the best in the league. Really!
Altuve and Correa we know. Both are at the very top of the game in terms of production for their respective positions. Altuve is the reigning AL batting champ and has established himself as one of the best assets in baseball, given his sub $5 million salary. Correa is 22 years old and coming off of his second (!) 20 homer season. He has the potential to be an absolute monster and is a real MVP candidate for every year for the next decade.
Beltran is the veteran brought in to provide solid middle of the order production. Springer is a 27 year old slugger who hasn't quite reached the superstar status he was projected to achieve but is coming off of a 29 homer season and certainly has the potential to keep pitchers awake at night.
Reddick, much like Jason Heyward, is the free agent right fielder brought in to lengthen the lineup and provide a consistent veteran bat. Of course, the Heyward thing didn't really work out but Reddick might. He won't be asked to carry the load on offense and some consistent power from him could help to take some pressure off the guys who are.
Bregman is a wild card. He's just 22 and has only 201 career at bats but he's clearly mastered the minor leagues and the Astros think he could be the third basemen for the next decade. If he comes out of the gates strong, my big prediction about this team will look a lot better.
McCann is another new addition, via trade from the Yankees. He's not the offensive force he once was but in a league really light on catching talent at the moment, McCann is still solidly above average and he'll be an important factor in coaxing the pitching staff through the season as well. While Gary Sanchez and Jon Lucroy might produce more than McCann, between Brian and Evan Gattis, the backup catcher, this position will likely be a strength for Houston and a long way from the black whole it could be for most other teams in the AL.
In left, the Astros might mix and match a bit. Gattis could see some time out there if he's hitting well when McCann catches. Jake Marisnick, who has disappointed a bit since coming up as a hot prospect with Miami but is still just 25, will probably see some time there and the other outfield spots as the all purpose backup and Nori Aoki, another new acquisition, will get some at bats too. This seems like a good place for the team to stash the hot hand and get some non-starters some at bats.
Gurriel, the 32 year old Cuban slugger, broke in towards the end of last season and played just 36 games. He wasn't great but the Astros still expect big things. It's still too be determined if Gurriel is Jose Abreu or Yasmani Tomas but with Colin Moran, AJ Reed, and Tyler White in the mix as well at the position, the Astros have the option to really mix and match.
Projected Rotation: 
Yes, I know this rotation doesn't jump off the page the way the Red Sox' does. Or even the way the Rangers' does. But it really could be quite good. Keuchel is coming off an awful year where he posted a 4.55 ERA but he's still under 30 and won the AL Cy Young award in 2015. If he bounces back, he's a real number 1.
McHugh might be the most talented of the bunch. He posted a sub 3 ERA in more than 150 innings in 2014 and, like Keuchel, kind of bottomed out last season. If he can get back down into the low 3's, that would be really useful.
McCullers is just 23 years old and, while missing most of last season due to injury, is healthy again. He posted identical 3.22 ERA's in 2015 and 2016 and if he can last a full season with that kind of success, he'd be the number 2 and a real threat.
Charlie Morton. Yes, that Charlie Morton. Just read this.
Mike Fiers is a legitimate number 5 starter. You wouldn't really want him featured any more prominently in a rotation, but the Astros won't be asking that of him. He's perfectly fine to run out there and eat 170 innings, though he's another guy who you hope is closer to his 2014 and 2015 self than the 2016 version.
Houston has a couple of other young guys in the mix for a rotation spot but none really change the equation. They without a doubt need another starter for the top of the rotation. If McHugh and McCullers are suddenly the 3,4 rather than the 2,3, you're in pretty good shape. The good news is, the there are some good guys who should be available. Jose Quintana comes to mind. As does Shelby Miller if he's good, Sonny Gray if he's good, Michael Pineda maybe, and a few others.
The rotation could absolutely hold this team back. Or it could be key that takes them deep into October.
The bullpen, it should be said, is quite good. Ken Giles and Luke Gregerson are absolutely solid late game relievers and I wouldn't be surprised if the Astros are involved in the inevitable late July closer shuffle.
This team isn't quite their yet, but they are awfully close and with a couple of key mid-season pitching pickups, they 100% of the offensive talent to win it all. The AL West is a really tough division, but that might help prime the young players on this team for the playoffs and help more than it hurts. If they get through it.
I think they will.
-Max Frankel