National League
Top 29 Possible Trade Destinations for the Mets' Matt Harvey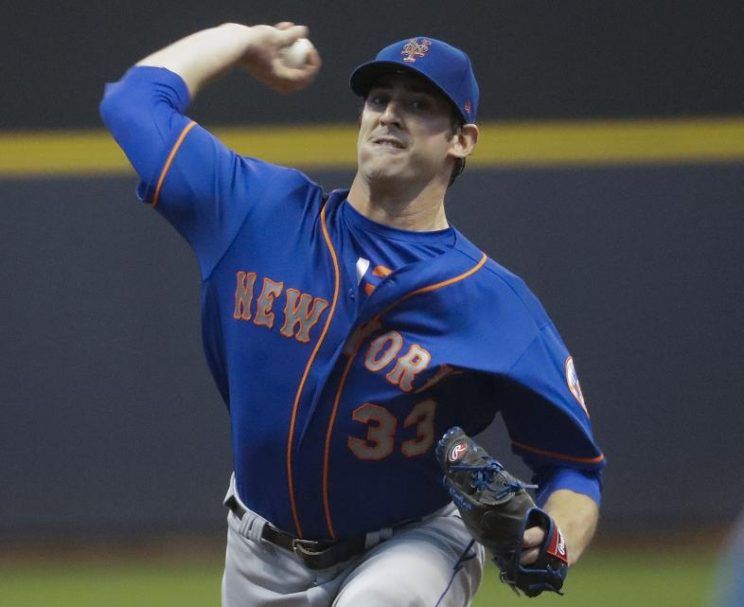 Matt Harvey has not been very good lately. More than that, he hasn't been well behaved and was recently suspended 3 days for a slightly shady and very vague 'violation of team rules.' In short, things aren't going well for Harvey nor the trainwreck Mets and this has led to lots of speculation about possible Matt Harvey trade destinations if the Mets wanted to move their disgruntled and apparently not-too-well-liked semi-star.
That's silly.
I don't know the details of the reasons behind Harvey's recent suspension but I do know this: the Mets are and have been a mess both on and off the field and there's a very good chance that that dysfunction has at least influenced Harvey's behavior. You don't hear about these types of disciplinary problems with the Cardinals or the Giants. I'd wager that the reason isn't just that the Cards and Giants don't have Matt Harvey. There are institutional norms that most teams have down pat, but that the Mets struggle with (and have for years as anyone old enough to remember the great Noah Syndergaard sandwich incident of 2015 can attest).
Matt Harvey isn't a 'character worry' guy. He's a little immature, a little irresponsible, a little over his head in a big city that previously worshiped him, and very in need of a stable environment.
Speaking of instability, let's get to his on-field issues, which are much more worrying. I wrote recently about the way that the Mets have jerked Harvey around, despite the fact that he's recovering from a second major surgery and should be handled with white gloves. It's ridiculous and, thanks to a suspension that started on a day he was supposed to pitch, his most recent bad start in Milwaukee was another outing made on irregular and unpredictable rest.
Much has been made of Harvey's struggles so far this year and he does have a 5.62 ERA, a negative WAR, a 1.425 WHIP, and a -.89 WPA. Oh, and he has 10 home runs allowed already compared to just 7 during his entire 2013 All Star season. But if you look a little deeper, you'll see that Harvey really hasn't been as bad as his numbers indicate.
Harvey has made 7 starts this season. After his 4th, his ERA was 2.84. It's really only his last 3 starts where things have gone off the rails. In his last 14.2 innings pitched, Harvey has allowed 20 hits, 17 runs, 13 walks, and a .313 batting average against. He's been atrocious and it's ruined his whole season line and, to a large degree, his reputation.
But here's the thing: his stuff is fine. His velocity hasn't dipped, in fact he was throwing his hardest of the season during the May 2nd start against the Braves in which he yielded 6 earned runs in 5.1 innings. He looks fine; he looks good. In fact, he looks better and healthier than he has in 2 years.
This is really all about the perception of a surprising and admittedly bad looking suspension and three really bad starts. And he has a great excuse for those bad starts! As mentioned in my previous piece, one was made on zero notice the day after a big workout, one was moved up a day or two before, and one was made after a 10 day layoff against a hot-hitting Brewers team that actually scored 11 runs against the Mets in each of the next two games of that series, which makes Harvey's 7 not look so bad.
So many people have said that Matt Harvey's trade value has never been lower than it is right now. That may be true but if it is, it's about perception more than reality. The reality is that he's a 28 year old flame throwing starter with a history of success, recovering from a serious surgery, in need of a little structure and some clubhouse leadership. In fact, he seems a lot like a guy in need of a change of scenery and if the Mets wanted to go ahead and trade him, here's a handy list of teams that might be interested:
All of them.
-Max Frankel