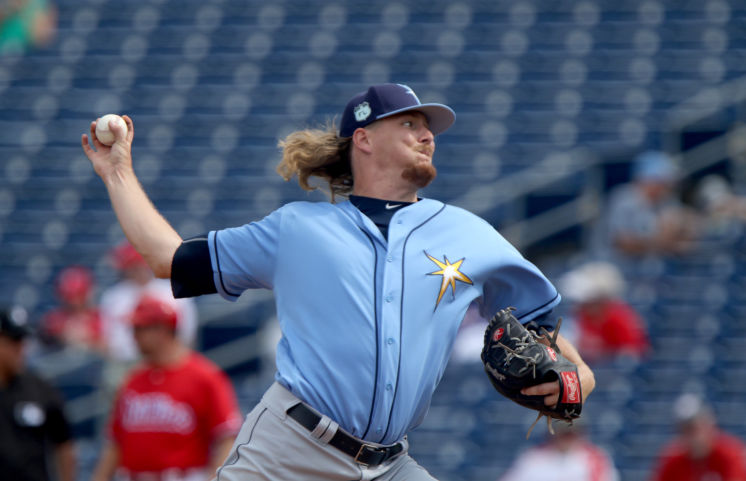 The Tampa Bay Rays demoted one of my favorite former prospects, Blake Snell, this week. He just didn't throw enough strikes to stay in the Majors. In his place, the Rays promoted Ryne Stanek, a guy I had never heard of. At this point in his career Stanek is an unknown. I'm willing to bet that that will not be the case for much longer. Why?
Highest average 4-seam velo by year since '14
2014: Aroldis Chapman, 100.9
2015: Chapman, 100.1
2016: Chapman, 101.1
2017: Ryne Stanek, 99.3

— David Adler (@_dadler) May 15, 2017
Yes, Ryne "Don't call me Ryan" Stanek is averaging the hardest fastball velocity on the season. Sure, he's thrown only 9 major league pitches (all fastballs), but he's very clearly awesome.
Off the Bench has a checkered history with favorite players: Sam Fuld didn't exactly work out after Max picked him as his new favorite player in April of 2011.  He's been worth almost 5 WAR in the 5 years since. In August 2013, I typed (and probably meant) that Brandon Moss was quickly becoming one of my favorite players. He's been 3 wins below average since. Max once typed this sentence: "Guys like Matt Treanor,  (one of my favorite players….) who has played well since Jason Kendall got hurt, need to continue to have success."
So where does Stanek fit among the ranks of former OTBB favorite players? I think he fits right into the eclectic mix. He actually might even be more talented than a lot of those other guys. He was a 3rd round pick out of high school, but opted to head to University of Arkansas. While at Arkansas, Stanek turned himself into a first rounder and has generally pitched while in the minors. He hasn't been a top prospect – think top 40 in the Rays organization, not top 5.
He put up fine numbers as the Rays let him start, but he likely lacked the secondary pitches to really thrive in a starters role. This year, Stanek is a fulltime reliever and he is just throwing country cheese, having been clocked at 103 mph. He shook that off when asked saying "It's just one of those things that happen."
If I wasn't all-in before, check out his official image on mlb.com: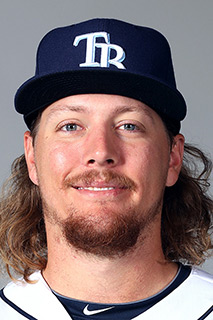 That is a look. I want to describe it as part Doc Brown, part James Franco, and he's clearly been spending too much time with Colby Rasmus's beard.
I don't know much about Ryne Stanek. But David Ringold told us in 2013 when he wrote the definitive opus on favorite players: "Don't try to explain it, just go with it. Feelings do not need to be explained, especially about some silly sport where a wooden stick and leather coated ball are involved." Ryne Stanek, please be great for you are my new favorite player.
-Sean Morash