Atlanta Braves
Freddie Freeman Is Out for Two Months, Braves Season Lost Unless They Trade for These Guys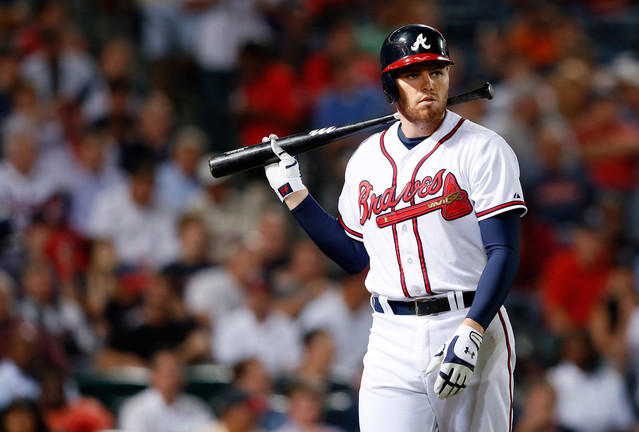 Freddie Freeman was in the midst of an MVP type of season, leading the league in homers, while landing second in on base percentage and slugging percentage. Having overcome vision problems, he was in the midst of a transition that was placing him among the superstars in the game. Yesterday, an errant 94 mph pitch struck Freeman's left wrist and cracked a bone. He'll be out at least 8 weeks. The Braves offense, which currently ranks below average in baseball, is in trouble.
While rough for Freeman personally and baseball in general, this may be a blessing in disguise for a Braves franchise that was already showing signs of submitting to the temptation of "going for it." The Braves team is now at a serious crossroads:
Overpay to replace Freeman over a few months in an attempt to stay in "contention"
Begin the slide towards the back of the standings that was probably coming in the second half anyway
The boring thing is to probably make due with waiver wire and in-house additions. Jon Heyman suggested James Loney, but that's not fun. Braves GM John Coppolella has proven in his short tenure that he's not one to sit on his hands and be unfun. He's probably already making calls. If I were him, here are the guys I would call about, who would help split the difference between the current organizational crossroads.
Chris Carter, 1b, New York Yankees
The Yankees signed Carter this offseason with basically this exact scenario in mind. The guy led the league with 41 homers last year and is due just $3.5M this year. He hasn't been playing much in New York and future first baseman Greg Bird is due back relatively soon and Matt Holiday can aptly fill in during any outages. Carter was signed to be expendable. The Braves just need to figure out how much the Yankees were hoping to get for him.
Matt Adams, 1b, St. Louis Cardinals
Adams looked like a star in the making back in 2014, but a series of injuries has derailed the big guy's path to stardom. This year, the Cardinals are deploying Adams exclusively against right handers and he's been hitting fairly well. He doesn't fit the Cardinals roster very well and he's cheap. He should be fairly easy for the Braves to acquire given that he's basically a platoon first baseman, but he's an interesting piece that has scouting upside.
Todd Frazier, 3b/1b, Chicago White Sox
The White Sox may have messed up by holding onto Frazier over the winter. Coming off a year in which he hit 40 homers (with a .302 OBP), the third baseman figured to be fairly valuable. He has struggled mightily at the plate so far this season (the .609 OPS would be by far a career worst) meaning that he might be available for fairly cheap. Frazier's natural position is third, but he's not the best at the hot corner and has donned a first baseman's mitt while with the White Sox. He could fill in at first for now and then either displace Adonis Garcia at third base, or be shipped off to another contender when Freeman nears return.
Joey Gallo or Jurickson Profar, Texas Rangers
The Rangers have a collection of assets that doesn't appear to fully line up at the moment. With Adrian Beltre on the way back, Joey Gallo and his team-leading OPS may soon find himself relegated to bench duty. Their other young prospect without a home on the current roster, Jurickson Profar, managed to struggle through 50 MLB PAs before being sent back to AAA. The Braves appear to have an opportunity for both of them at the Big League level. Neither is an ideal fit: Profar because he's a natural shortstop, Gallo because the Rangers would (rightfully) ask for the moon for their young power hitter. However, the Rangers are in need of pitching and the Braves have some. Coppolella could bet on these guys' talent and hope that the mismatched positions would be fine over the short term.
The Braves weren't expected to make the playoffs this year and they shouldn't treat an injury to their star as if they were. I don't expect the Braves to forfeit the farm for a rental player who will surely be incapable of replacing Freeman's value, but I also do not expect them to roll with Johan Camargo and Rio Ruiz while trying to sell tickets to their new ballpark. The right player could be bought now at a discount, play his way back to relevance and then be shipped out at the trade deadline as Freeman gets back to health. The first three guys on my list all meet that story. The Rangers solution is a different direction that would halfway solve the immediate need at first, while addressing the club's long-term need at third base.
-Sean Morash