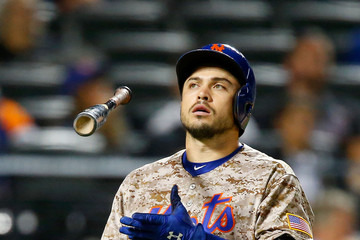 The Mets are very quickly running out of options thanks to the team's mismanagement of player injuries. Their reluctance to put players who are ailing on the disabled left has left their squad sorely short-handed –the team has managed to dig itself a hole that could very quickly become a rut too deep for them to get out of.
A Brutal Week of Injuries
It has taken 21 games for the Mets to go back to the behaviour that has come to be expected of them. The loss the team suffered to the Braves on Thursday, their 6th in a row, and 10th game out of the last 11 they have played, was not just a mark on the wrong side of their game ledger. It is the conclusion to a nasty week of injuries, and the type of overall dysfunction that has blotted this franchise almost nonstop for the last 20 years.
The Same End to the Mets' Hopes Last Year
The situation with player injuries is the same issue that managed to sink the Mets' hopes of winning in 2016. They started 2017 shorthanded, with the team down Seth Lugo, Steven Matz and David Wright, and have since been hit with an array of ailments just before the 1st series against Washington last Friday.
Wilmer Flores, Asdrubal Cabrera, Yoenis Cespede, Travis d'Arnaud and Lucas Duda have all been laid up with an injury of some kind, and, despite being aware that all of these players would not be able to take part in the opening game of the series, and possibly even the games occurring all weekend, the Mets chose to place only two on the disabled list, Duda and Flores. This has had a negative effect on punters taking part in the online betting NZ  has to offer, as well as bookmakers and bettors from the rest of the globe.
This decision ensured that the team had a short bench for all 3 of their games, during which d'Arnaud, thanks to a wrist problem, was able to only pinch-hit, and Cespedes, with a hamstring injury, was not even able to appear.
The Now-Familiar Roster Shenanigans
If this kind of list mischief feels familiar, it should: many people have weighed in about this team's seeming refusal to put players suffering from injuries on the disabled list, choosing instead to play their games with shortened rosters, or simply forcing the players to take the field anyway.
In 2016, the Mets' made Cespedes play on despite an injury to his quad, forced Cabrera into a game even though he had damaged his knee, put centerfielder Juan Lagares on the field despite an injury to his thumb that ended up needing surgery, and had Matz pitching in spite of the bone spurs in his elbow for almost 2 months.
This strategy has likely been borne out of a desire to dodge losing players to the disabled list for injuries that may well clear up in shorter periods of time, but it doesn't seem to be working.
-Roland Fuller