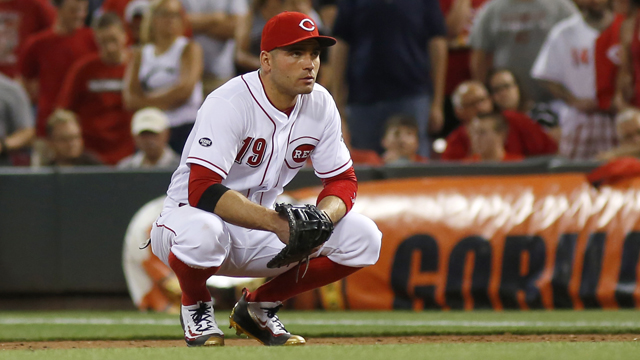 Joseph Daniel Votto deserves so much better than wasting away his talent for the perennial cellar dweller Cincinnati Reds. Over his decade long career in the Queen City, Votto has a slash of .313/.427/.541 with 254 home runs and 818 runs batted in. He has only gotten better with age too, slugging 33 home runs this season at the age of 33. He also leads the National League in WAR, walks, OBP, and OPS, but that's just your average season for Votto. He is no slouch on defense either, as the Canadian is one of the most sure handed first basemen in the league, posting a .993 fielding percentage during his time in Cincinnati. With all of this talent possessed by Votto, it begs the question, "Why in the hell is Joey Votto still on the Reds?"
The Reds have not always been trash with Votto manning first base. From 2010 – 2013, Dusty Baker led Cincinnati to two NL Central titles, including 97 wins in the 2012 campaign. This was when Joey Votto really began to shine. He took home NL MVP honors in 2010, hitting .324/.424/.600 to go along with 37 home runs and 113 runs batted in. Unfortunately, the Reds could never make it past the first round and baseball fans missed out on being able to see Votto perform on a big-time stage.
After the 2013 season, Dusty Baker was fired and replaced by then pitching coach Bryan Price. The team has since been gutted as they traded away players like Todd Frazier, Aroldis Chapman, Jay Bruce, and Shin-Soo Choo, to name a few. All this time though, Votto has seldom been involved in rumors and stood firm in his desire to stay with the Reds. Since 2014, the team has lost nearly 400 games and posted a lowly .424 winning percentage, but they have been able to hold onto a perennial MVP candidate regardless of their poor play.
It seems crazy that Reds' management would not utilize Votto as their biggest trade asset in order to help build their farm system. They have done a decent job bringing in young talent, with the likes of Eugenio Suarez and Billy Hamilton beginning to produce and show their value. However, by holding onto Joey Votto, the Reds have been preventing themselves from getting top level young talent in exchange. Imagine the haul Cincinnati could have come away with if they sent Votto to the Yankees, Red Sox, or Astros back when their farm systems were overflowing with dynamite prospects. Cincinnati could have taken a huge step in their rebuilding process and Joey Votto could be vying for World Series rings.
Despite all of this, Joey Votto remains in Cincinnati and the Reds remain mired in mediocrity. At age 33, Votto is still one of, if not the best, hitters in the league and would be an absolute menace in the postseason for any pitching staff. While he seems to only improve with age, the decline is not far away for Votto and he may only have a handful of years left to be an asset for a playoff contender.
An all-time talent like Joey Votto deserves his shot at glory and the Reds should take advantage of it. They can certainly still retire Votto's number when his career comes to a close and he can go into the Hall of Fame wearing a Reds' cap, but let him go chase a ring first.