AL Central
How Justin's Upton and Verlander Shake Up the AL Playoff Hunt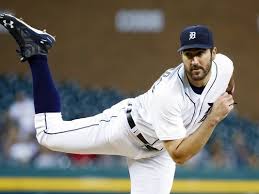 Yesterday the Detroit Tigers shocked the baseball world by finally doing something they should have done a year ago and entered full rebuild mode by trading superstars Justin Upton and Justin Verlander to the Los Angeles Angels and Houston Astros, respectively.
The move was a total salary dump for the Tigers. I wrote recently (in a post called 'Blow Up The Tigers') about how Detroit was in dire straights because such a small number of players, who happened to be old and on the decline, ate up too much of their total payroll. By dumping most of Upton's and Verlander's salaries, the Tigers just freed up roughly the equivalent of a quarter of their payroll for new talent.
These trades will undoubtedly be followed by more as Detroit's GM Al Avila continues to free up payroll and get younger, but I'm not interested in that right now. In making these trades, Avila inserted both Upton, a power hitting outfielder, and Verlander, a former MVP starter, into the middle of the AL playoff push.
First, let's look at the Angels, an illogical upon first glance landing spot for Upton. For the first time in Mike Trout's already storied career, the Angels have a real shot at meaningful October baseball. Currently, they currently sit 1.5 games out of the second Wild Card spot despite not looking all that impressive on paper beyond Trout and shortstop Andrelton Simmons, who is having a career year.
Despite 21 homer runs, middle of the order bat and future Hall of Famer Albert Pujols has been having some seriously high profile struggles and many advanced metrics have him among the worst regular players in the league. In addition, CJ Cron, Kole Calhoun, Cliff Pennington, and the rest of the lineup don't provide all that much fear in the hearts of opposing pitchers.
And yet, dropping Justin Upton into the middle of this order, while drastically improving it, is still building on the Angels' strength. Sure, the Angels are 24th in baseball in runs allowed (good) and 23rd in runs scored (bad) but Blake Parker (who?), Yusmeiro Petit, and Jesse Chavez are the only Angels pitchers with a WAR over 1. This is a team with a run differential of just +8; they score just enough to win and no more, making their push into playoff relevance all the more unlikely (and exciting).
Angels management knows they don't have nearly the pitching to compete and one more arm isn't going to change that. But with Upton, they'll have at least 3 very good hitters, plus a few more good ones, and that might be enough to hit their way ahead of the Twins.
Plus, next season, they start things off with an outfield of (probably) Upton, Trout, and Calhoun. That's a solid start towards putting together a team. I don't think the trade will payoff this year as I think the Angels are overachieving and not actually very good. This could come back to bite them, but it was good move to improve now and doesn't forfeit tomorrow.
So what about the Astros? Unlike the Angels, Houston is absolutely the real deal and, not to toot my own horn too much, this season has played out almost exactly the way I said it would. The Astros were my preseason World Series pick and in my season preview, which you can read here, I said that their offense was great and their pitching was good but in need of one more big piece to get them ready for October.
Actually, conventional wisdom (or my wisdom) has held up pretty well in this case and my initial read has held pretty true. The Astros lead the MLB in runs but with some injuries to their starting staff along the way, it was clear they needed one more front line arm to go with Lance McCullers and Dallas Kuechel to lock down the best record in the AL and for the playoffs. Now they have it.
Verlander has long been one of the game's best, though inconsistent over the last couple seasons as he's learned how to pitch with diminishing stuff. He's seemed to figure it out lately though, with an ERA near 3 over the last couple of months and he immediately makes the Astros much better. Houston, Boston, and Cleveland are clearly the class of the AL but with a top notch top three and the best offense in the sport, I think Houston is in the driver's seat, despite any additional pressure or distraction from the recent events in their city.
Houston is definitely in win-now mode, and they should be. They addressed the one key area of weakness on a great roster and positioned themselves well to go toe to toe with anyone in a 5 or 7 game series. It'll be fun to watch what happens next.
-Max Frankel