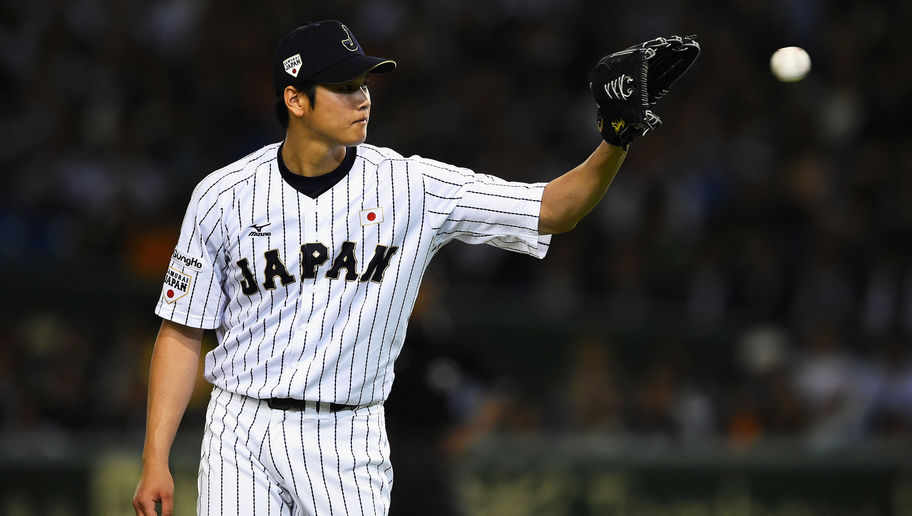 Reports last night out of Japan noted that Shohei Otani is going to come to the MLB next year, forgoing possibly hundreds of millions of dollars by starting his MLB career early because of baseball's complex international rules. First, we haven't really introduced you to Shohei Otani yet, but this guy has scouts and super-knowledgeable baseball fans salivating. A few years back, Fangraphs ran a piece that the potential of Otani on both sides of the ball. What you really need to know about Otani is that he throws 102 and is regarded by many scouts as o
ne of the top 10 pitchers in the world. He's also a hitter, who crushes baseballs with enough regularity to be considered as a two-way player.
Most teams figure to go after him as a pitcher first, and then figure out how frequently he can/should hit. Below is a graphic from that Fangraphs piece I mentioned. Go read the piece for the full effect, but the short story is that by both the math and the eye tests, Otani is an elite talent worthy of comparisons to Clayton Kershaw and Jose Fernandez (RIP). Otani is the red dot, and the y-axis is ERA.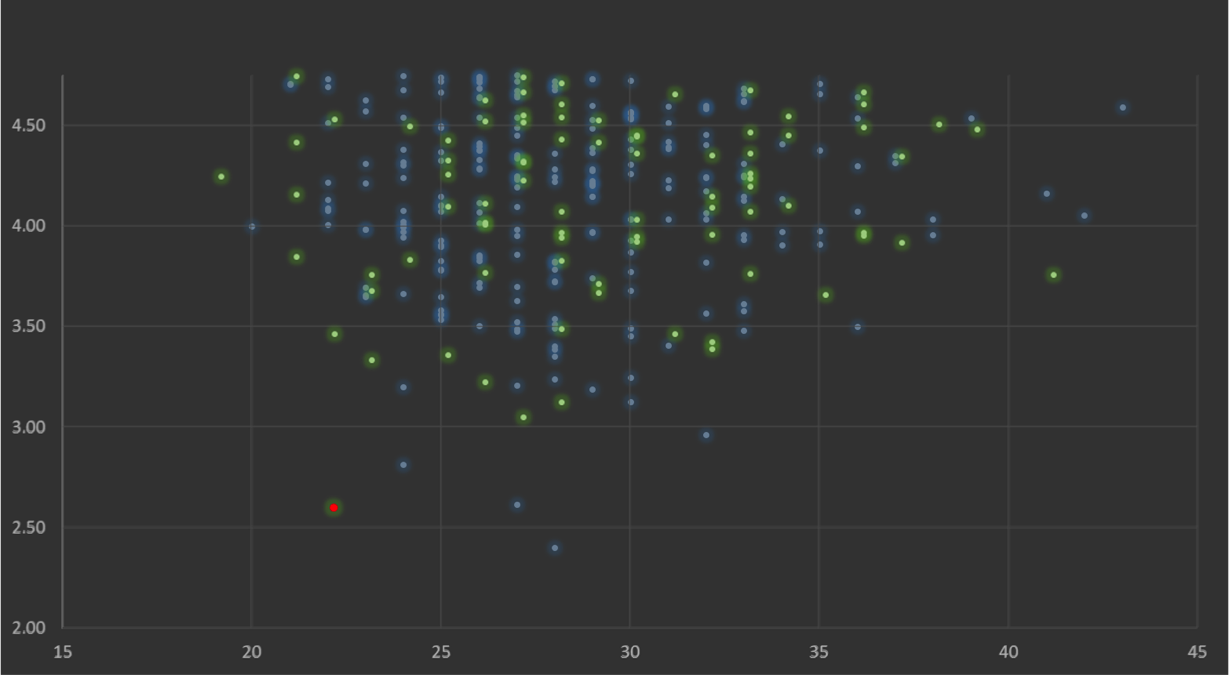 So there's this awesome pitcher, who is suddenly, because of complex rules, up for grabs at far far below market price. With all 30 teams presumably interested, where's he going to sign? Let's just start eliminating teams.
The teams who can't pay him millions yet.
Otani is choosing to come to the states about 24 months before he would have received a huge paycheck. Still, depending on the team that he signs with, a team can offer him something like $10 million or $300,000, a sum to which many teams will be limited because of penalties they've incurred for exceeding their bonus pools in recent years.
Even though Otani is coming stateside quickly, let's also be realistic: money still matters. Which one do you pick?
Maybe a $100M contract in 2 years
A $10M contract now
A $300,000 contract now
There's no way you pick 3. So I'm crossing off the teams who can only offer $300,000. According to MLB.com, those are the Dodgers, Braves, Cubs, White Sox, Reds, Astros, Royals, Athletics, Cardinals, Padres, Giants and Nationals.
Boom, we're down to 18 teams.
Come on – he's not signing there. 
The Tampa Bay Rays don't do this sort of thing and don't need a starter. The White Sox rebuild figures to occupy their offseason. The last top free agent pitcher that the Rockies brought to Colorado was Mike Hampton. I'm also eliminating the Blue Jays: Imagine you're from Japan and your dream is to pitch in America, but instead you get to play in Canada. That's not happening.
The Cleveland Indians already have maybe the best rotation of all time.
Hey, do you think Mets fans would want another pitching prospect?? Nope.
You could talk me into it if you bought me a beer
We're down to 12 teams, but there's still a group here that only makes sense if you're biased. Arizona has both their rotation and number 1 star (Zach Greinke). Baltimore feels like a club about to rebuild, but they sure could use a starter. Ditto for Pittsburgh.
Does the illustrious history of baseball in Miami or Minnesota appeal to a stud international free agent? Really having a hard time seeing it.
My sleeper picks
Milwaukee has been a surprise team this year and they have had great success with Eric Thames coming back stateside from Asia. They're a fun, young team, with a rotation missing a true number 1. Sure, Jimmy Nelson is hilariously high in the WAR standings for the year, but he's not a true Ace type.
Philadelphia can pitch a similar rebuild story for Otani, leverage a big market potential, and can supplement their existing pieces with another free agent splash. The Phillies staff is pretty thin behind Aaron Nola and Jared Eikhoff, but there are reasons to be excited about their offense in the short term.
The Angels have made some moves to get themselves into contention here in September and they need to make a move to supplement their roster around Mike Trout. I can't see them running it back with a rotation of Yusmeiro Petit, Blake Parker, and Patrick Bridwell. Those guys would be supplemented in the rotation by some other injruy-prone, but talented pitchers. They'd be a lot more fun with Otani and they have the world's best player in a huge market to sell.
The teams that actually make sense
It's a small group of 4:
New York Yankees – The Yankees have been positioning themselves for Otani (and other free agents-to be) for years. They have their sights set on Bryce Harper and/or Machado soon. And their current roster is plenty fun with Aaron Judge, Gary Sanchez, and a stable of other prospects knocking on the door. The rotation has lagged though. A rotation with Luis Severino (and his 2.96 ERA in 176 innings, which ranks 3rd in the AL) and Otani would be a great complement to that lineup.
Boston – If the Yankees are interested, so are the Red Sox. The Sox have fallen short of expectations this year, but are still in first place and expect to get more from David Price in the playoffs. Boston figures to be near the top of the standings for the forseeable future, and Otani could plug in at DH wonderfully.
Seattle – Ichiro's heir? It makes sense for baseball reasons too.
Texas – The Rangers might have baseball's best collection of talent under the age of 25 and could pair Otani with Yu Darvish, whom they have indicated that they would like to re-sign. The club is going to be good again very soon. Otani could help.
It pains me to say it, but after considering all of the squads, the Yankees still seem to be the favorite. The evil empire's long history feels too illustrious to fail. They might have the most international money available (we don't know the exact figures), and they have an immediate need in the rotation. Whatever happens, MLB's offseason and 2018 season just got more talented and fun.
-Sean Morash