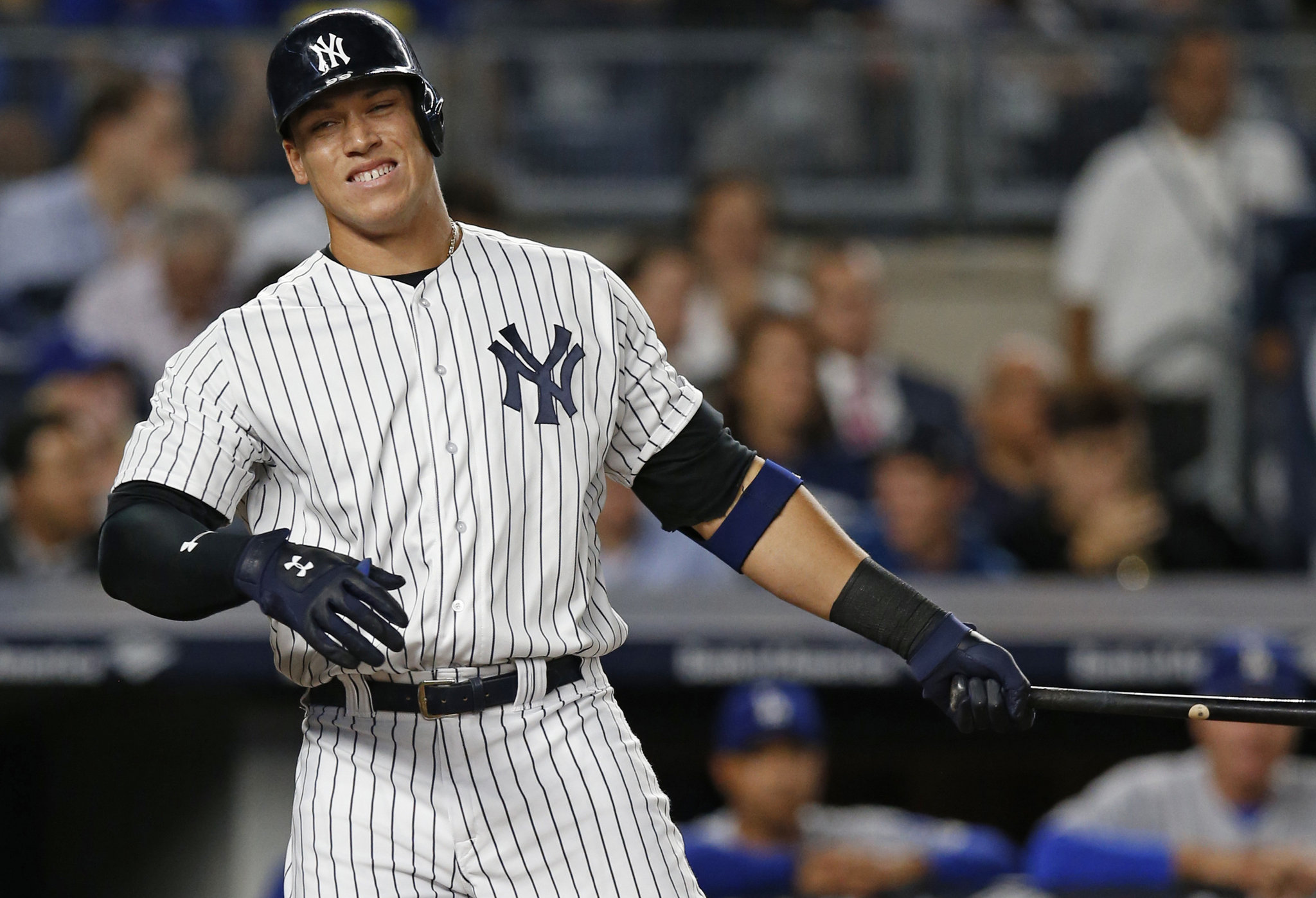 The Cleveland Indians have held New York Yankees slugger Aaron Judge to just one hit in 15 at-bats during the first 4 games of the ALDS. This is after the slugger led the Majors in homers, the AL in runs, and posted the best OPS for anyone not named Mike Trout, and finished the season off by hitting 15 homers in his last 113 PAs (an 80 HR/season pace). Very simply: The Indians' pitchers have neutralized a guy who terrorized pitchers for most of the season. How have they done it?
It's actually a very straightforward approach, but the Indians have designed and executed it to (near) perfection through 4 games.
First, the Indians have yet to let Judge face a left-handed pitcher, despite the fact that Judge hit slightly better against righties on the year. (Could a pivotal matchup with famed lefty reliever Andrew Miller be in the works?) Next, they have worked to get ahead in the count, having thrown 12 of 19 first pitches for strikes. This is always a good strategy, but with Judge that is particularly advantageous: 1.414 OPS after a first-pitch ball, and a .755 OPS after a first-pitch strike.
Once ahead, the real strategy starts. The Indians are pounding Judge up and in and down and away. This is usually the first strategy in Getting Sluggers Out by Famous Pitcher Guru.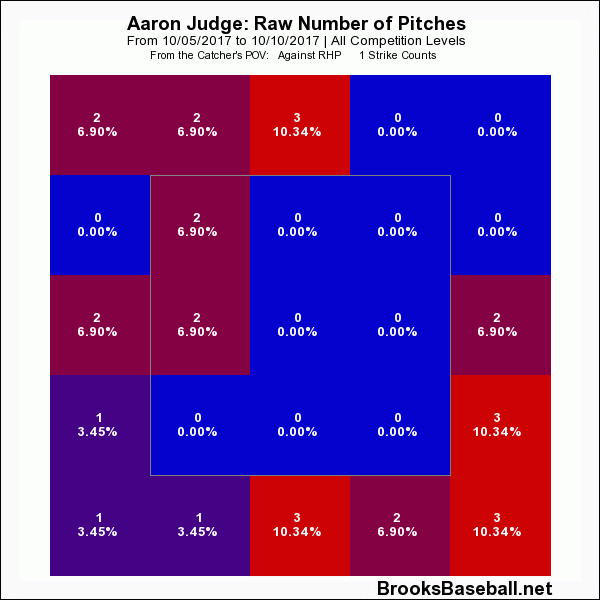 Then, with two strikes on Judge, the Indians get even more precise, pounding the same zones repeatedly.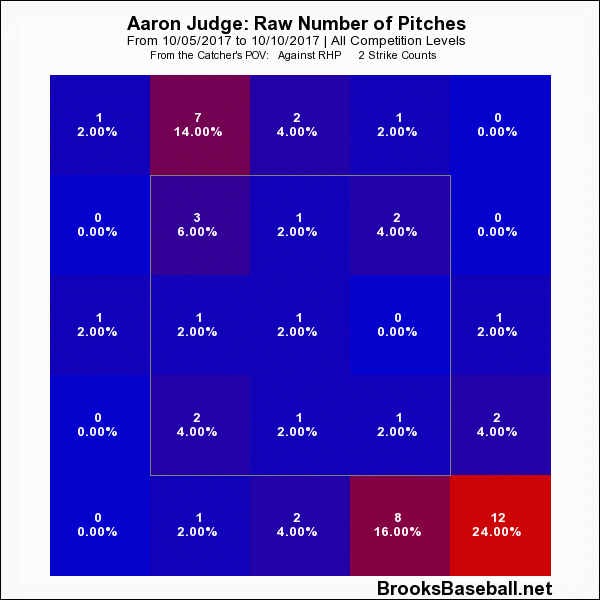 But what makes this somewhat interesting is how precise the Indians have been relative to where Judge has found his success all year. Consider the following two charts, which show first that Judge has slugged the best on balls slightly elevated and towards the inside and that he swings at those pitches with great frequency.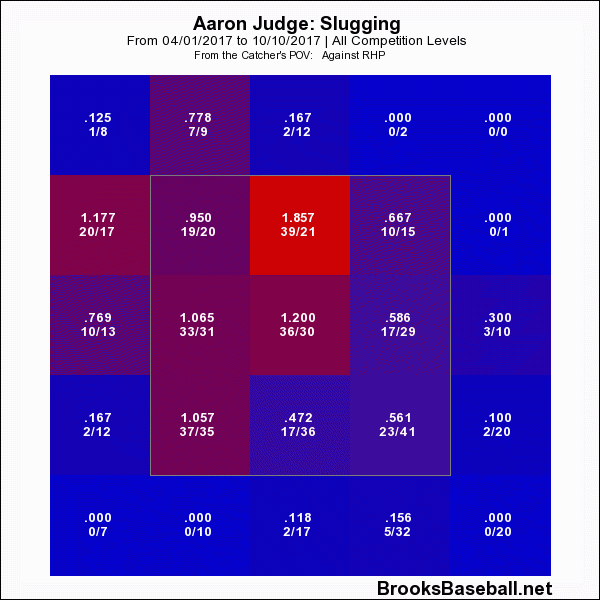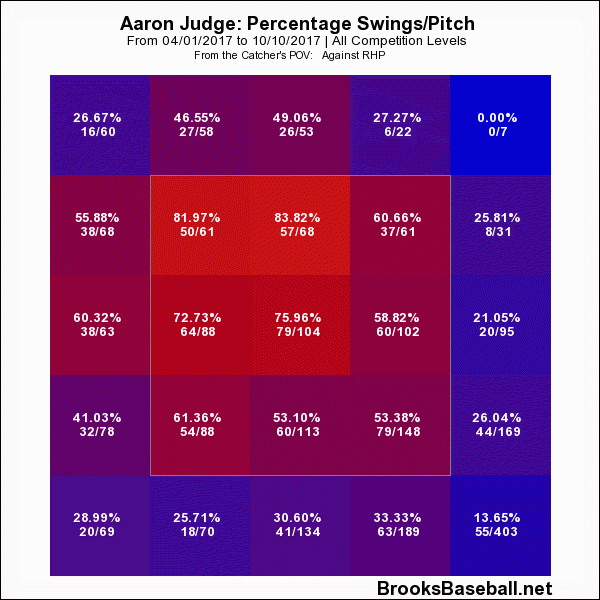 That second chart is particularly interesting. Judge swings at 85% of those pitches up and in? He knows his strengths. But the Indians seem to have identified that aggressiveness as a possible point of exploitation.
It's a great theory: throw pitches that look like they will be in Judge's hot zone, but move to areas where he's significantly less proficient. But that's significantly more easily said than accomplished. The last pitch that Trevor Bauer threw in Game 4 resulted Judge's hit, a two-run double on a full count pitch that was 3 inches too low.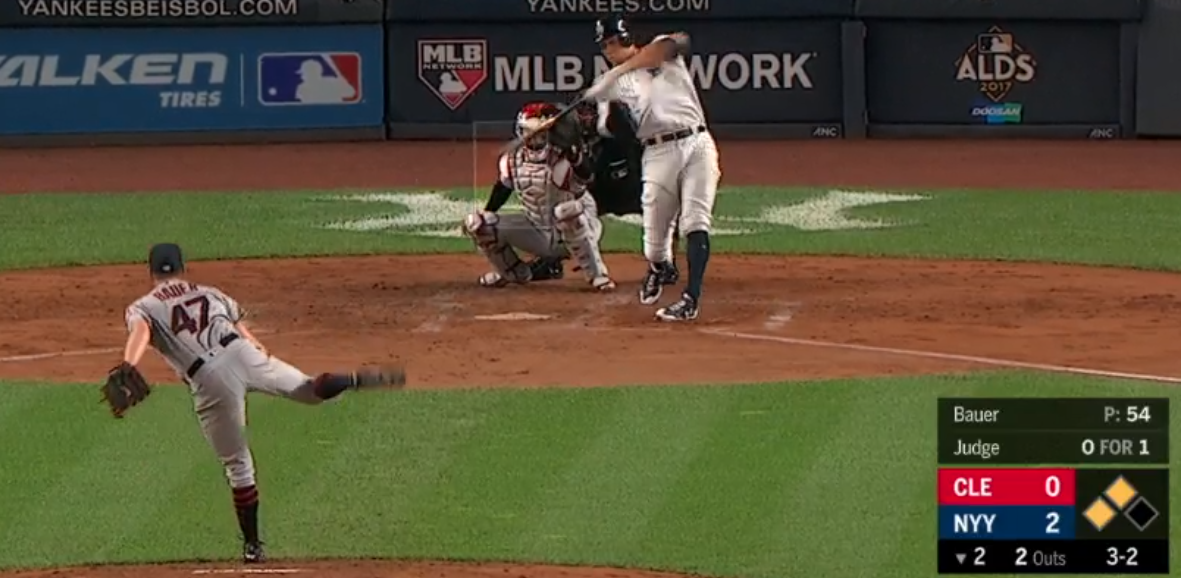 The Indians and Yankees are set to square off today. Will they be able to execute their strict gameplan against one of the best hitters in baseball? Indians fans better hope so because they're playing with fire with those elevated fastballs. The margin for error in baseball is not for the weak of heart.
-Sean Morash