Archives
Deja Vu for the Nationals; What do the Nats do Next?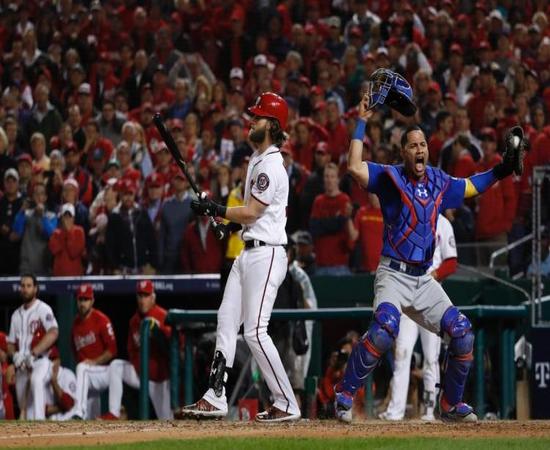 Another chilly October evening in Washington D.C., another heartbreaking defeat for the Washington Nationals.
In the longest 9-inning game in postseason history, the defending champion Chicago Cubs defeated the Nationals in front of 43,849 perpetually disappointed fans. The Nationals had the Cubs on the ropes in the beginning, blasting a pair of long balls off starter Kyle Hendricks to take a 4-1 lead after two. However, Chicago continued to fight and clawed their way into the lead and eventually held off the Nationals, 9-8.
For a team that has only been around since 2005, the amount of tragic playoff defeats that Nationals fans have experienced borders on torturous.
Since 2012, GM Mike Rizzo has done everything in his power to bring a winner to our nation's capital. He's gone after big-name free agents (Max Scherzer, Daniel Murphy), traded young talent for proven playmakers (Adam Eaton, Howie Kendrick), and grown a crop of generational players through the farm system (Bryce Harper, Stephen Strasburg, Anthony Rendon, and Ryan Zimmerman, to name a few). However, all of this work has materialized into ZERO playoff series wins.
As the playoff losses have stacked up, the blame has been passed around plenty. Whether it be incompetent managers like Davey Johnson or Matt Williams, or a woefully inadequate bullpen, those close to the Nationals have always found an excuse for their misfortune. This season was supposed to be different.
The front office had assembled an almost fantasy-like lineup, with the likes of Harper, Murphy, Zimmerman, and Rendon making up a nightmare middle of the order. Not to mention the burner Trea Turner running wild at the lead off spot and complimentary pieces like Matt Wieters, Jayson Werth, and Adam Eaton providing stability across the lineup.
Their pitching was rock solid as well, the two-headed monster of Scherzer and Strasburg is enough to strike fear into any fan's heart. Throw in Gio Gonzalez and an improved Tanner Roark and you were looking at one of the top rotations in the game. That bullpen you were worried about last season? Worry no longer! The Nats (eventually) sured up their back end by acquiring Sean Doolittle, Ryan Madson, and Brandon Kintzler.
They used this roster to run over the National League East, winning the division by a heft 20 games over the second place Miami Marlins. They won 97 games, the fourth time they have won 95+ in the last five years. The Nats lost Adam Eaton early in the year to a torn ACL, but Michael A. Taylor stepped up in his place and performed exceptionally well (as I witnessed in person on Wednesday, but I digress).
Despite all of this, the Nationals once again found themselves in a familiar position on Thursday: watching another team celebrate in the middle of their home ballpark. As the Cubs move on to sunny Los Angeles for the NLCS, the Nationals are stuck trying to find answers to several hard-hitting questions this off-season.
Does Dusty Come Back?
The first one is in regards to manager Dusty Baker and his future with the franchise. Baker's contract expires at the end of this season, which means he is currently out of a job. Owner Mike Rizzo stated during the season that this would not be a distraction for the club:
"It's not going be an issue. We're not going to let it be an issue. Dusty's a true professional. He's been through this, the rigors of the regular season, a million times. I've been through it a million times. It's suffice to say there's great communication, great respect between the front office and the manager's office."
At 68 years old, Dusty Baker is still in search of that elusive World Series ring, but he seems to believe that Washington is the place that he is most likely to get it. There's no doubt that the talent is here and that Baker is a great baseball manager (Editor's Note: eh), but a bigger question mark still hangs over the Nationals heading into the winter.
How long can we blame the bullpen?
If they can't win with this loaded roster and great baseball manager, what is the next step? Last year, they blamed their woes on the bullpen, then proceeded to do nothing about it all winter before picking up a handful of strong arms mid-season to create one of the best relief corps in the NL when all was said and done.
Sure, you can cast some blame on the umpires for a blown call in Game 5 that ended up being the difference, but that only does so much to change the game. The Nationals squandered opportunity after opportunity that the Cubs gave them to bust the game open. A struggling bullpen for Chicago should have been ripe for the picking, but the Nats' bats turned rotten when it mattered most.
Of all the teams that Washington has trotted out during this run of success, this was the one that was supposed to make the jump. Many experts predicted the Nationals would be World Series bound behind superstar Bryce Harper and his wicked flow. Unfortunately for Nationals fans, Harper disappeared for most of the series, going 5-for-19 with one home run and three runs batted in.
Fittingly, it was Harper who made the final out of Game 5, waving at a Wade Davis breaking ball in the dirt to end it. On the five year anniversary of their 2012 NLDS collapse against the Cardinals, the Nationals stood dumbfounded in their dugout as to how this could have happened yet again.
So, what now? Where does Mike Rizzo go this offseason?
I guess they should upgrade Left Field?
I am certain they will be buyers for potential free agents, but what position do they need filled? Left field stands out, as current starter Jayson Werth's contract expires at the end of the season. At 38 years old and oft-injured, Werth may be on the outs in D.C. as they look to get younger and more athletic at the position.
One name that could fit is current Diamondbacks outfielder J.D. Martinez, who is set to become a free agent. This deal would certainly cost Washington a pretty penny, but adding Martinez to that already lethal lineup would be incentive for Bryce Harper and Daniel Murphy to re-sign once they become free agents in 2018. However, this deal does not seem likely, as several other teams have the means to offer Martinez more money and incentives than the Nationals. And acquiring JD would leave Michael A. Taylor without a starting spot.
It will be interesting to see what direction this team will go next. There is no doubt that they can compete next season and for the foreseeable future with their current roster, but something needs to happen. The D.C. fans will not stand for this much longer, and Mike Rizzo's head could be the next to roll.
-Frank Fernandez