AL East
Starting Austin Romine Is A Great Move By The New York Yankees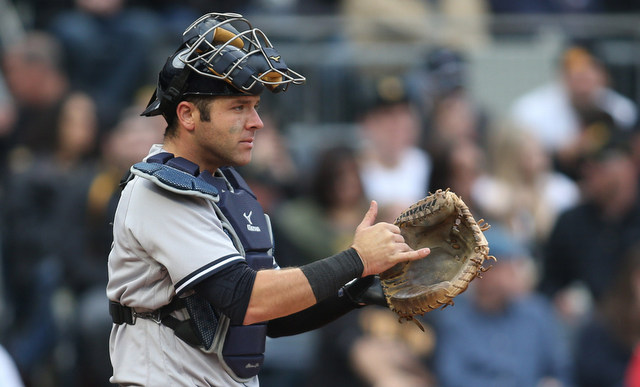 If I were ranking MLB catchers, Gary Sanchez, the catcher for the New York Yankees, would be pretty near the top- but not for his defense. Sanchez was maligned publicly and even benched by manager Joe Girardi (who, if I were ranking MLB managers, as I will, as I always do, near Christmas, would be pretty near the middle) for his awful receiving and blocking behind the plate this regular season. He's been better of late and bails himself out of some tough spots with his stellar throwing arm. In fact, in a ranking of the best arms in baseball, Sanchez would be well above average.
(Sorry about that, Sean's on this kick lately about making Google like us moreand we're supposed to use buzzwords and key words as much as possible. I'm done now, promise)
No, it's Sanchez's bat that makes him one of the game's best. He's the Yankees second best power threat, 3 hitter, and an indispensable bat as New York continues its increasingly improbable run deep into the postseason.  So far, Gary has caught every game the Yankees have played in, save for a few innings when his mostly capable backup Austin Romine came in to give him a break, and that catching has not been easy. In the ALDS in particular, Yankees pitchers displayed a penchant for 58 foot breaking balls that had poor Gary flopping all over the place behind home plate. As an observer from the comfort of my couch, I was exhausted just watching him and can't imagine how he was able to do that day in an day out while also being expected to carry a significant load offensively.
Tonight though, in game 4 of the ALCS, Girardi is starting Romine and moving Sanchez to DH. This is a good move for a few reasons, let's review them:
Romine is better defensively than Sanchez. This will be helpful for Sonny Gray, the Yankees game 4 starter, as well as any other pitchers that come in. With Gray on the mound against Lance McCullers Jr., it's likely the game will be close and any extra edge the Yankees can get will help.
Sanchez needs a break. It's true that there are a ton of off days built in to the playoff schedule but Sanchez caught 104 games this season. Most of the games he wasn't catching for came early in the season when he was on the DL and have been packed in to the second half so he's not exactly fresh. Hopefully giving his legs a break will help him become the run producer the Yankees need him to be if they are going to come back from the 2-1 series deficit they find themselves in.
Sanchez is a much better option at DH than the mopes the Yankees have been running out there so far. Last night, Chase Headley got himself an infield hit. It was his first hit this postseason, snapping an 0-16 drought, and the first hit from a Yankees DH in the entire playoffs! The combo of Headley, Jacoby Ellsbury, and Matt Holliday has been no better than just batting the pitcher, they've even been batting 9th in the lineup. Sanchez at DH gets Romine in the lineup and Romine can't possibly be any worse than the DH trio.
Of course, it's very possible that Sanchez and Romine go 0-8 tonight and Romine makes a key error, but I like switching things up and I think it's more likely this will go well for New York.
-Max Frankel