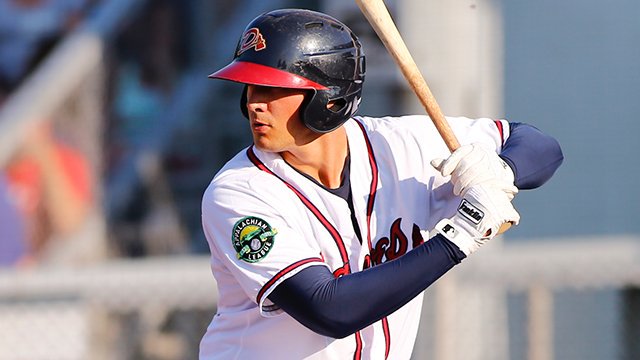 Drew Lugbauer was featured in a Baseball America article last week, and being a Braves fan with a blog, I did a bit of research on Drew and found that he grew up about 10 minutes from my alma mater, Vassar College in Poughkeepsie, New York. The Braves' 11th round pick out of the Univesity of Michigan was nice enough to chat with me over the weekend and I was able to pick his mind about baseball and life. Below are some of the excerpts from my conversation with Drew.
Could you describe yourself as a player?
I'm a catcher and corner infielder, more corner infield, but working on being a catcher because it's a valuable position. It goes along with me being a left-handed hitter, trying to be a middle of the order guy from the left side, to do as much damage as I can. That's pretty much me.
Could you describe your draft day decision? And how you made the decision to go Pro instead of heading back to Michigan. 
It was tough because I love Michigan. It was the best experience of my life. I loved playing there. But I always wanted to be a professional baseball player, so it was kinda easy. Yeah, I was giving up Michigan, but this was a new experience.
Going into the year, I figured that I would get drafted. I didn't know where, but I had a feeling that I would leave. It wasn't sudden, not to sound conceited, but I had a feeling I would leave. I don't regret it at all, but I do miss Michigan.
What is the plan for the offseason? Are you heading back to Michigan? 
Well I was planning to, but I just got back from instructionals two days ago (October 13). So the plan is to work out and hit and just generally hang out.
One of the things that I like learning about are the different organizational approaches. A friend of mine is in the Astros organization and he described the advanced analytics that they do (here). He described the approach that they use, including pitch recognition and swinging at strikes. They really hammer swinging at strikes. What were you surprised by relative to what you were taught at Michigan? 
With the Braves there's no real philosophy like that. I mean there's "play hard" and that sort of thing, but I liked it in that it's kind of on your own. There were tips about everything, but there's no one organizational philosophy on how to hit, or play defense. It's more that everyone has their own game, their own way to play. If a member of the staff sees something that they want to do, they'll do it. However they let us go about our own business.
Do they have any sort of guidance on your offseason workout? 
We have a program, but they did give us some leeway to work with a trainer or do our own thing. They obviously want us working hard, though.
Have you had any run-ins with guys that left you awestruck?
I try not to be awestruck, but Ronald Acuna was down there working out before heading to Arizona. I don't know if you know Mauricio Cabrera (Drew is obviously not familiar with my Middle Reliever nerdom), but he had the hardest average fastball in baseball last year, faster than Aroldis Chapman. He was down there because he couldn't throw strikes so he's trying to learn to throw strikes.
Is there a guy that you've played with or against? I played Lance McCullers in high school and he was a step above anyone else I ever played against. Is there anyone like that that you played with? 
Well, I played against a rehabbing Matt Duffy. He's with the Rays, so we played at Tropicana Field. That was cool, he was there and impressive – just really professional at bats. Obviously professional, but you know: whenever he swung, he made contact on every pitch, whether it was fouled off or put in play. He never swung at bad pitches and played solid D. He didn't look flashy, but he just did everything right.
I think that's telling about you though. Matt Duffy is not the guy that we think of when you say "That guy is a legit baseball player." It tells me about how you think about the game. Are you into any of the advanced analytics stuff? 
Not really. It's interesting reading about it, but I haven't dove deep down in there, yet.
There's one more thing I like to ask guys in your position: Was there a moment when you thought you could make a career out of playing in baseball. 
I wanted to my whole life. I've been working hard and have done it. I obviously still have a lot of work to do, but I'm doing it now. I don't think there was ever a moment when I was playing, but I have been accomplishing things and taking on what is next. There's a lot of work to be done, but I'm heading in the right direction.
Then I hit Drew with Off The Bench's patent-pending All-Important Questions (AIQ's). The rule is that you have to answer and you have to answer honestly.
Are you more of a hunter or a gatherer? Hunter
You're a new addition to the crayon box. What color would you be and why? Damn. That's tough. Some sort of blue. I guess Dark Blue, it's my favorite color.
Are you a Pumpkin Spice Latte guy? Never tried one
What's your favorite casserole? I had a mashed potato and cheese and peas casserole thing yesterday that was really good
What's the best meal you can cook? I cook a mean grilled chicken, but that's about all I can do.
Let's say you're in a situation like OTBB's Max was this weekend: trying to make ghost chili oil and during the cooking process, the concoction aerosolized and turned into the effective equivalent of pepper spray. What do you do? Get out of the house
If a penguin walked into your mom's house wearing a sombrero, would you be surprised? A penguin?! Yeah.
What was your first date? It was probably in 2007 at the Keke club on Route 9 in Poughkeepsie. The Keke club was an actual club for 7th and 8th graders. They had a full bar, which served soda and water, and we would wear our nicest polos.
If you're driving across the Mid-Hudson Bridge, and your car suddenly veers over the side, do you Live or Die? I would say it depends.
No no. We need a yes or a no. Ok,  But I drive a Grand Cherokee so I think I'm living. Yeah, I'm definitely living. Well, what are you doing?
Usually, we did it in the bus on the way to away games. No chance I'm living in that situation. But next time you drive over – 
Yeah, I'll try it.
No, don't try it. Just take a look down and realize how far it is. 
Thanks again to Drew "Slugbauer" Lugbauer for taking a few moments to chat with me. It's always great to hear from guys after their first professional season and Braves fans have plenty to look forward to as Drew learns catching and tries to follow the Brian McCann model of left-handed slugging catcher. Here's to hoping he avoids the Mid-Hudson this winter, and reports to Disney's Wide World of Sports even better next Spring.
-Sean Morash