AL East
Joe Girardi and New York Yankees: What Happened, Where We Are, and Where We're Going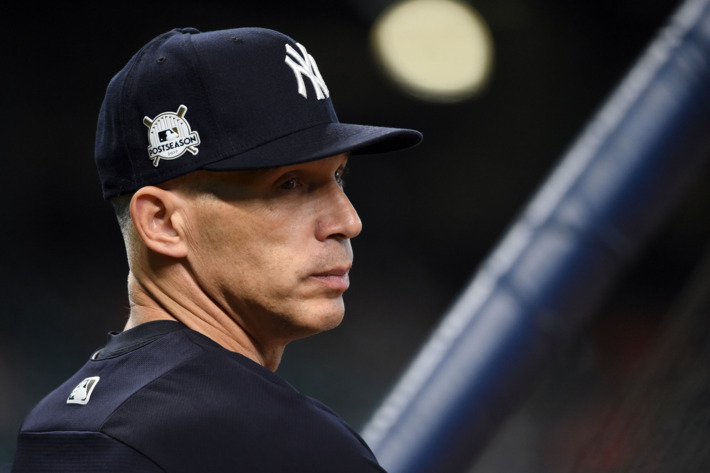 I was absolutely surprised by the New York Yankees' decision not to bring manager Joe Girardi back to the team next year, but I can't say that I was totally shocked. Girardi is a good manager, and the Yankees have undeniably had a lot of success under his tutelage, but he never struck me as particularly popular with the fanbase – certainly not in the way his predecessor Joe Torre was.
Don't get me wrong, there is no precedent for a manager with a 10 year tenure which featured a World Series title and multiple overachieving teams being dismissed after getting within 1 game of the Series in his last season, but reports out of the Yankees clubhouse makes it seem like Girardi in private was a lot like how Girardi seems in person: intense to the point of frustration and prone to making some pretty strange or nonsensical decisions and then defending them with useless platitudes and silly coach speak.
In short, Girardi is a good manager; I was glad he was the Yankees' manager these last 10 years; I'm not that sad to see him go and I don't think the team will be demonstrably worse without him. Managing the Yankees is a tough job and he did well, but he clearly wore out his welcome and, since there is ample evidence that while a bad manager can certainly cost a team wins, even the best manager doesn't really win any games for his team, I'm not convinced that next guy won't be able to replicate Girardi's success.
However, deciding the next Yankee manager is far from an inconsequential decision. As I said, bad managers can be really damaging. Just look at a guy like Matt Williams in Washington, DC. Williams inherited a talented team but guided them to some very mediocre results. Once the team was turned over to a competent manger in Dusty Baker (and that right there is the highest praise I'm willing to give Dusty) the team immediately spiked to 95 and 97 wins in the last two season, respectively. If the Yankees hire someone bad, they could absolutely find themselves in a Matt Williams-like situation, with a talented team struggling to find wins.
I think this Yankees team is particularly susceptible to that type of problem. As we know, they are an extremely young and potentially volatile team. Aaron Judge is arguably the best player and we saw just this month that his cold streaks are as frigid as hit hot streaks are blistering. Gray Sanchez needs some serious coaching and support on the defensive side of the ball. Luis Severino, the team's best pitcher, just finished his first 200 inning season and is also particularly inconsistent, as are Sonny Gray, Masahiro Tanaka, Greg Bird, Starlin Castro, and a significant percentage of this Yankees team.
It's for this reason that I'm not so thrilled about reports out the last couple of days indicating that the Yankees are in the market for a young, analytics minded, manager from outside the organization. The analytics thing is good by me, even preferable. Outside the organization? Who cares, whatever. Young? Eh. Are we sure that's the best idea.
The well known trend in the MLB is towards guys like Mike Matheney, Brad Ausmus, Dave Roberts, and Scott Servais – former players with little or no managerial experience. Some, like Roberts, have done well; other's have not, and I think that type of decision would be a mistake for this Yankees team. When most of your key players are still finding their way in the league, you don't really want a manger who's trying to do the same. I think you should try and find a guy with a lot of experience and a steady hand to guide the kids.
The guy I'm looking for doesn't have to have managed before, but he should have some serious coaching experience. Torey Lovullo, the former Red Sox bench coach who had an awesome first season with the Diamondbacks, would be an ideal pick in my opinion. Alas, he has a job.
I should also mention at this point that Kevin Long fits my description of an ideal manager well: he has lots of experience coaching on a few different teams, including the Yankees, but I don't think he's the right guy – mostly because I thought he was a notably bad hitting coach on some exceptionally frustrating-to-watch Yankee teams. I was glad when he left and don't really want him back.
Beyond Lovullo (not happening) I'm not going to offer any more names. I'm sure there is a bevy of Major League bench coaches who deserve a shot managing that would be good fits. I would just say that as exciting as names like David Cone or Jerry Hairston Jr. (a long time favorite of mine) might be, that seems like the wrong way to go.
Unless the Yankees make a catastrophically bad decision on who to hire, they will certainly be competitive next season – they still have the same great roster I raved about in my post-LCS loss writeup here. But manager is a key hire, and not one the team is too familiar with:  unbelievably, New York has had just 3 managers in the last 25 years: Torre, Girardi, and Buck Showalter. It would be really weird if they entered a period of 2,3 or 4 year managers like most teams have. That's not really the Yankee way.
-Max Frankel