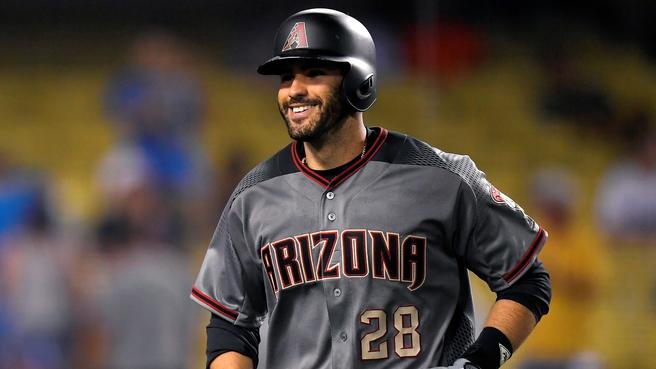 Arizona Diamondbacks fans everywhere have been biting their nails in anticipation of the answer to a huge question: What will happen to stud outfielder, J.D. Martinez? Martinez was traded to the Diamondbacks from the Detroit Tigers on July 18th.  Almost immediately, he became the most productive acquisition in the entire league. He hit 29 bombs in just 62 games! Yes, that is insane, especially considering he had a 4 HR game against the best pitching staff in the NL (LA Dodgers)! Now, if that wasn't enough to make you drop your jaw, he also boasted a .302 batting average and tallied 65 RBIs!
A player like this is something a team can see value in.  This man is highly sought after in the MLB, and yet Arizona found a way to pick him up in the second half of the season and give him new life! Not only can he rake a baseball, but he can add depth to an already dangerous D-Backs' lineup.
The funny thing about his phenomenal second half of the year is that it is both good and bad news (Arizona, you'd better sit down). I know that majority wants bad news first, so here it goes…
Bad News
Arizona did not sign J.D. Martinez to a multi-year contract. He is as free as the wind this offseason and can be signed pretty much whenever he decides the time is right.
Having the year he had will make him both harder and easier to keep. (I'll explain the "harder" part in this section) The dude showed out in his National League debut, proving that at the age of 30 years old, he is still tapping into upside! Why is that bad? Well, all eyes were on him. Every owner and GM in the world now wants a piece of what he can bring to their team. The more he produced, the more meetings involved questions like: "Why don't we make a stab at  Martinez wearing our jersey??"
Obviously, money is a big part of the issue here. In all reality, the D-Backs just don't have the money to make the biggest offer. Zack Greinke's salary eats up the largest part of their budget, but then you have to consider Paul Goldschmidt, A.J. Pollock, and even Shelby Miller. If you are a fan of a small market team, you know the feeling of falling in love with a player for just enough time to have them break your heart when they see dollar signs. Curt Schilling did it. Justin Upton did it.  (Editor's note: J-UP had a reasonable salary, but the Diamondbacks traded him because they were nervous of the production) J.D. Martinez is TBA.
Good News
Now, keep your head up, it may be okay! The killer rightfielder absolutely thrived on this Arizona team. It would be foolish not to consider going back to the team that you did so well with.  Not only that, but he found himself comfortable batting right behind another Diamondback slugger, Paul Goldschmidt. When you bat behind the face of the franchise, you tend to get a good amount of strikes.
J.D. Martinez has claimed to have a desire to stay in AZ. He told azcentral Sports "I've loved my time here. The guys are great. The team is young." This is great to hear, sure, but what really stood out in the interview was when he said "…one of the most important things in my free agency is I want to be on a team that's relevant – a team that's good." A young team with great winning potential is currently suiting up in Sedona red, black, and teal.
Ways It Could Work
The D-Backs can't promise a huge, head-turning contract. What they can do is offer this man every dollar they can afford to spend, and hook him up with a (much less ridiculous) deferred payment agreement. Now, we've seen the whole Bobby Bonilla disaster, but we can learn from it and make it work for us. The organization can benefit a whole lot more when they are winning, so profits rise if Martinez helps to keep this team pushing into the playoffs.
The current snakes' lineup is a danger across the National League. D-Backs fans went nuts for them this year, especially in their Wild Card faceoff. So, if the first option I laid out doesn't work, then the franchise can call fans to action.  Though it may seem crazy, just humor me: Every fan can donate to the Arizona Diamondbacks' GoFundMe.com account. Yes, I know it is a silly cause, but think about it. If each fan donates about $2 to the cause, we could up the man's salary by about $10 million. (Hey, I told you we are a small market team!)
-Trey Gonsalez
Trey usually writes for AllSportsBest.com, a sports website "all about positive thoughts and healthy mindsets." They love sports and being able to shine the spotlight on local athletes. We're happy to host him here on Off The Bench.