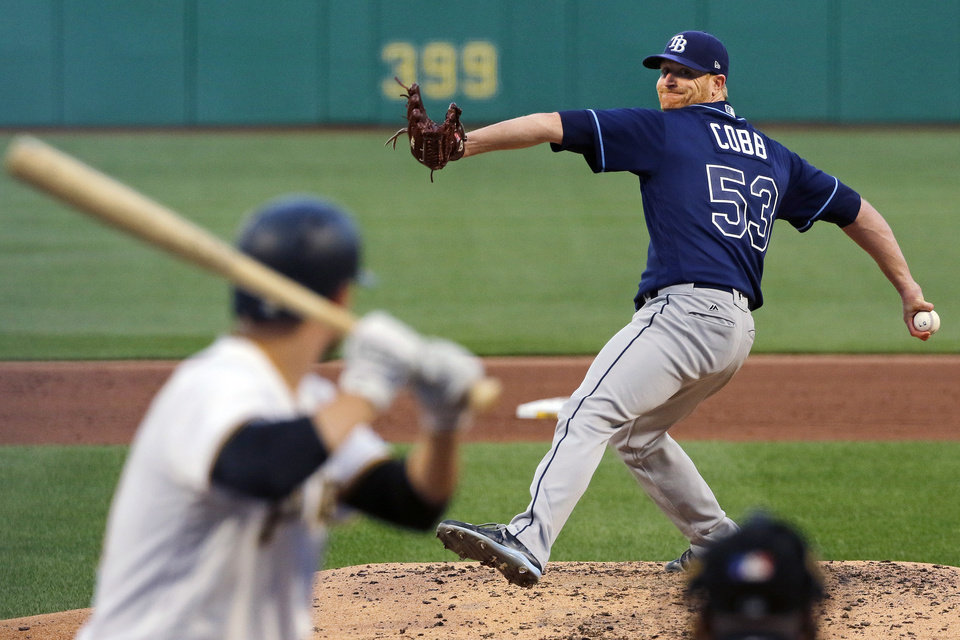 I spent most of the World Series Game 7 debating my predictions for the MLB's free agents this offseason. I set up Off The Bench's MLB Free Agent Predictions game and our other guys agreed to my giveaway ideas. The guy who was most befuddling for me is Alex Cobb. As a Tampa Bay Ray, he is subject to the joys of a small market team with minimal time in the national spotlight. Further, he's had his share of fluke injuries that have disrupted his promising career arc.
Let's go back to 2013. Cobb was asserting himself as a star in baseball, a real number 2 that would make the loss of David Price more palatable. He had a 3.04 ERA through 13 starts, when a line drive from Eric Hosmer struck him in the face. The post-concussion rehab took nearly two months. Cobb would make just 22 starts, but managed a 2.76 ERA on the year. He came back in 2014 and made 27 starts, tossing almost 170 innings with a 2.87 ERA. Fast forward to 2015 and Tommy John reared its head. He underwent surgery in May, 2015 and missed all of that season, and slowly worked his way back in 2016.
This year, he posted a 3.66 ERA across 180 innings in his first full year back from Tommy John. He did it with a new repertoire – in his post-TJ reality, the devastating splitfinger was gone, replaced by merely a splitfinger – that sapped his strikeout totals, and turned him into a flyball/command pitcher. His batted ball profile and runners-left-on-base percentage each figure that 2017 was a little lucky for the right-hander, who was certainly in need of some luck.
But that 3.66 ERA across 180 innings is tantalizing and there figures to be more upside given his recent Tommy John, and the difficulty of pitching in the American League. He just turned 30 and is still learning how to get hitters out in his post-TJ repertoire. He's not just an "upside" play; this is a guy who ranked 62nd in the AL in WAR. While not the sexiest of mlb rankings, he's a viable number 3 starter.
He is a step behind Jake Arrieta and Masahiro Tanaka in terms of talent for sure, but he's well positioned to sell an organization on the upside play. Ian Kennedy got 5 years and $70Million following his 0.7 WAR season in 2015 at the age of 30. Jeff Samardzija got 5 years and $90M following his 2.5 WAR season in 2015 at the age of 30. It's 2017 now and baseball continues to grow. What will Alex Cobb get following his 2.4 WAR season at the age of 30? I'm setting the over/under at 5 years/$100M.
Here are a few teams that make sense:
Baltimore Orioles – Freed from Ubaldo Jimenez's contract, the Orioles are desperate for quality innings to compliment their exciting offense. They've had an up-close look at Cobb in intra-division contests.
New York Yankees – Another team looking to fill out the back half of their rotation with quality innings and the money to make Cobb a fair offer. The Yankees have to replace 74 starts next year as Tanaka, Pineda, and Sabathia are all potentially free agents.
Chicago Cubs – With John Lackey, and Jake Arrieta both unlikely to return to the North Side, could Cobb fill in behind lefties John Lester and Jose Quintana?
Minnesota Twins – The Twins made the playoffs this year, whether you chose to remember that or not. They seem likely to make additions this offseason, and Alex Cobb feels like a very Twins starting pitcher.
Milwaukee Brewers – Just like the Twins, the Brewers made the playoffs this year, whether you chose to remember that or not. They have just $30M on the books next year and have shown a willingness to stretch the budget to $100M for the right reasons. A need to replace Jimmy Nelson, and arm this fun position player group with a starting staff that won't make their life impossible seems prudent. $100M on a single, possibly very average pitcher may also hamstring their future deals.
Just like Ian Kennedy and Jeff Samardzija in 2015, Alex Cobb is well positioned to make a surprising amount of money this offseason. Will it turn out like those two, wherein he's unfairly expected to prove the difference between bad and good? I hope not. Clubs should recognize Cobb as an asset to compliment a core group, not as a difference-maker in himself. He can make a difference, but only because we're not entirely sure what he is yet.
-Sean Morash